Best eCommerce Websites: Why Cherrybrook Is Top Dog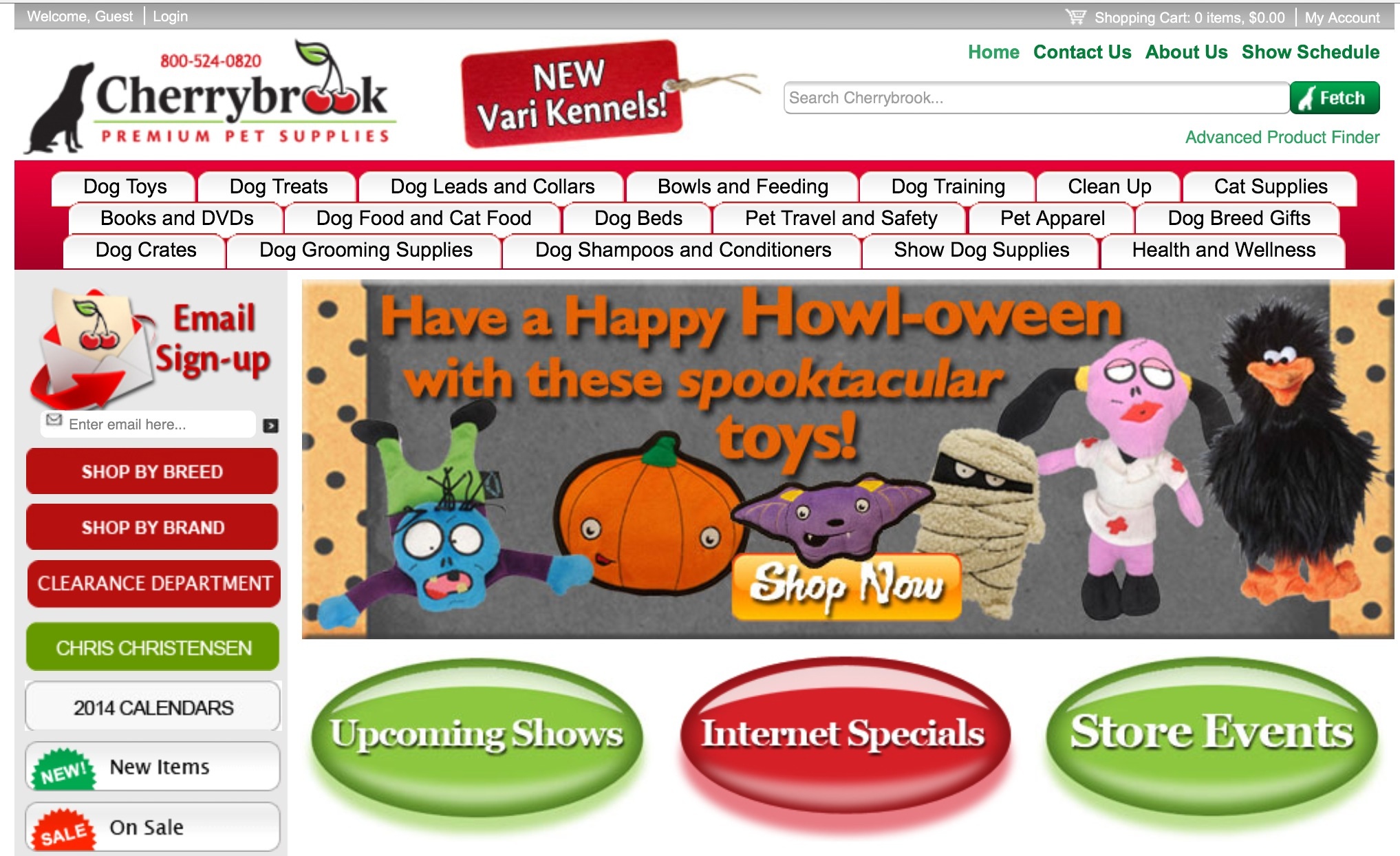 A strange thing is happening to the online dog show suppliers, Cherrybrook: this niche e-retailer is showing strong signs of dominating their market online.
In the past three months, they have jumped ranking position by over 50,000 places according to website statistics specialist, Alexa. Site traffic watchdog (yes, another opening pun, we can't help ourselves!), Compete, shows that this year alone, website unique visitor numbers have grown 146% to average 44,807 per month this year so far.
In the past three months, Alexa reports that, on average, visitors are staying on the site longer, and reading more webpages. The number of website visitors who arrive and leave immediately (the site's bounce rate) has also fallen.
Through a combination of product-related SEO, smart partnerships with well-known brands, and by using some of the key eCommerce strategies that build customer engagement and provide shopper's with a sense of trust, Cherrybrook has begun to truly own it's niche market online, often appearing higher than Amazon and all other competition for keywords and branded products related to the niche. We look at how Cherrybrook has positioned itself online and share useful tips that other online retailers can use.
Who can learn from the Cherrybrook model?
Niche online retailers
Dropship suppliers and affiliate sellers
Small, offline retail and market stallers wanting to expand into an online market
Branding and PR
1. Don't overwhelm homepage visitors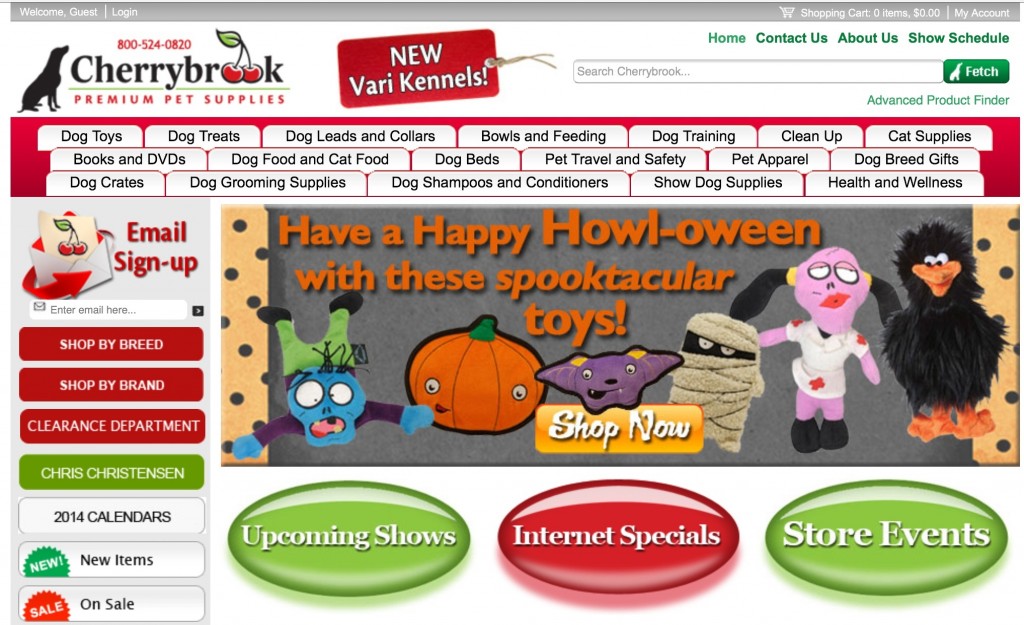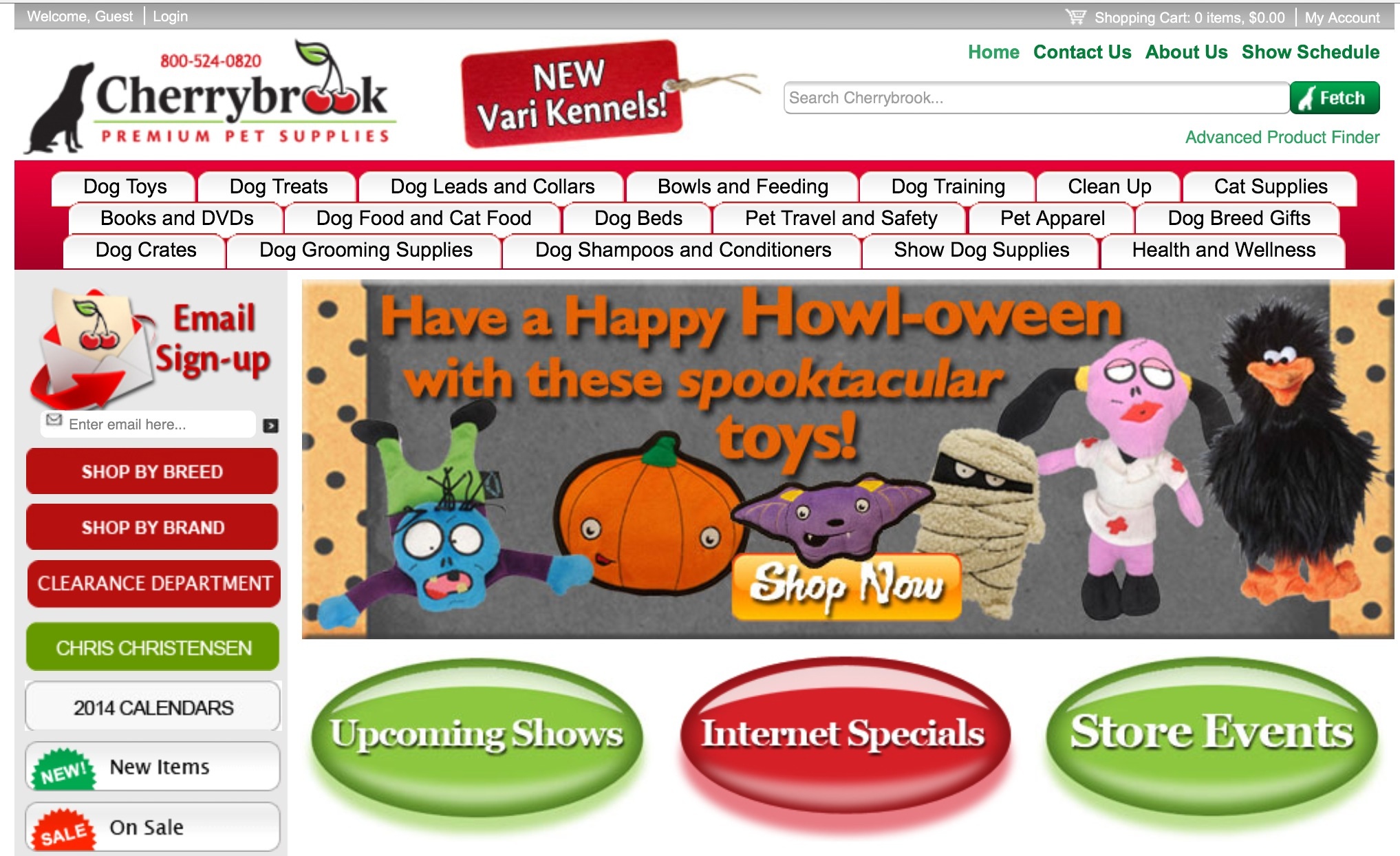 One of the delights of online shopping is the sense of exploration and discovery that site visitors experience. In the desperate rush to let our customers know we probably have what they are looking for, we forget that what they really want is the sense of pride and reward they gain when they find it for themselves.
Cherrybrook seems to know this, and while having clear product categories displayed from the get go, they have minimized the use of feature sliders, instead opting for one key seasonal promotion "above the fold" on their website homepage.
How this is useful
Remember less is often more. Use your home page as a mini site index that can help visitors navigate through your site and product catalog, but seek to offer them an opportunity to discover your merchandise for themselves.
As we have seen with Shoes of Prey and Warby Parker, don't create a busy, stress-inducing home page that overpowers the shopping experience. Let your shoppers breathe.
2. Reinforce your primary niche
Cherrybrook aren't going after the whole pet product niche: they have carved out a sub-niche that is a big enough market in itself and have been able to dominate that without having the most flash website design out there. They are primarily a dog show product supplier, although you can imagine this extends to appealing to any dog owner who has a special appreciation for pedigrees, or to dog owners who are looking to give that extra TLC to man's (and often woman's) best friend.
At every turn, the Cherrybrook website remains focused on this market, they have obviously mapped out what products and information their customers need. For example, pet travel is included, as many dog owners will need to take their animals on the road to participate in dog shows.
Being clear about your niche lets you have a little fun as well: The search button on the home page is playfully labelled "Fetch"!
How this is useful
Research your niche and make sure that this market is your sole niche for your online store.
Create additional eCommerce ventures if you are straying into other niches, keep laser focused on each market so you are not confusing site visitors or diluting your sales message.
Read up on the customers in your niche and get to know their daily needs. Map out a typical day and sketch out a typical year: what are some of the key pain points, seasonal needs, and repeat events that your customers will experience? Make sure these are easily categorized on the home page.
Don't be afraid to have fun and use puns related to your niche. Its not an inside joke if everyone in your target audience can get it!
3. Look for real world opportunities
The Cherrybrook owners have attended over 200 dog shows, and are regular fixtures at dog show events, operating a mobile trading booth. No doubt, this was also a great way for them to gain a deeper insight into their customer needs.
How this is useful
Sometimes, online shopping can only take you so far: some lifetime loyal customers will only come on board if they can first buy from you in person, or speak with your business directly (even over the phone). Look for trade shows, local events, or a community calendar of activities, related to your niche and consider participating. You don't need to travel far to start giving your online business a physical presence that connects you with your customer base.
4. Include social proof and purchasing data on your product pages

Cherrybrook helps shoppers feel confident with their buying decisions by using social proof to confirm "you are not alone". They do this by having a recommendation section on each product page, showing what other products shoppers are buying. This serves two purposes: it helps validate a shoppers choice via social norms ("you made a good choice, others are buying this too") and second of all, encourages shoppers to keep adding to their cart ("here's what others are buying to go with this product").
How this is useful
Consider using a recommendation engine on each product page to encourage shoppers to keep shopping
Consider adding social proof signals on product pages such as Twitter feeds, or Facebook likes, analytics data on number of people who have viewed the product page or bought the item from your store, or product reviews
Product Range
5. Create search tools that offer advanced product search capability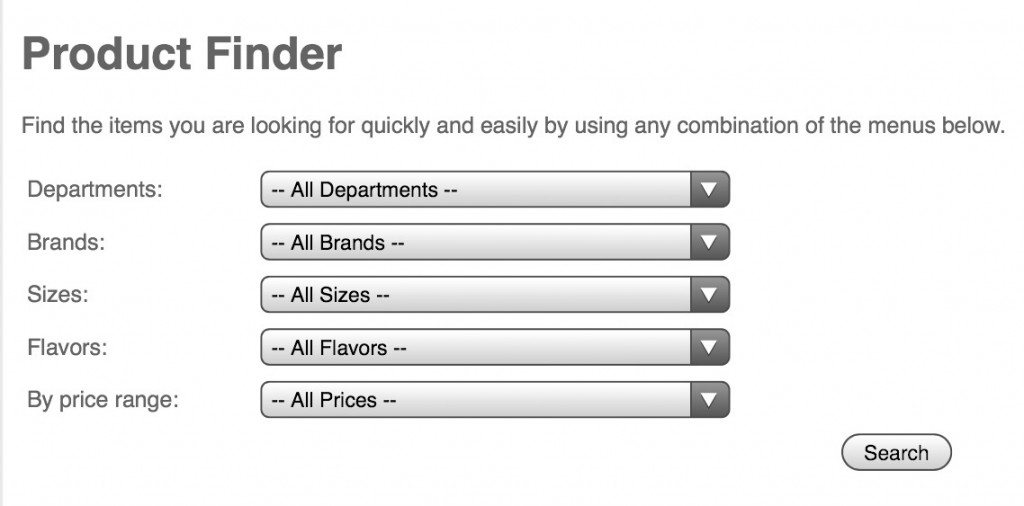 Cherrybrook provides a search box on the home page and an "advanced product filter", with menu options to filter results. It's a bit similar to using the product category tabs at the top of the page, but lets shoppers feel more in control and allows shoppers to focus quickly on the products they are most likely to purchase.
How this is useful
Provide several ways for shoppers to navigate through your site, and look for site search engine tools that can help you provide a high quality user experience to your shoppers.
Review search analytics data regularly to get a better feel for what products your visitors most look for – is there anything you are not offering, or that you could extend the range of, to cater to the higher demand?
6. Use the full branded product title in your product catalog
One of the reasons for the success of Cherrybrook's Google ranking position for many product items in the pet dog niche is no doubt due to the way they have structured their product catalog to include the full branded name of each product in the catalog title description. While it is important to appeal to broad categories of products, if someone is searching for a specific product name, chances are they are ready to buy and searching online for where to buy it. By using the full product name in their product catalogs, Cherrybrook are appearing higher in search engine results, and need to do much less to convert searchers into shoppers.
How this is useful
If using product catalog software, make sure you are able to include full branded product names in your catalog database.
Make sure your SEO strategy includes ranking for each individual product item you sell, including the full make and model number, if applicable.
7. Build relationships with your suppliers and associations in your industry
Cherrybrook have two main supplier arrangements. One with Chris Christensen, apparently well-known in dog show circles, and the American Kennel Club (AKC). Both are given pride-of-place on the website and branded appropriately. These are clever relationships to build: being associated with the AKC name lends trust and confidence to Cherrybrook, while the business is also able to show its support for the key consumer organization in the niche. With supplier Chris Christensen, Cherrybrook is able to piggyback of the supplier's own audience. Searches for Chris Christensen products in Google, for example, return Cherrybrook results high in the rankings.
How this is useful
Be strategic with your supplier relationships, and seek to build long-term partnerships in your niche.
Start by looking for one major supplier and for one non-profit that is well-patronized amongst your target market. See what you can offer (Cherrybrook provides AKC with an "official" online store frontage, for example).
Always respect the brands you are building reputations with by using the full brand name and product descriptions in any website usage, and be sure to follow style guidelines regarding their use of logos, etc.
eCommerce Platform
8. Consider a custom eCommerce interface
Cherrybrook use a custom eCommerce platform, according to the footer on their home page. This gives them the flexibility to build out on their own, incorporating tools like the advanced product search and recommendation engines. Inhouse developers do not mean a slow and clunky website. According to Alexa, Cherrybrook's webpages only take 1.89 seconds to load.
How this is useful
For a niche retail market, you can use a readymade eCommerce platform or if you have a good developer you can call on, you may decide to go your own route.
Find a balance between a string aesthetic design and offering powerful search tools that help visitors easily navigate your site to the product they want.
If you are planning on being data-driven or want to provide a contextual and personalized interface for returning visitors, you may need some developer skills on board to help you access application programming interface (API) tools.
Always be measuring and monitoring your site load times in order to ensure visitors are not bored waiting.
9. Make it easy to connect with first time visitors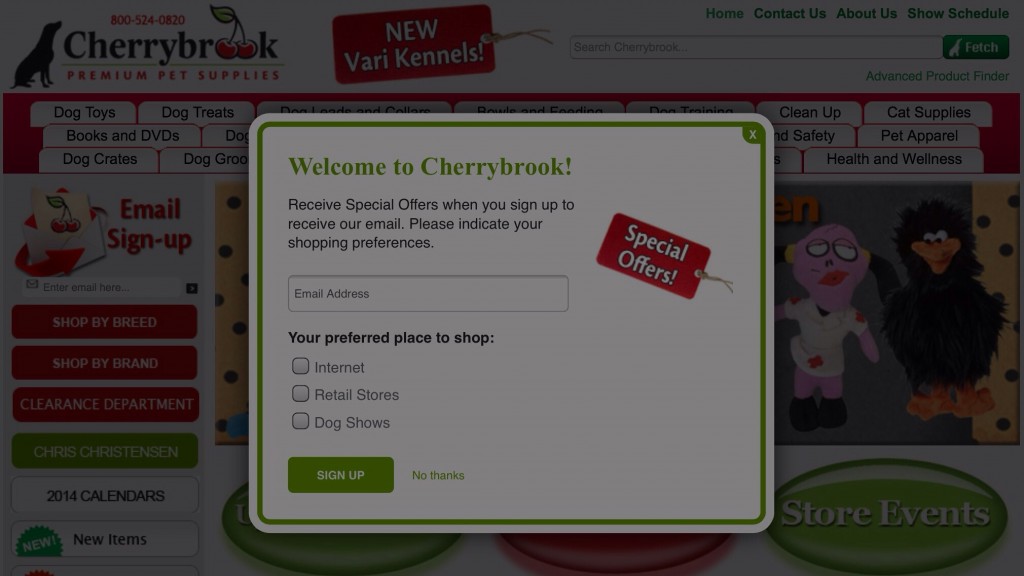 Cherrybrook uses a technique we have seen previously with best eCommerce website BaubleBar. The site is able to recognize new visitors and after a couple of seconds shows a pop-up offer to subscribe to the site's newsletter. Special discounts are mentioned as an enticement to encourage newsletter signups.
How this is useful
Make sure you have a way to capture first time visitors to your website with a popup or other technique to request email addresses.
Do not rely solely on your website for selling: many successful eCommerce businesses sell the bulk of their product via email newsletters.
Set up a workflow that aims to personalize newsletter offerings so they are more relevant to each visiting customer.
10. Make sure you are search engine optimized for more than just product names
In addition to the product names mentioned above (in point 6), Cherrybrook makes sure each product page and category is also optimized for key search terms. For example, Cherrybrook ranks highly for the branded product range from 'Hear Doggy' as well as topping the rankings for 'toys only dogs can hear'.
How this is useful
While branded product names can help connect with shoppers ready to buy, there are also a lot of shoppers in an earlier stage of search, who dont quite know what they are looking for. Use keyword research to uncover how people are searching for your products.
Make sure you are optimized for both types of shoppers: those searching by product name and those searching more generally.
Customer Experience
11. Provide value to your website visitors
One of the top menu items on the Cherrybrook site is a dog show calendar reference page. This gives potential customers a reason to visit the website regularly as a reference tool as well as an eCommerce storefront. It also builds goodwill between the retailer and their community by providing a free service that is of key value to the community.
How this is useful
Consider what information or service you could offer in your niche.
Seek to become an expert in providing this reference for your niche, and optimize and maintain this content with the same dedication you do to high performing sales pages.
12. Ensure trust signals can be seen wherever you are on a page
Cherrybrook employs a wide range of trust signals throughout their website. No matter where you are on a page, you can always see at least one trust signal that aims to remind you that they are a respectable business you can buy from online. This includes:
A shopping cart tally at the top of each page, reminding you they are keeping track of your account
A phone number displayed in their logo banner
"Made in the USA" quality manufacturing statement appearing 'above the fold'
A Rewards program for regular shoppers
International shipping offers
BBB accreditation logo
VeriSign accreditation logo for online payments.
How this is useful
Make sure you are always expressing the security you can provide to shoppers for online payments.
Be clear about posting and handling fees, and where possible, absorb these into your business model rather than passing costs onto customers.
Be clear about your returns policy.
Share details of how your products are manufactured, and the quality rigor they must pass before being sold.
Wherever possible, provide a phone number and online chat option to show you are contactable at all times.
Will You Be Ranked One of the Best eCommerce Websites of Tomorrow?
Cherrybrook are an outstanding example of a niche online retailer who has been able to corner their market in the US. You can set high goals for yourself in your niche and can work to dominate your market. Your business may grow gradually – it may take several years like it did for Cherrybrook – but along the way you will be implementing effective online retail strategies that continue to grow your business and sales revenue. Keep a clear idea about who your target market is and do not try to be too many things to too many people. Focus your energy on your chosen niche: search engine optimization; search market advertising; online interaction; and maintaining lifetime customer loyalty are the key strategies to perfect in your chosen niche, and you will be barking up the right tree.
Tagged Cherrybrook, customer research, drop shipping, niche markets, online product catalogs, product catalogs, product recommendations, product search, recommendation engines, SEO, supplier partnerships, trust signals