You've Got 3 Seconds: How eCommerce Vendors are Losing Shoppers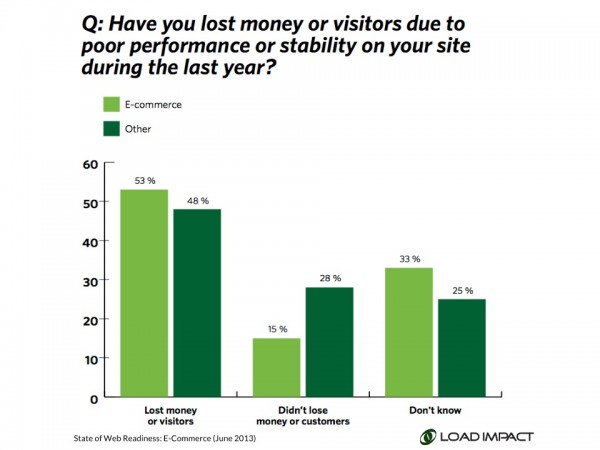 Two recent studies into eCommerce website load times have revealed that many online retailers are failing to provide a fast and responsive rate of engagement for website visitors and, worse still, for potential shoppers.
The findings are crucial to online retailers wanting to make the most of key upcoming sales opportunities including Black Friday and the end-of-year holiday shopping period, and are further proof of key areas that can affect your online store profit.
The first study – conducted by Swedish startup Load Impact – looked at how fast eCommerce websites would load in a potential shopper's browser and compared this with other industry sectors such as event websites and online services. eCommerce vendors were also interviewed about what they thought was acceptable for website response rates. The results are startling and show a large gap between what e-retailers think is happening, and what shoppers are experiencing.
Key results from Load Impact's 2013 State of Web Readiness: E-Commerce report include:
On average, eCommerce websites take 7.9 seconds tro load, almost 3 seconds longer than any other industry verticals including corporate/product websites, online media, or online services (ecommerce retailers say under 2 seconds is most desirable)
39% of eCommerce vendors interviewed believed they lost money due to slow performance of their website in the last 12 months
Most eCommerce vendors don't separately check the performance responsiveness of the mobile version of their website.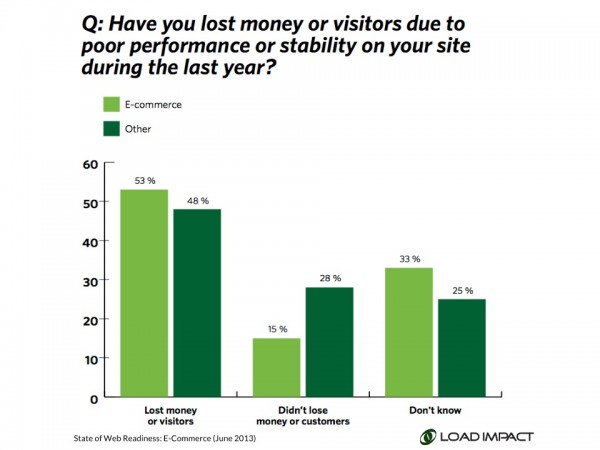 What you can do about it
Test your website load time using free tools like Load Impact or webpagetest.org. Also test your top 3 or 4 competitors and compare the results. If you are unhappy with your performance responsiveness, speak with your development team or subscribe to a service like Load Impact's on demand or server metrics agent tool in order to discover exactly where your site is slowing down so you can do something about it.
Add regular load testing to your calendar of site performance maintenance activities, and especially before key sales campaigns and before key shopping dates like Black Friday (in the US) or holiday sales periods.
Meanwhile, a study released this month by Radware shows that eCommerce vendors are not getting better at addressing their site performance. Radware's State of the Union: Ecommerce Page Speed & Web Performance, Fall 2013 reports:
Retail websites have slowed down 16% in the past 12 months.
Radware's survey looked at US retailers, but had similar results to Load Impact's international focus. Average load time was 8.6 seconds for US ecommerce retailers.
57% of shoppers abandon websites after waiting longer than 3 seconds.
In addition to the direct impact of losing potential shoppers who move on from your site before it has fully loaded, Google's search ranking algorithms factor in average website load times. A slow loading site can reverse your SEO activities and push you further down the list in Google results.
What you can do about it
Make sure feature banners are loaded first or sooner than other content.
Make sure all images are compressed (eg. use PNG formats for images).
Set a benchmark of having interactive content displayed within the first 3 seconds of visiting any of your site's webpages.
Consider using a content delivery network: these providers use distributed content servers to help you reduce the strain on any one server to display your website content.
Tagged abandonment, analytics, cart abandonment, Load Impact, performance metrics, Radware, shopper expectations, shopping cart abandonment, website performance