Best E-Commerce Websites: How Retailers Can Shine Just Like BaubleBar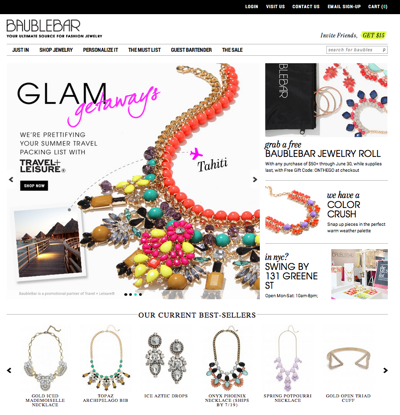 The best e-commerce websites have the potential to build a strong customer base and sell products that are constantly fresh and matched to wider consumer trends.
BaubleBar is a standout model of an ecommerce retailer appealing to a demographic that is comfortable with online shopping (women aged 20 – 40) and selling a product range that is constantly fresh with new product lines and trends on offer (i.e. jewelry as fashion accessories).
Who can learn from the BaubleBar model?
Online retailers aiming to appeal to a large female audience can learn most from how BaubleBar sells their products online
Ecommerce businesses focused on fashion and fashion accessories also have a lot to learn from studying the BaubleBar model
Given BaubleBar's stated goal to "disrupt the e-commerce industry", and with venture funding and key hires that mean this could be a real possibility, any online retailer looking to grow a global business would do well to keep an eye on BaubleBar over the coming year
Branding and PR
1. White space and freedom from clutter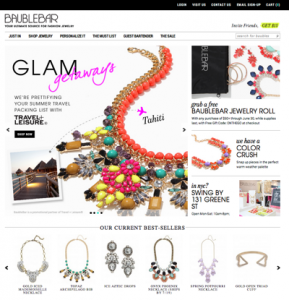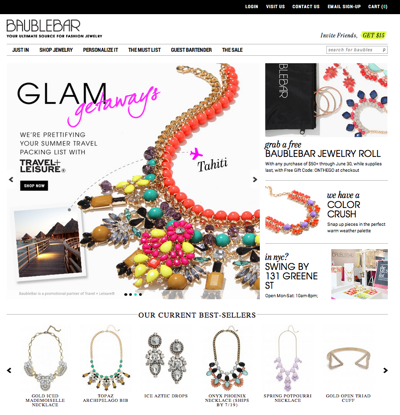 The BaubleBar home page has a crisp, uncluttered look. The initial section "above the fold" is dominated by a large slider image and two smaller promotional items.
How this is useful
On today's ecommerce websites, less is more. Do not overwhelm your readers with too much information from the get-go: give them a taste of your ecommerce business' personality and let them explore.
Review our conversion killers advice: you can see how BaubleBar avoids these killers, including by having ample white space, only a few items above the fold, no sidebar clutter, and a strategic use of visuals.
2. Use the right-hand top space to create a compelling reason to buy
Designers who have tracked eye movements of website viewers know the value of having a key call to action in that crucial piece of online real estate: the top right hand side of the page. This is the area where viewers' eyes tend to drift on any webpage, and why you will see this area being used by many savvy ecommerce websites to collect email addresses via a signup area for newsletters.
BaubleBar has used this area to accentuate a time-limited offer that rewards viewers (who read it) for making a purchase when they first visit the website.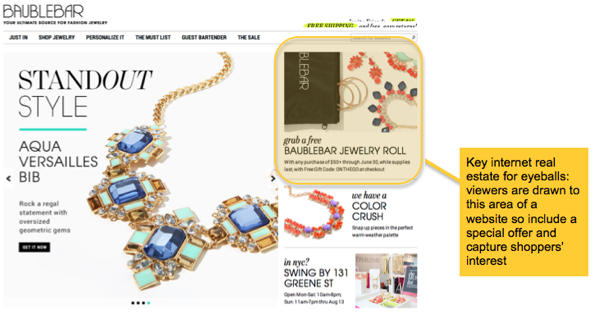 How this is useful
Consider using the top right hand space of your home page to create a compelling call to action. Make sure this is time-limited and has a reward-base for it. For example, having to use a coupon code rewards viewers who feel satisfied with themselves for having noticed the opportunity to get an additional shopping discount.
Plan ahead and have a rolling series of discounts or special offers that you can regularly update in this space.
3. Use visual metaphors to build recognition and reputation
BaubleBar's overall branding makes use of a fashion magazine's glossy style. For example, their banner for a photo sharing section "The Download" looks like it would be at home as a section heading in Elle or Vogue.
How this is useful
Think through some of the offline experiences your shoppers may have: how can you bring a sense of that style to your ecommerce website?
Product range
4. Keep it fresh
Given its fashion focus and its need to appeal to a world of constantly updated trends, BaubleBar has a dynamic strategy to constantly introduce new sales content and product ranges.
On the initial header menu bar, the first option is "Just In": a section devoted to new product items.
BaubleBar introduces new products five days a week, highlights a new trending product range every Monday, and has a guest curator picking out their favorite items every Thursday.
How this is useful
Create a content calendar to constantly highlight your product range and give a sense of dynamism and growth to your ecommerce website. Give shoppers a reason to keep coming back.
Consider pacing out new products so that you are releasing new items regularly rather than all at once. Consider how you can re-package existing products into unique categories or sets that you can then promote in a new way.
5. Offer a personalized touch
BaubleBar provides a number of product streams that can be personalized and customized to the buyers' interests: monograms, mix-and-match, specific product choices. Offering customers a chance to create truly individual, personalized pieces has been an important sales strategy for BaubleBar.
How this is useful
BaubleBar is able to offer personalized products because it has relationships with jewlery manufacturers and designers. But any etailer can consider creating a personal element: repackaging sales items into personalized gift boxes, printing personalized labels, or sourcing limited edition customizable products could be some strategies you offer to provide a personalized product range.
For personalized items, BaubleBar indicates the expected delivery time in the product description. For customized items where manufacture cannot commence until the order has been received, consider making a clear statement about how long it will take to ship the item. This gives customers a sense of trust and confidence rather than being left wondering whether the delivery delays outweigh the urge to purchase.
E-Commerce Platform
6. Keep evolving
After bringing serial entrepreneur Aleksey Korzun onboard at the start of the year as Engineering Lead, and former award-winning 360i interface designer Philip John Basile as Senior Software Engineer, BaubleBar is again currently looking to expand their in-house team in order to build their own scalable e-commerce platform. With venture capital backing and an inhouse software development team, BaubleBar is not restricted to modifying existing e-commerce platforms to create their online shopping experience. However, many of the techniques used by Bauble Bar can be replicated using many of the off-the-shelf and modular e-commerce platforms available.
How this is useful
Keep an eye on BaubleBar over the coming year to see what new interactivity and programming elements they add to their e-commerce platform, as they are definitely emerging at the head of the online retail pack.
Customer Experience

7. Be Social
One of the key elements of the BaubleBar e-commerce website is its focus on social engagement. The site encourages readers and shoppers to tweet and instagram pictures of themselves wearing BaubleBar's jewelry, including suggestions for what hashtags to use when tweeting. One of the hashtags is a branded term which then feeds results directly into a widget that displays customers instagrammed photos. Co-founder of BaubleBar, Amy Jain, has previously shared online that their analytics revealed that women have more confidence buying jewelry online if they can see examples of women wearing items. BaubleBar has cleverly fostered user generated content to create this huge sale-generating asset.
How this is useful

Make sure you have researched which suite of social media is most relevant to your shopper audience, and aim to provide an experience on these networks. Use these networks to encourage user-generated content that can then be used as testimonials and social proof on your e-commerce website.
Conversely, adapt your site content (a blog post or discount offer, for example), and post this to your social network accounts. The idea is to give your audience an opportunity to engage and interact with you from whatever platform they prefer. Some shoppers prefer to view product ranges from within Pinterest for example, rather than via a website's catalog. Others are drawn to a discount offer they read about in a Facebook status update. Build relationships with your shoppers where they are, and minimize links so that you are funneling them directly to a purchase opportunity when they are ready to click off from their home social base.
8. Don't forget the basics
Despite some of BaubleBar's clever marketing strategies and approach to online retail, they also know a large audience of women shopping online are preparing for a wedding or attending one. Weddings are part of a regular client base for many e-commerce retailers with a market segment that includes women aged 20 – 45 years. BaubleBar has a specific section for weddings and regularly updated content to appeal to future brides, bridesmaids, hopeful singles, and wedding guests.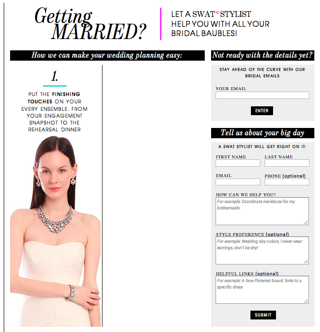 How this is useful
Know your audience and make sure you have key categories and web pages to appeal to regular shoppers, as well as product pages and areas with special deals and emerging trends. Know your bread-and-butter sales items and keep generating content for these staples, as well as the trendier one-off product ranges.
9. Try gamification
BaubleBar truly understands that a key driver for online shoppers is the process of research and discovery. This is a key type of interaction that drives interest in online shopping and is also what can make it fun and exciting. BaubleBar uses gamification-type strategies to reward website visitors for their ongoing engagement with the site. Shoppers can access a loyalty scheme to collect points for every dollar they spend online and are offered bonus points for introducing their friends to the site. Every week, two discount offers a hidden amongst the website pages to encourage shoppers to visit and scour the site, and new clues as to the discount whereabouts are released via newsletter, blog posts and on social media throughout the week. A sense of fun, reward and playful discovery is fostered that encourages customers to visit often and buy regularly.
Create a spirit of adventure on your e-commerce website by making shopping an enjoyable, fun experience that rewards visitors who take the time to visit multiple pages of your site.
Introduce a loyalty scheme that rewards shoppers for repeat purchasing. Provide discounts and incentives for shoppers who introduce their friends or tweet/post about your online store on their social media accounts.
Will You Be Ranked One of the Best E-Commerce Websites of Tomorrow?
Not everyone is aiming to be the next BaubleBar. Your e-commerce venture may have more modest goals than global takeover of the affordable jewelry industry. But many of the strategies being implemented by the BaubleBar team represent best practice for online retail and offer an inspirational look at what makes online shopping so dynamic and exciting for many shoppers. Make sure you offer a quality, interactive experience by following some of the advice from the BaubleBar website, and your e-commerce venture while be shining like a diamond in no time.
Share on Facebook

Mark Boyd is a freelance writer based in Barcelona, focusing on the ways we use technology to connect and interact. He writes regularly for Programmable Web
Tagged BaubleBar, best practice, branding, gamification, online retail, social proof