Walmart vs. Amazon: Is Walmart's Latest Play to Compete too Risky?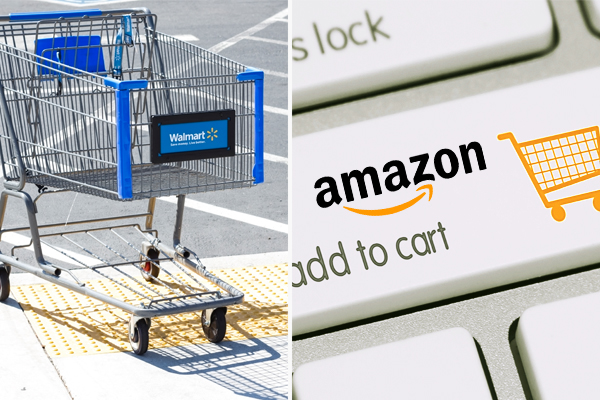 Walmart is becoming increasingly aggressive in edging ahead of its greatest competitor, Amazon. According to the Washington Post:
The $600 billion grocery market has been a particular point of competition following Amazon's $13.7 billion takeover of Whole Foods Market last month. Walmart, currently the country's largest grocer, announced this week that it would become the first retailer to allow customers to use food stamps to pay for online grocery orders. The company also recently announced that it was teaming up with Google to allow shoppers to buy its products by speaking to Google Home devices.
Walmart certainly has stepped up to a variety of ecommerce challenges in a major way.
After taking steps to bridge the gap between it's ecommerce capabilities and Amazon's, Walmart has taken further steps to compete with the largest, mightiest ecommerce retailer on the planet.
Walmart is expanding upon it's online grocery shopping offerings by taking over consumer grocery shopping tasks. Not only will shoppers be able to pay personal shoppers to take over in-store grocery shopping (which is currently available in many markets), but shoppers in many cases won't need to handle their groceries at all!
Specifically, Walmart personal shoppers will gain entrance to a customer's private residence with their permission, and then they will personally put away the customer's groceries (the cold items in particular) on the customer's behalf.
They're coming to your home
Business Insider provides insight on what the service will entail:
On Friday, the retail giant announced a partnership with August Home, a smart-lock startup, that would allow a delivery person to enter customers' orders and put groceries away in their refrigerators.

The test will take place in Silicon Valley with a small number of August Home users who have opted into the service.
Sloan Eddleston, Walmart's vice president of e-commerce strategy and business operations, wrote a blog post on the company's website, further laying out the plans, along with some of the benefits of the proposed program:
Think about that — someone else does the shopping for you AND puts it all away…Delivery drivers will have a one-time passcode that allows them to unlock the August smart lock if customers do not answer the door when the delivery team arrives to drop off groceries.

They will then drop off packages in the foyer, unload groceries in the fridge, and leave — with the door locking behind them. Customers get a notification when the driver rings the doorbell. August home-security cameras allow them to watch the entire process from the app if they wish.
In addition to the blog post that laid out the company's master-plan for the new project, they produced a YouTube video that displays the idea in full detail.
Is this really a good idea?
While the idea might sound good on paper to those who are already time-strapped, there's the obvious question that consumers would certainly need to have answered before allowing strangers inside of their homes while they're away:
Is this a safe idea?
Is it truly safe to allow random strangers inside of one's personal residence? Will the company take steps to keep shoppers safe, such as performing background checks? And even if the Walmart personal shopper only has one-time use of an entrance pass code, the fact remains that a stranger has access to the consumer's personal address.
This could leave the consumer vulnerable to other crimes committed outside of their home, such as stalking, mail theft, package theft, vandalism, and car theft.
In fact, security and privacy experts who have caught wind of the new Walmart project have voiced the same concerns, and more:
'There are always unintended consequences that arise with these newfangled ideas,' said Albert Gidari, director of privacy at the Stanford Center for Internet and Society.

'It might be creepy and intrusive, but there are also a lot of security risks and liability questions down the road: What happens if there's a theft, or damage, or a dog bite? Will your homeowners' policy cover that? How will insurance companies react to this?'
Because of the obvious concerns, there will be many who will cast a highly cautious, weary eye at this program, regardless of its good intentions. Still, Walmart is hoping that the right type of customer will latch on to the benefits (and the good intentions) of this new convenience program, embracing it and making it part of their daily lifestyle.
Who would want to participate in this program?
Walmart execs confess realizing that this new program isn't going to be embraced by all Walmart shoppers. Still, they're betting that the program could become embraced by those who are already accustomed to shopping for groceries online.
In particular, they're betting that shoppers who are currently ordering from home-delivery grocery services would appreciate the extra step of having someone place the groceries inside the customer's home, instead of leaving packages of groceries in front of a locked door, as other companies do.
What might seem novel today could be the standard tomorrow…This may not be for everyone — and certainly not right away — but we want to offer customers the opportunity to participate in tests today and help us shape what commerce will look like in the future.
The bottom-line
While there are certainly flaws in Walmart's personal shopper strategy, it's clear they are trying whatever it takes to hold serve against Amazon. At this rate, these two ecommerce goliaths will continue to trade blows and fight for digital supremacy for years to come.
Looking to get a better understanding of the ecommerce kingpin that is Amazon? Download ROI Revolution's executive report, Amazon Advertising for Brands. This report outlines the key selling opportunities on Amazon and the ways in which they can impact ecommerce retailers. It's a must-read for anyone interested in Amazon.
Tagged Amazon, eCommerce, retail, Walmart, Walmart vs. Amazon