Secrets of Successful Subscription-based Business in Retail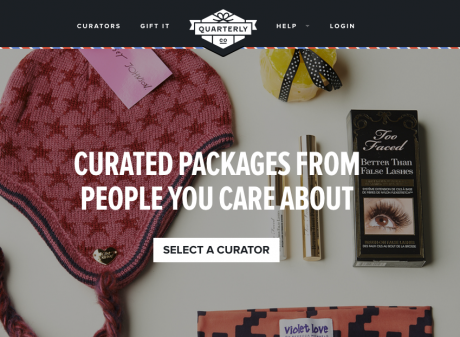 A subscription-based business can help eCommerce retailers build a guaranteed monthly income, sourced from a core set of loyal customers. In a subscription commerce model, customers subscribe to receive a regular parcel of goods, usually on a monthly or quarterly basis.
Receiving a monthly or quarterly parcel in the mail delights subscribing customers and makes their life easier. Often, these packages may be:
A surprise box of curated products
A monthly supply of newly released items in a particular niche (beauty products or underwear for example), or
A more humdrum, staple product (like toilet paper or pet food) that can solve an inventory pain point for a business or customer who needs regular stock.
The main subscription-based service model that is used in retail is to offer an "of-the-month" club, where each month, customers are sent a package of products. In return, customers subscribe using an automatic debit that is paid to your online retail business each month. Some design and luxury retailers may offer something on a quarterly or bimonthly basis at a higher price point, in order to send more high value goods, or to allow more time to source unique, quality products in their niche.
Lately, some retailers have been experimenting with providing more staple goods by subscription: businesses can order regular supplies of toilet paper or hospitality supplies, for example. (You could see how an online retailer like Cherrybrook could apply that sort of model to supplying dog food, for example.) As online data capabilities grow, there could be some big growth in this type of subscription service model. For example, if an office supplies retailer is able to analyze past customer orders, they could create a monthly pack of items that pre-empts what the office needs, based on the customer's previous order frequency and requests. (In fact, in recent days Amazon has been trying to patent this idea of shipping products to customers before they even order them!)
We take a look at the benefits and challenges of a subscription-based business, offer some of key operational tips, and showcase five leaders in the subscription-based eCommerce industry.
Benefits of subscription-based business
Predictable monthly sales: One of the greatest advantages of this model is that you can better manage your business over the course of the year, if you have a core set of regular customers who are spending a consistent amount each month. This can help you better manage your business expenditure and, if you manage your own stock, can help you better budget for purchasing decisions. For drop-shipping retailers, you can use your known monthly income from subscriptions to stabilize your monthly expenditure, and spend any additional income on supporting business growth.
Build longer relationship with customers: Offering a monthly box of goods can help you develop ongoing relationships with loyal customers. These are customers who are trusting your business every month, and are most likely to become your best evangelists, sharing their stories with others on social media, for example. They are also most likely to buy more products from you, so it is worth the time spent to help them identify the best products and deals in your catalogue.
Ideal for products that may cause a little discomfort when shopping in person or that need to be bought regularly and in bulk: There is good reason why a lot of the successful 'of-the-month' clubs are for lingerie or men's underwear. Once a customer is confident that a business has their correct sizes, many feel that it is much more comfortable to receive these items in the home. Goods that are bought in bulk and that do not change each month – pet food, toilet paper, office supplies, vacuum bags, men's razors – are ideal for subscription, as they can help customers shop with a 'set and forget' mindset. Once the subscription is in place, they do not have to worry about carting products home each month or accidentally running out of the essentials.
Can extend to service delivery opportunities: If you are building relationships with other suppliers in your retail industry, you can use subscription-based services to offer discounts with other suppliers. You may even be able to create commission-based payment opportunities for the customer referrals you suggest. For example, you could imagine how an autoparts online retailer could partner with a car repair garage to offer (commission-paid) discounts to subscription customers who access a monthly tune-up service.
Can automate the full supply chain: Once you have built a stable, loyal customer base using your subscription services, you can automate your processes from orders, to inventory fulfillment, to payment gateway. Especially for drop shipping retailers who are dealing with goods that do not change each month, you can set up your systems so that each month, order fulfillment and customer payments are all automatically triggered on a monthly basis.
Create upselling opportunities: This is especially the case with of-the-month and curated packages that are provided to customers. While sometimes you will want to focus on providing a great set of products to your subscribing services, these should also be complemented with items that encourage larger demand and upselling. This can either be with the subscription customer who gets to trial something from your product range before they go on to buy more, or because these customers act as evangelists who share their experiences on social media and encourage other customers to buy.
Challenges and disadvantages of a subscription-based business
Curating packages is a big job: One of the illusions of the subscription-based model is that it is like shooting fish in a barrel. If you are serious about creating a sense of delight and enjoyment for loyal customers by providing a curated set of items each month, there is a lot of work involved in sourcing interesting products, writing up descriptions, and managing fulfillment every month. If sourcing unique, special products was one of the reasons you set up an online retail business, this will be a great outlet for you to share your product love with appreciative customers. If you wanted to work on an online business for other reasons, a curated package approach may not be for you.
Need to support your customers as a community: Offering a subscription-based retail service is a separate product stream to the rest of your online efforts and should almost be treated as a separate business. This is especially tru in regards to the marketing of your subscription offering. You will need a dedicated promotional campaign and if you are offering a curated package or sample product offering, then you will want a separate social media platform for these customers as well, whether that be their own Facebook page or a hashtag you encourage them to use when showing how they are interacting with your curated merchandise.
3PL can be difficult to curate packs and brand the package delivery: Third party logistics refers to the drop shipping and inventory warehouse systems that are used by many online retail businesses. These can be difficult supply chains to include in a subscription-based model. For starters, you have reduced capacity to package and market your subscription boxes with a consistent identity and special feel, which is often part of the very core identity of your subscription offering. If one product is delayed or out of stock, your delivery costs can double, and customers get less of a sense of the unique value proposition from receiving a regular supply at a given time each month if it comes in sporadic deliveries at any time.
Returns: You need to consider your returns policy for subscription-based deliveries and watch your returns metrics carefully. If returns become too frequent, your whole subscription-based service model is in jeopardy. If customers are returning curated selections in particular, you may need to lift your game in sourcing specialty products or recognize that this is not one of your strengths. Alongside returns, it is important to track upsells and additional purchases of subscription customers as this may help you identify the true success factors in your inventory model.
Difficult to scale, esp curated services for niche luxury products: The amount of time taken in curating a personal selection of goods, and the ability to source the numbers you need for a growing customer base can prove difficult if you are hoping to expand your customer base beyond several hundred at a time. Unless you are dealing in bulk products or letting customers select their own selection of products (like the Manpacks model described below), it can prove to be tricky to source the quantity of products needed all at one time that would be necessary if your curated offering takes off.
Top 4 marketing tips in the subscription-based service model
In addition to all the regular marketing tactics such as blog content, search engine marketing, display advertising, search engine optimization, and building retail partnerships, the following marketing strategies are suited to the subscription model in particular:
1. Create buyer personas for your subscription service
While you may have created some buyer personas or customer profiles when you started your online business, it is worth revisiting this idea and creating several profiles specifically for yoru subscription service. What is it that makes these customers unique amongst your overall targeted customer segments? Have a look at some of the key premises of our examples below and ask yourself what drives these customers to be willing to sign up for a regular service online for their purchases. Direct your marketing efforts, social media and landing pages to speak to these personas in particular.
2. Make use of subscription review sites
Sites like Subscription Boxes and My Subscription Addiction are ideally suited to sharing news of your subscription offering. You can encourage your customers to share reviews, or promote your subscription offerings on these sites, which have a growing readership base
3. Treat your subscription service as a separate marketing entity
Providing a subscription service is a separate business model within your overall online business and deserves its own marketing strategy. This may include a separate social media account in particular: Instagram and Pinterest can work well for revealing what is in the boxes you send, or you can encourage customers to use a designated hashtag to share their joy and surprise at receiving one of your curated boxes. You can also build the loyalty of your subscription customers by focusing on the packaging and product listing that your subscription boxes come in. Subscription customers more than any of your other customers love the joy of receiving packages in the mail. Make sure you delight your regular customers and bring a little magic into their lives with each delivery.
4. Tweet about the suppliers and products that are in your monthly subscription boxes
Leverage the customer base and social media followers of your suppliers by encouraging your suppliers and product partners to retweet and share your social media and content that recognizes that their products are included in your subscription service.
Managing payments in the subscription-based service model
Choosing a payment service will be necessary to manage a subscription service in particular. Here are two options:
Shopify PLUS Chargify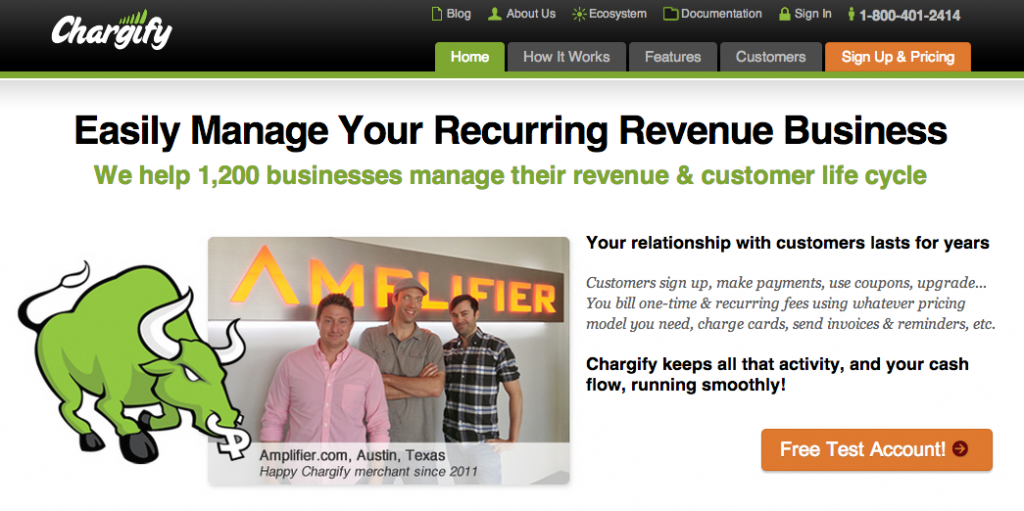 Shopify is an online retail platform that can manage everything from your product catalog to your email marketing. They also have an extebnsive catalog of add-ons and app-like services that can integrate with your Shopify storefront, including Chargify which is a payment system that allows you to set up and manage regular subscription payments within your online store.
Chargebee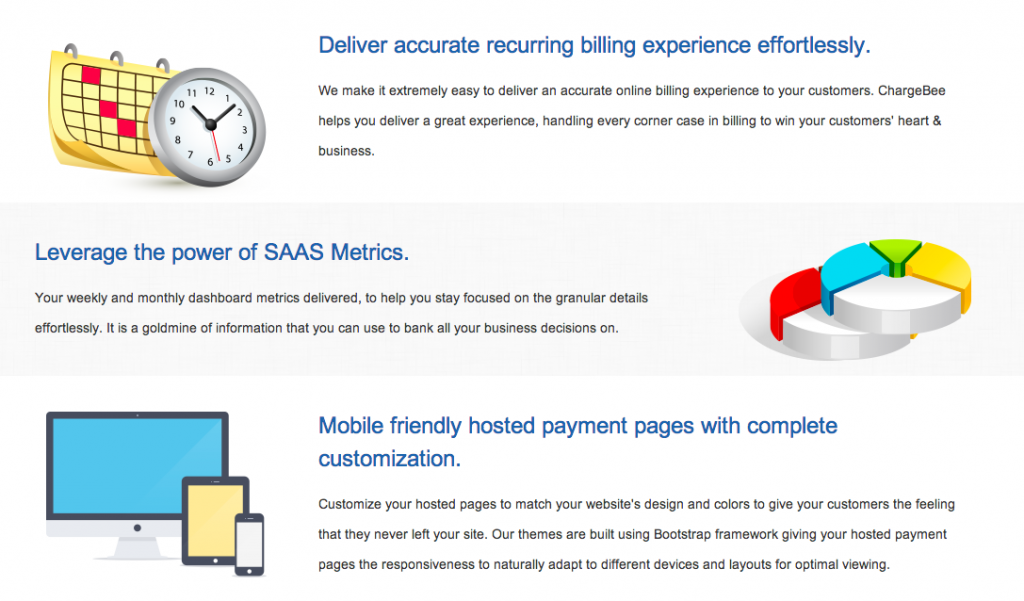 Chargebee is recurring billing system specifically designed for subscription-based online models. It is used extensively by software-as-a-service providers but is also chosen by many subscription based retail businesses. They use PCI-Compliant systems to ensure that customer credit card information is stored securely using banking standards and best practices. This can be a strong selling point to explain to subscription customers. The platform also comes with extensive metrics to let you track customer activity and set growth goals for building your subscription customer base.
Subscription service platforms
As with eCommerce platform solutions, there are also specific platforms that can help you manage your entire subscription service. These are best suited to those online retailers who are basing their whole online model around offering a subscription-based service, rather than those who want to offer an "of-the-month" club as part of their larger online efforts.
Subservice.co and Regular.io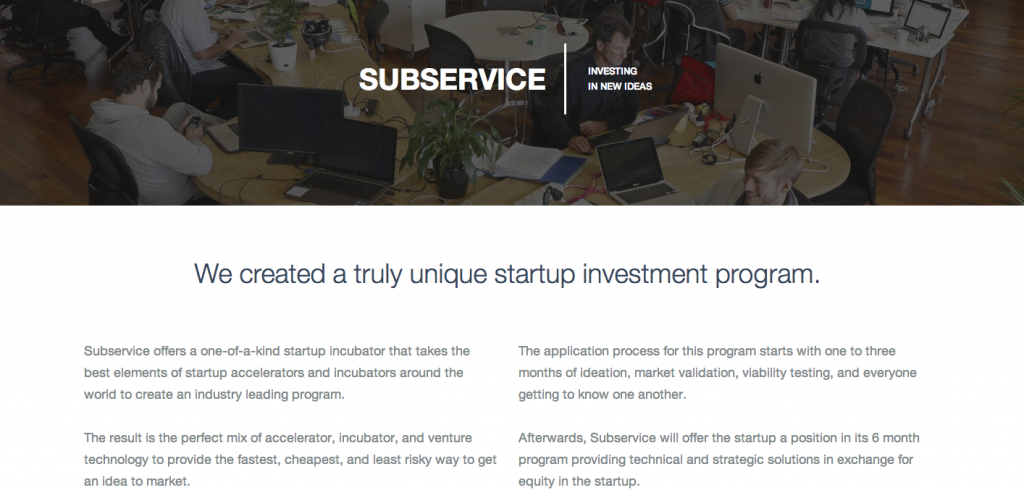 Subservice provides access to venture funders and business expertise that can provide consultation advice, network links and funding sources for your subscription-based idea. In addition to the business mentoring service, Subservice (like Cratejoy and Subscribely described below) is launching a turnkey platform to support subscription-based businesses. This platform will operate like an eCommerce platform particularly suited to subscription-based service business models.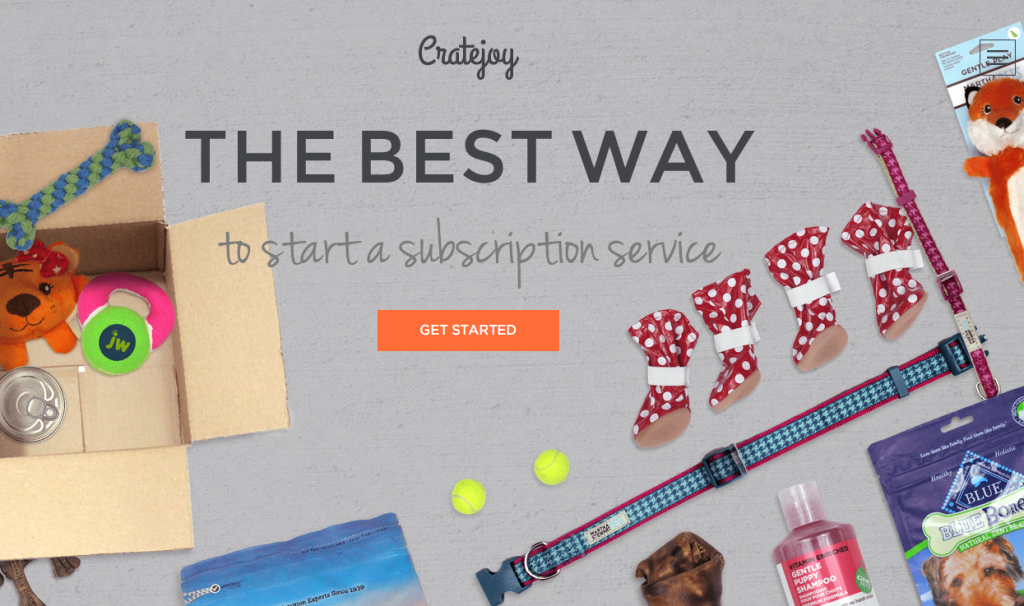 Cratejoy promises to launch its beta service in the second quarter 2014, but is accepting registrations now. The home page design is appealing and the service aims to provide a complete turnkey solution for setting up a subscription model business. This platform may be best suited to an online retailer that wants to build their whole business model around offering a subscription-based service. You may also be able to use this in conjunction with your existing online store by linking the subscription service to your main website portal, but this may mean you have to manage payments and manage customer accounts separately across two systems.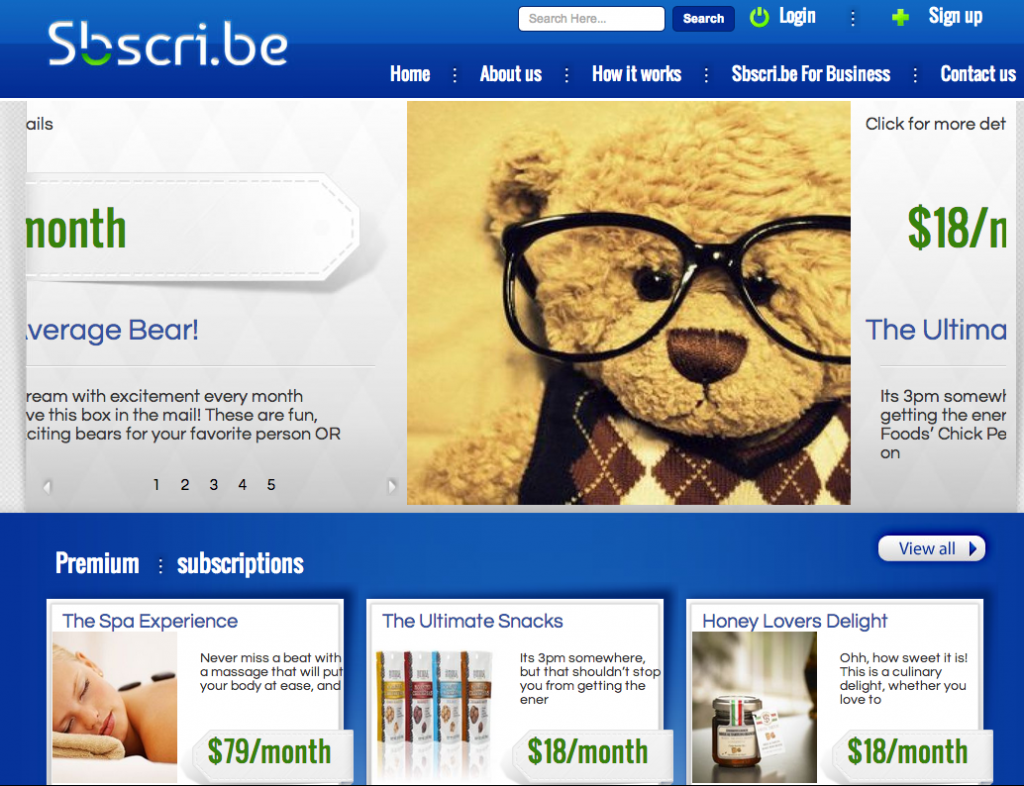 This platform has a marketplace of subscription boxes where customers can start subscribing to specific monthly product boxes – everything from spa and wellbeing services to snack packs to monthly deliveries of teddy bears. eCommerce businesses can create a business chapter on the site and access Sbscri.be's customer base by adding a subscription offering to the marketplace. Sbscri.be provides all the product pages and details and can manage subscription payments through the system. The idea may be to both leverage Sbscri.be's customer base of site visitors, as well as do your own promotion that might bring more customers and site visitors to the platform overall. The problems with the platform, however, may make this more of a test site rather than a full-blown business venture. The platform itself looks fairly ugly and doesn't make use of the latest aesthetics and design standards in setting up an online retail service that looks modern and clean. It looks like it is a throwback to the 1990s when we all accepted clunky layouts because that was the best that most of us could do. The products being offered by other businesses on the marketplace may also create a poor impression for your business by association. Trying to offer a quality product alongside offerings that include regular supplies of chickpea snacks may not present the type of image you are wanting to create for your business.
Subscribely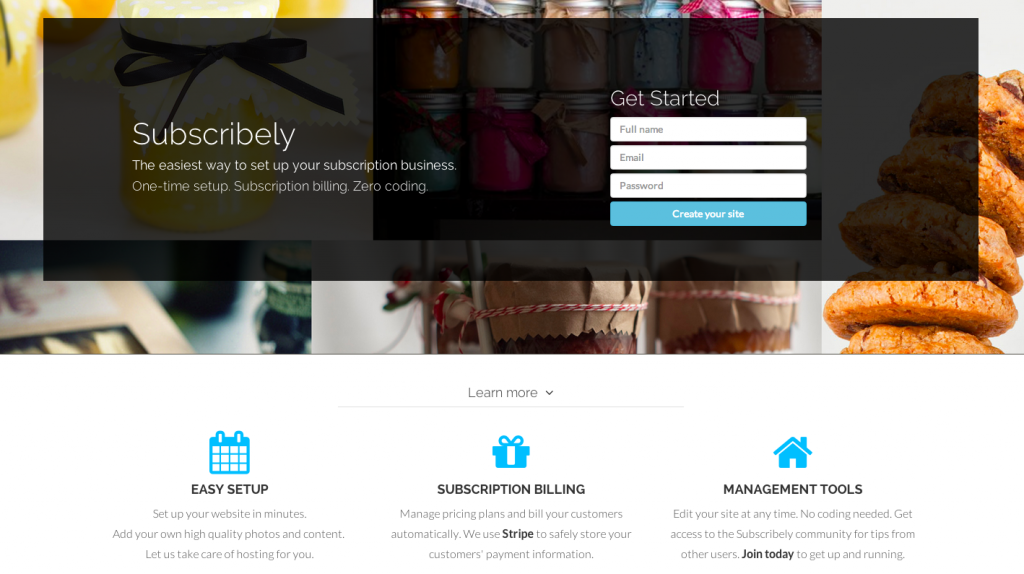 Like Cratejoy, Subscribely is currently in beta form and is inviting registrations. It is a growing sign of the expected success of subscription-based eCommerce that there are currently two platforms in beta planning to provide services to this growing online retail supply market.
Five of the best subscription-based business ideas
1. Manpacks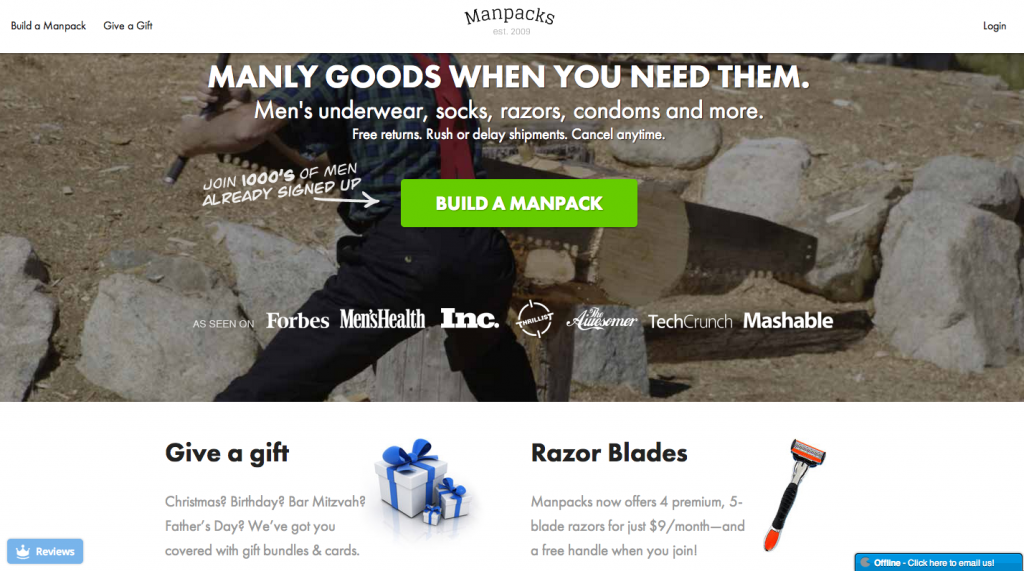 What they provide: Manpacks focuses on providing convenience to their customers, letting male shoppers select a regular supply of common self-care and male shopping items like underwear and shaving goods
Main customer segment: Men
Key premise: Manpacks highlights the popularity of the service amongst other male customers, offers convenience as a commodity service, and gives some sense of control to customers who can set up their own collection of regular products rather than being offered a curated pack of unexpected items. The focus is on re-stocking regular bathroom and self-care supplies rather than introducing the customer to new products.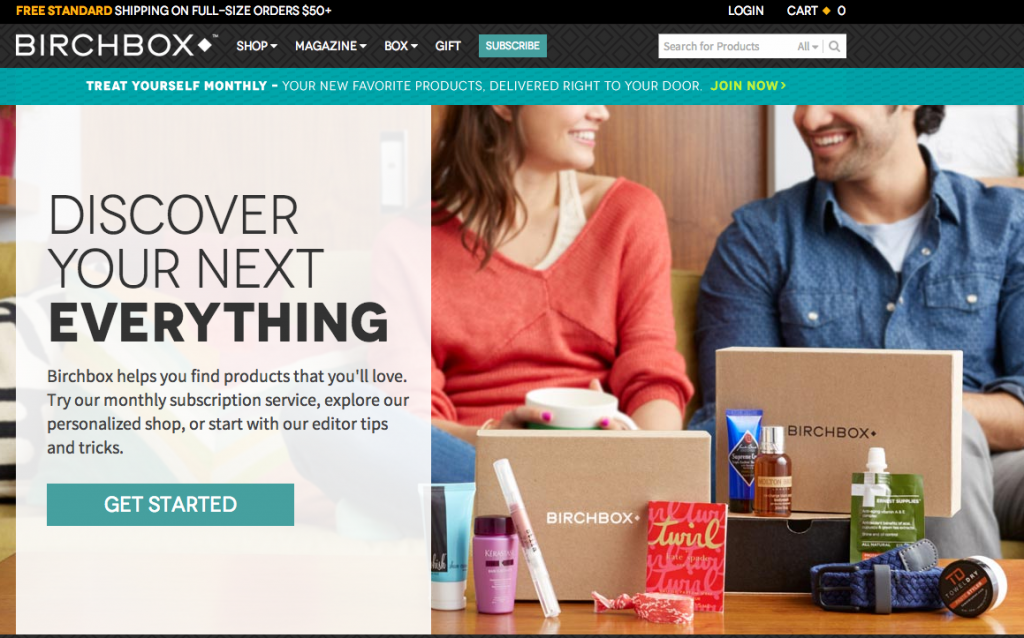 What they provide: A curated set of samples and content resources outlining the latest products in beauty, grooming and lifestyle
Main customer segment: Women
Key premise: Birchbox is targeted more at women who like to shop, and who would like to explore new product ranges in a personal and accessible manner. The site content replicates a women's magazine with news and details of new product releases, and the goal of the subscription sample box is to encourage upselling and to funnel subbscription customers into regular online purchasing. The model has been so successful it has been able to raise over $12 million in venture funding and sees regular monthly growth in site visitors. Look out for a more thorough review of what makes Birchbox a success when eCommerce Insiders profiles Birchbox model in our next Best eCommerce Websites column.
3. Quarterly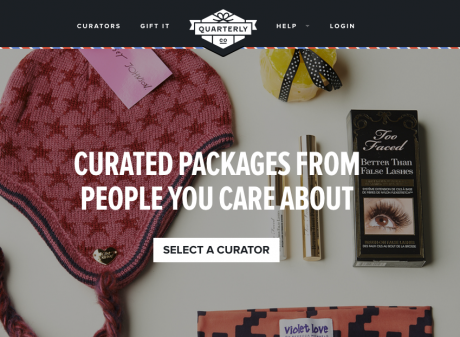 What they provide: Curated quarterly boxes of products and designer goods chosen by leading industry experts and famous people
Main customer segment: Fame-followers and trend watchers
Key premise: Quarterly uses our fascination for famous people and desire to be ahead of the next trend to encourage sign up to a subscription. Customers can subscribe on a regular or one-off basis to industry experts and famous people – like 4 Hour Chef author Timothy Ferriss, music producer Pharrell Williams or style blogger Megan Collins. Subscription boxes vary in price depending on the level of fame of the curator. The uniqueness of the products included in the curated packages and the star power of the curator's names let Quarterly have a much longer lead time between subscription and delivery: most customers want to receive something faster in the mail than in three months, so copycat models may have a hard time.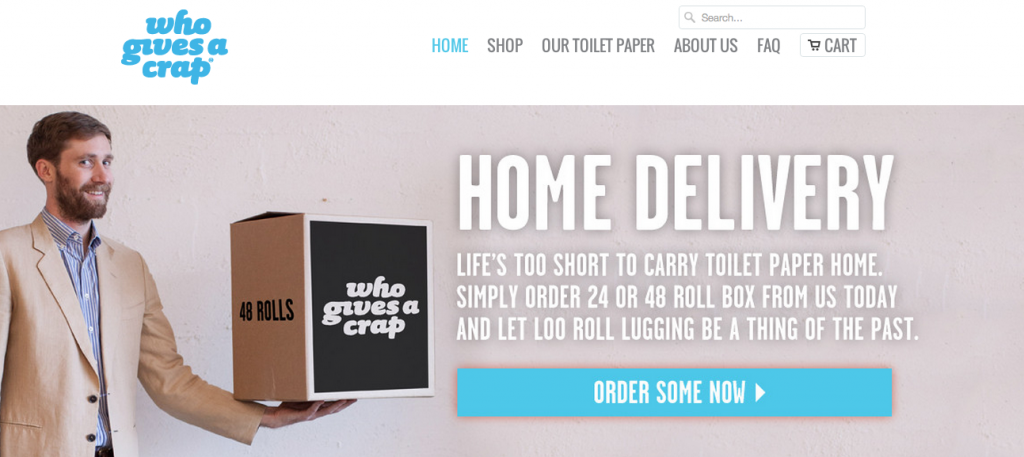 What they provide: Environmentally-friendly toilet paper in bulk
Main customer segment: Businesses
Key premise: This model seeks to focus on the business market, especially those who want to source environmentally, sustainable products. They also focus on businesses where the toilet paper supply might be a different source than the rest of the business needs. For example, a business office might need predominantly other types of regularly-supplied goods, so buying toilet paper in bulk ends up being a nuisance as it is a one-off purchase each time, and if they buy in bulk can be difficult to carry new purchases themselves. By automating the supply and delivery of toilet paper, Who Gives A Crap hopes to build a viable business model.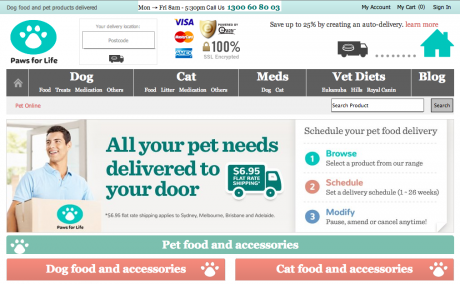 What they provide: Pet food and pet products
Main customer segment: Pet owners in Australia
Key premise: This subscription model works in a similar way to Manpacks where customers can select a regular basket of goods and even select the frequency of the deliveries. While there are upsell opportunities and encouragements to use the rest of the online store product catalog, Paws for Life focuses on staple products like pet food and medications to ensure a loyal and stable customer base.
Can you offer a subscription based service as part of your online retail business?
Setting up either a subscription-based model for your online business or creating a subscription-based offering within your larger online endeavor can have great benefits and bring you a loyal customer base. Addressing some of the challenges of the model and using effective marketing techniques and payment platforms suited to subscription businesses will be the key factors in your success. Please share your experiences – and business links! – with us in the comments below.
Tagged "of the month" club, Chargebee, Chargify, Shopify, Subscribely, subscription service model, subscription-based business, subscription-based ecommerce, subscription-based service model