Best eCommerce Websites: Grainger Gets It Done for B2B Retail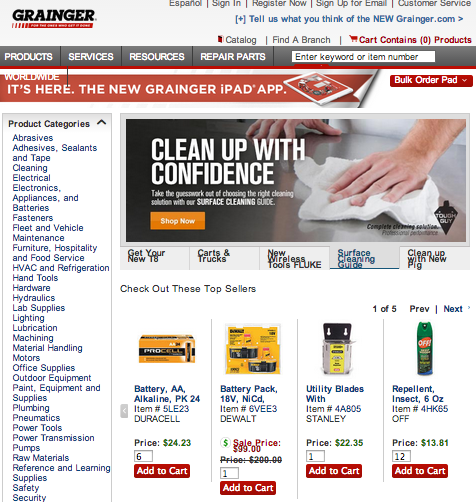 Have you considered business customers as a market for your online retail venture? "B2B retail" is all about you as a business selling to other businesses rather than direct to consumers. And B2B online retail is seeing exceptional growth as business buyers start researching and burying products directly online.
Focusing a portion of your website on business customers – or creating an entire online retail venture devoted to business customers – is an excellent eCommerce market to enter. Business buyers are increasingly comfortable buying online. This means there are a lot of opportunities to enter the B2B online retail market and build a reputation. It is a also a fast growing market with businesses frequently buying from new vendors outside their usual supplier networks.
A lot of brick-and-mortar businesses have yet to grapple with selling online, and many have a difficult time reorienting their traditional retail approach to an online environment. This means the market is far from sewn up by existing businesses. But when brick-and-mortar do create a strong online presence, it is worth paying attention.
Facilities management equipment supplier Grainger has invested heavily in their eCommerce platform. Grainger's website traffic is gigantic, and their online product range has recently crossed the one million items mark. At the start of this year, they announced that they had surpassed $3 billion in eCommerce sales for the first time. Online retail accounted for a third of all of their business sales in 2013.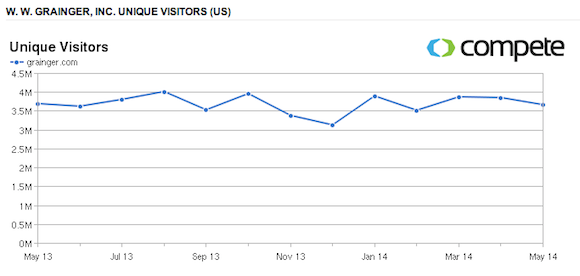 While they are indeed one of the big companies out there, how they are approaching eCommerce is valuable for any business to watch and emulate.
Who can learn from the Grainger model?
ECommerce retailers with a large product range
Online retailers who want to target business customers
Brick and mortar businesses who want to expand by building an online channel
Branding and PR
1. Banner Basics
B2B online marketing expert Justin King refers to the "F-shape for usability". While some retailers are moving beyond this nowadays as it is a little old-fashioned design-wise, it is still a tried and tried approach. (You can see it on a lot of the eCommerce platform Magento templates, for example.)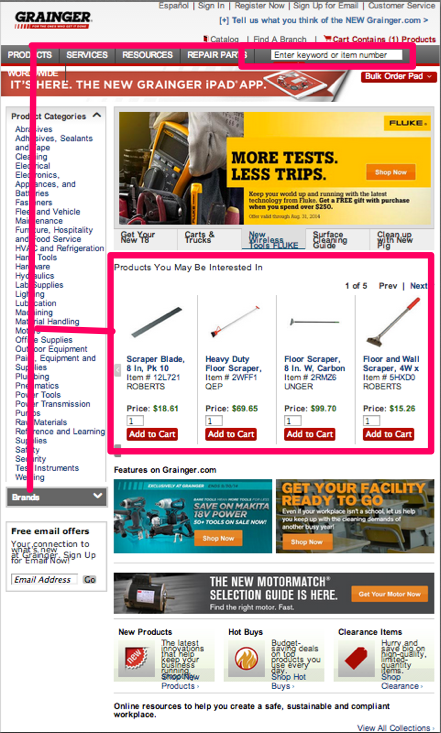 Grainger uses a variation of the F-shape to great success. You can see how the top and left-hand side of the home page provide easy navigation to the product areas that are typically part of a new visitor's initial search. In fact, the left-hand menu replicates the drop down top menu of "products" so that whichever way the visitor likes to navigate, they can quickly get to where they want to go.
For those who prefer to search immediately via product or category, the search box is included in the top banner (Grainger are leaders at search, as we will discuss further in a minute).
Grainger have learnt what has worked for their online store home page layout from their very beginning and now use this to create a sense of comfort for returning visitors, while allowing new customers to easily feel a sense of connection.
Here are the Grainger 2012 and 2014 website layouts side by side: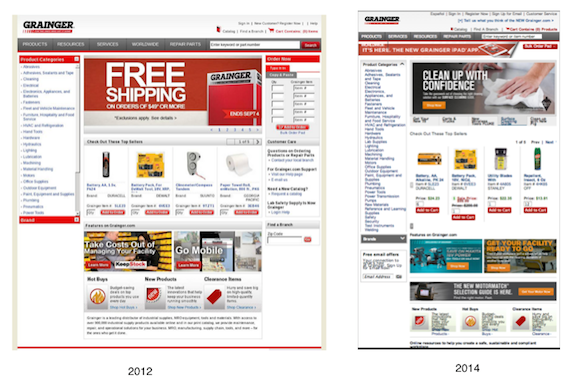 You can see it is basically the same format. The big difference is that in the middle block, it is now structured as:
Slider with current promotion
Top selling items: which is a combination of a recommendation-type feature and a social-proof type reinforcement
Features section: this was introduced about a year after the initial website was built, obviously as Grainger learnt more about their customers needs. Features here focus on specific sales promotions (the Makita power tools promotion), customer use cases (cleaning) and a product information guides (a Motormatch interactive selection guide).
According to B2B eCommerce best practice, helping customers navigate directly to the information they need in a click or two is essential for this market. Grainger use the F-shape usability to assist customers find what they are looking for quickly.
How this is useful
Make sure your home page offers multiple ways for visitors to get to product pages quickly (e.g.. via a left hand menu, a header menu and a search box).
Show business customers what items are most often bought on your website (as these may be similar to the products your new customers are searching for as well).
2. Keyword strategy
Over the past four years, Grainger's online store has increased from offering 480,000 products to in excess of one million. As any online retailer with a large product range knows, this creates difficulties in getting noticed for each product category and for specific products and brand names in each category.
PPC advertising is an important complement to SEO for such a large product range. You can see how Grainger dominates their PPC advertising marketing, which brings 40% of their customers to their website. PPC advertising data analysis provider SEMRush shows that Grainger is positioned first in the keywords it is buying.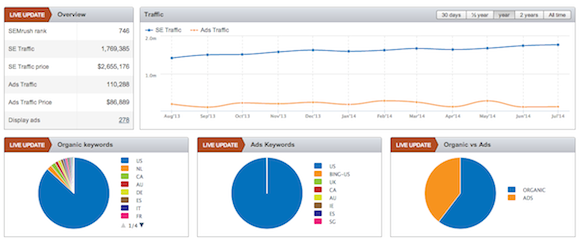 ABOVE: Data on Grainger.com PPC advertising ranking from SEMRush
The VP of Ecommerce with Grainger, Paul Miller, has said that Grainger manages 5 million paid search keywords, up from 10,000 in 2010.
How this is useful
Start managing a database of all the products you sell and start building a keyword strategy around all the products in your database. Easy does it: you don't need to have such a comprehensive database as Grainger to start, but can build gradually as you learn what is most successful for your business.
Consider a PPC advertising strategy to complement your SEO strategy
If you do not stock or sell all of the product brand names in each category, consider creating pages or blog posts that do comparisons. For example, if you only stocked Makita products, you might create website content such as a blog post or product information page that compares Makita with Dewalt and Bosch, so that you can build a search reputation for those other product brand names without actually stocking them.
Product Range
3. Search is essential for B2B
In our summary of B2B retail best practices, we share a key piece of advice from marketing analyst Diana Huff. She says that B2B customers are "busy and efficient" and want to head straight to product pages.
Grainger is exemplary in helping customers quickly navigate their site and get to the product pages they need. Here are some of the features they use to help do this:
Autofill: Grainger uses a sophisticated indexing tool that autocompletes as you type. For example, imagine we need a submersible sump pump (as Jimmy Fallon would say: ewww!). Once you start typing a few letters, Grainger starts listing suggestions for you. You don't even need to know how to spell submersible to start getting the right suggestions!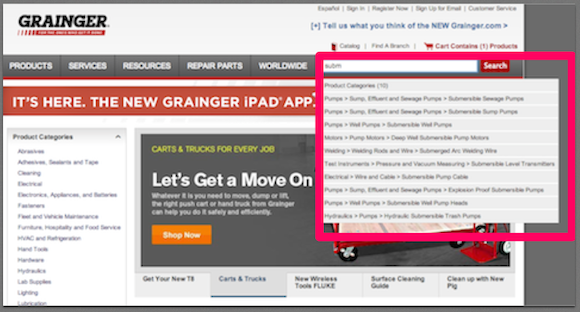 Use case filters: One of Grainger's cleverest product search features is the filter menu on the left hand side. For example, for hand and portable lamps, not only are there the usual candidates for product filters in this category to help speed up search (things like lamp type, watts and voltage), but there are filters to help for individual business use cases. Notably in this case, cord length is provided as a filter option. Also, things like number of reviews and price are listed lower down in the filter menu so customers can quickly scan what other filter options they have before they head to these "go to" filter choices.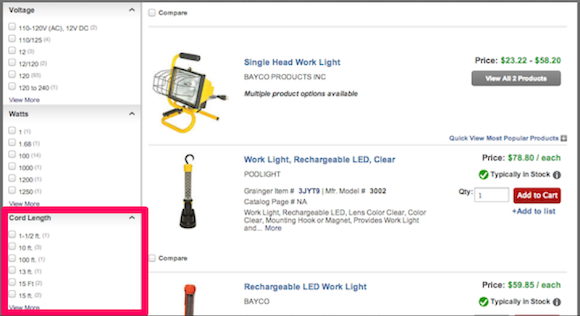 How this is helpful
Build a search autocomplete or use an API (like the Algolia solution described in our eCommerce API overview) that can help you manage your product content for search.
Think through the use cases for your potential customers (use your customer personas if you have created some). Or look through the FAQs pages of supplier websites, or your own support desk database to identify what sort of use cases buyers are most needing to confirm when selecting a product. Can you establish product category filters that help support these use cases?
4. Leverage social and peer behavior
Grainger takes the best learnings from all eCommerce sites (more on this later) to improve their product description pages. For example, like a hotel bookings site, Grainger shows what other customers searched for or bought once you have reached a product page. This can help business buyers remember what other products they need. For example, if a business needed to buy a floor scraper, they could see that customers also viewed replacement scraper blades, which might be a reminder to stock up on this item when purchasing a scraper themselves.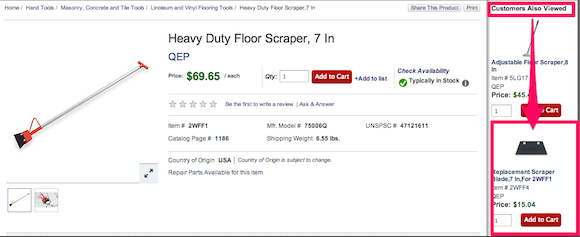 Like with customer-facing eCommerce (for example, Birchbox or BaubleBar), they are also building a recommendation review database to help business customers better research products.
How this is helpful
Leverage social media in your website. You may need to think more about LinkedIn or industry professional Twitter accounts than the usual social media targets.
Use aggregated data from your sales and website searches to feed back information to other customers. Start small if you need to: your top searched for items of the month, or your top sold items. Build up until you can recommend other products for every single product page on your website.
Encourage user-generated content such as recommendation reviews, or content suited to a B2B audience. For example, perhaps some customers would be able to share the business case that helped them argue for purchasing particular products, or sharing of unique use cases about how businesses are using the products they are buying.
5. Facilitate comparison shopping
Grainger encourages business buyers to conduct their own comparison shopping on the website. They have a feature where as you go through the site, you can select particular products under a comparison tick-box. Then you can navigate to a page which will show you all of these products side by side so you can better decide which product is best suited to your business needs.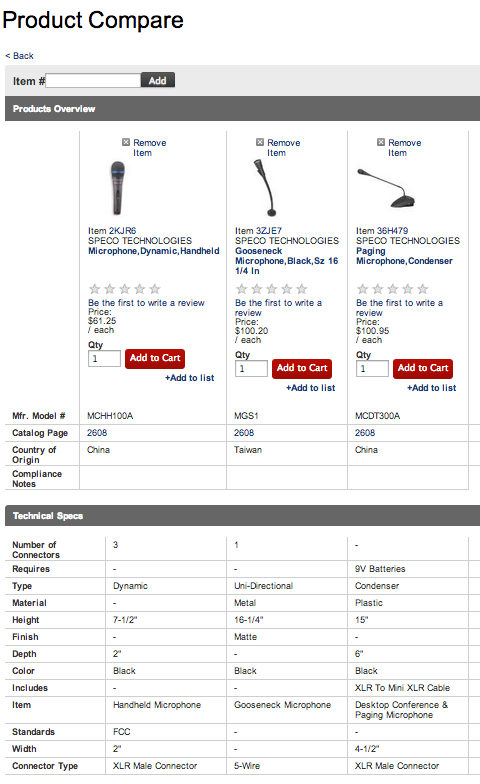 How this is helpful
Business buyers often need to demonstrate a business case where they explain why one product was chosen over another. Providing a comparison feature allows business buyers to better document their choices.
Business products may differ only slightly or may differ in terms of detailed specifications which are not immediately obvious when looking at a product page. Making it easier for buyers to compare rather than "tune out" and turn to another task encourages purchasing.
eCommerce Platform
6. Know your mobile strategy
Grainger noticed that their business buyers were increasingly using iPads to visit their website. As a result, they have developed an aggressive mobile strategy that includes an iPad app.
How this is useful
Review your website analytics regularly to review what devices and operating systems your visitors are using to visit your website. Can you make it easier for them? For example, if there is a growing section using iPhones to access your website, maybe you need to start investing in an iPhone app. If the majority of your customers are using a Chrome web browser, can you create an extension to make it easier for them to stay connected with your retail services?
7. Accounts for repeats, quick checkouts for new customers
To encourage repeat business, Grainger provides an account system so that businesses can sign up and manage their orders and, hopefully, purchase repeatedly through the website.
But Grainger also provides a quick checkout service for new customers who may just need a one-off purchase, or are in a hurry and need a specific item as quickly as possible. In essence, there is not that much different to signing up for an account and utilizing the quick checkout system. In fact, business customers who have used the quick checkout now have all of their information at the ready so that they can now open an account for repeat purchases.
But psychologically, the message from Grainger is clear: you do not have to worry about excessive paperwork to get started purchasing through our system.
How this is useful
Make sure to explain clearly how customers can buy single, one-off items that can be shipped quickly to meet immediate needs. Make sure your system stores agreed data (address and shipping details, name of business and purchaser) so that these buyers can set up an account after they have received their first order.
Consider sending a followup email after delivery has been fulfilled for the first order inviting these customers to set up an account. Consider providing some discount or incentive on their first order as an account holder to encourage repeat business.
Customer Experience
8. Don't get too hung up on "B2B"
In an interview with Meet The Boss TV's Ben Thompson, Grainger's VP of Ecommerce Paul Miller suggested online businesses should not overly focus on the idea of "B2B". While it is valuable to consider business buyer motivations when carrying out market research, Paul Miller reminds us that at the end of the day, it is a human shopper that is making the decisions.
Miller suggests taking the best things from consumer-facing online retail and then adding in knowledge of the B2B environment: "So you start with that B2C experience, where it's about understanding and giving a great shopping experience, but layer on top of that the things that make B2B different and nuanced," he told MeetTheBoss.TV.
You can see this in practice on the Grainger website where, as noted above, techniques from hospitality, travel and social media-focused online retail are used to create meaningful features for a business customer.
How this is useful
If you have already been operating a B2C online retail website, look over what has worked best for you in building customer loyalty and engaging shoppers with your website. What techniques can you apply to your B2B venture?
Review our Best eCommerce Websites series and see what features work best for customers and consider how to apply these winning strategies for B2B online retail.
9. What Personalization means in B2B Retail
While it is just as important to focus on a delightful, useful and efficient customer experience for business buyers as it is for consumers, there are also some specific business environments that are helpful to understand when targeting this market. Here are some of Grainger's specific B2B retail features:
Share product details: Often business buyers must check with their colleagues or the end users in the organization before they can confirm a purchase. Grainger provides a one-click button service to let buyers send a copy of the product page to anyone else in the organization.
Bulk ordering: Grainger provides a simple feature so that buyers can copy and paste item codes into a scratch pad and calculate bulk purchasing prices.
Easy Reorder: Like subscription retail, Grainger offers a service where business customers can quickly repeat their previous order. This is ideal for business customers who need to re-stock products regularly.
Paperwork Integration: For large customers, Grainger integrates their ordering system into their customer's financial record systems so there is a clear paper trail for purchases. Even for smaller customers, Grainger offers an easy clickable interface for those buyers who need to print off and file an invoice when they order online.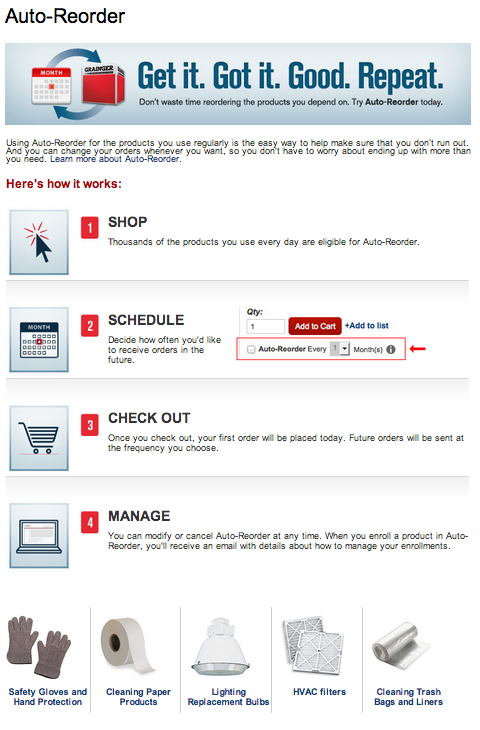 How this is useful
Create specific features that make it easy for business customers to manage the paper trail necessary when purchasing online. Consider reaching out to initial customers to check if they are able to easily document and file their purchasing history with you, or whether they need invoices or purchase orders in a particular format, or any other documentation.
When you identify large enterprise customers, consider investing in helping them integrate directly into your sales interface, for example, establishing approval authority chains so as to more easily facilitate purchasing across their employee pool.
Review our subscription retail summary and consider how to apply repeat subscription services for business customers who buy perishable items and products that need regular restocking.
Will You Be Ranked One of the Best eCommerce Websites of Tomorrow?
You don't need to aspire to be an industry heavyweight to make use of many of the techniques that Grainger has introduced on their website. As a B2B retailer with consistent growth and a proven capacity to scale their operations for the internet, they are an ideal candidate to watch and follow, and to copy their best practices. By following their example, your B2B online retail business can also be on a path to growth each year.
Tagged B2B eCommerce, B2B online retail, B2B retail, best ecommerce websites, business customers, eCommerce APIs, Grainger