Turning Content into Customers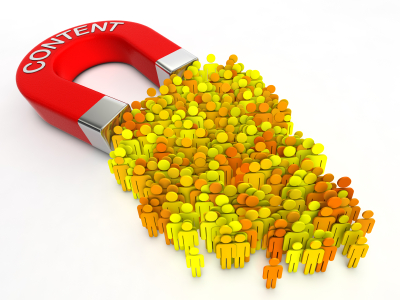 Your company's blog is a necessity.
That much you know – it's been said by every marketing expert you've ever consulted.
There's just one thing you'd really like to understand: WHY?
After all, you can't directly measure the ROI from your blog content.
Or can you?
At one point, just having a blog was enough to set you apart from the crowd. The stats you could measure off it were limited, and analytics didn't exist. That's not the same in today's content marketing world.
You can definitely measure ROI from written content, although maybe not in the strict sense of dollar and cents. Better yet, you can use your blog to grow your customer base and convert readers into customers, customers into fans, and fans into brand activists.
Blog Posts That Make Money Think Long-Term
Focus on strategy. Know where your content is going before you write it (or pay to have it written). Use a detailed editorial calendar that provides you with dates, publication platforms, promotion strategy, like and share data, etc. But most importantly, focus on quality.
Google's algorithms are changing continuously. The company's goal is to drive readers to the content that answers their questions most accurately. You want to be the one making that content.
You can pay to promote your content, work with influencers in your niche, distribute it free on multiple platforms, or follow a strategy that's a mix of the three. Test each to see where you get the most page hits.
And forget about tracking dollar amounts from a single article.
Before you start producing content, understand one thing – it's not about getting big dollar returns from each article.
You are building a relationship with your customers and cultivating a position of credibility and authority. The ROI from that is priceless. And it's exactly where you can start to cultivate a strategy that leads customers to your door.
You're paving the way to sales with breadcrumbs…each article on your company blog and each social media post you create should have a goal – driving customers to you. Unlike a direct sales campaign, however, you need finesse here.
If you want to sell your customers a pair of sunglasses for driving, for example, write an article about the UV protection their eyes need. Talk about the damaging effects of solar radiation on the eye. In the next article, outline the steps they can take to protect their eyes, including numerous options like wearing a hat or even using a parasol. Include a hyperlink on the phrase "wear sunglasses" in that article that leads to your sales page. In the next post, talk about how to choose a pair of sunglasses. Make sure the information is accurate, but leads to your product as the ideal solution. Let them arrive at the conclusion, don't directly sell.
This kind of content does a few things for your brand (assuming you carefully research each piece and make sure the information is accurate and the article is fun to read):
1)      Provides a temporary sales boost to the related product.
2)      Creates an image of authority and credibility for your brand that leads to MORE SALES in the future.
You can introduce new products this way or breathe life into old ones. It's a smart strategy that Google won't penalize, and best of all, you're going to see sustained ROI increase – people will trust your brand as a source of information and high-quality merchandise.
That's better than a single sale with an instantly measurable ROI any day. Remember: the most important sale is the second one. To get there, you need to be remembered for something good. Content can be the key.
You CAN Get Direct ROI from Blog Posts
Think about solutions. When you do a Google search (how most new readers will find your blog), you want answers. You might be looking for how to bake a perfect pie crust, if newborn babies should wear shoes and socks, or what computer is best for your home office.
It doesn't matter what the exact search is – you want an answer to a specific question or set of questions. Your potential customers are doing the same thing.
How do you make money from a blog post as an ecommerce retailer? You provide the solutions your customers want. Educate your consumer, inform them, and reap the rewards. Put in a soft promotion and gentle call to action towards the end of your post. It's an effective money-making strategy, and it keeps working as time passes.
If you're more interested in direct promotion and sales, you can roll your blog content into information products and sell them, or offer them as opt-ins for your mailing list.
Get people on an email marketing list and you can cross-promote your content, potentially sell more information products (made the same way), and keep your position as one of an authority they trust. Physical products can be easily promoted to a captive mailing list that trusts the content you produce, too. One of the benefits of email marketing is the ability to measure your ROI for each message.
Content can drive ROI. You can turn readers into customers, and most importantly, you can reuse content in an intelligent way to create information products that provide further benefits to your customers and an additional income stream to your business.
What are you waiting for? It's time to get started!
Tagged content marketing, eCommerce, trust signals