The Secret Sauce Your Segmentation Efforts Are Missing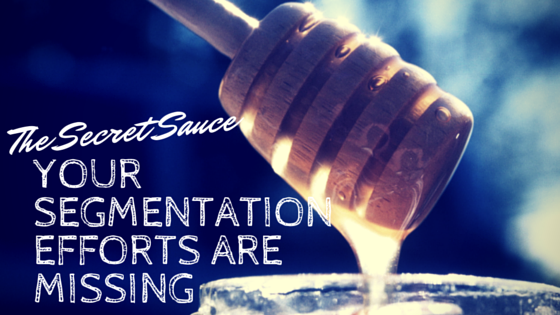 How's your list looking these days?
Don't tell me you don't have one. And please, don't say it isn't segmented.
Ecommerce thrives on a healthy mailing list, one that can convert like mad. A 2014 Capterra report shows that for every $1.00 spent on email marketing, the return is $44.25. How's your email marketing performing compared to that statistic?
No matter how good it is, it can always be better. But how do you maximize conversions on a captive list if you've already got great content, excellent subject lines, tons of subscribers, and a killer open rate?
You segment your list, and you do it well.
According to an Informz report from 2014, emails that are sent to smaller, more tightly-targeted lists of 50-100 people have the highest open and click rates. Segmentation and targeting also increases engagement. Data from Lionsbridge surveys shows that most email marketing campaigns don't really take advantage of the complexity of consumer tracking and segmentation, though. That leaves a gaping hole that your company can fill – no matter what industry you're in.
This month, I talked with Matthew Quinn of Sauce, a startup that's ready to help you rock your list segmentation to the next level.
Matthew's a pretty laidback guy, the kind of guy you want for a friend. And a lot of companies are finding out that his company, Sauce, could be the best thing that's ever happened to their bottom line.
Apart from being one of the hottest startups in London, Sauce is also changing the future of ecommerce retailers around the globe.
They've got a fun and quirky corporate personality and unwavering commitment to customer satisfaction that makes them a great pick for most ecommerce businesses.
Sauce is also big on collaboration, integration, and segmentation – three buzzwords to love.
Here's what Matthew had to say when we talked.
CB: If Sauce had a company library, what books would you stock?
MQ: Literally the most random books, top 5 being: Zero to One, Atlas Shrugged, Flash Boys, The Zombie Survival Guide, and The Checklist Manifesto.
CB: What inspired Sauce?
MQ: Sauce actually grew out of another product we had which was based around social logins. Stores were getting an absolute treasure trove of data about their customers if they used a Facebook login, but they had no way to use it effectively, let alone the data they already had access to.
What we realised was segmentation is actually a huge hassle for retailers. Their data is disconnected, slow, and usually involves faffing around with spreadsheets – no wonder everyone talks about personalization but struggles to execute it! Thus we built a product which let stores use their data in incredibly powerful but also easy ways.
CB: What's one thing you want small business owners to know about Sauce, and why?
MQ: We're not a big faceless organization with a single email address for support. We love talking to clients and prospects about the challenges they are having and will be completely honest if we think that they shouldn't be focussing on segmentation at the moment.
I think everyone has had a bad experience with customer service. Many tech companies try to avoid doing it, but we truly pride ourselves on our performance in this area.
CB: How does Sauce compare with applications like Vero? What advantages does it offer?
MQ: With Vero specifically, we are 100% ecommerce focussed and plan to stay that way. Because we integrate with shopping platforms directly, our data quality is much higher, plus there's no development work needed to get set up and stores can keep using the tools they love.
Email platforms like Vero typically offer some basic segmentation functionality out of the box, but usually you'll need to pay a developer to get everything set up, plus the segmentation often doesn't behave in the way you want. At Sauce we don't want to ask marketers to change their existing tools – we focus on adding value to the ones they already know and love.
We also apply this same principle to our integrations beyond email – advertising (FB Custom Audiences etc) and personalization (Optimizely).
As we grow, we'll be adding even more value by plugging into more and more tools, such as Rebelmail, Privy and maybe even FullContact.
CB: Is Sauce scalable as a business grows? How does it function differently for small, medium, and large ecommerce businesses?
MQ: Most definitely.
The larger a store gets, the more they should be segmenting. With more customers, specific niche segments of customers become worth segmenting and personalizing for.
What we see is small stores tend to focus on email and some ads, large stores do these as well as some really cool things with dynamic content personalization.
CB: Where does Sauce want to be in the future?
MQ: In 1 year, we're planning to have a larger team of developers and marketers. With all the data we handle we have some pretty crazy insight into how customers behave so I'd love to see us in a better thought leadership position.
In 3 years, we plan to have offices in a few other continents and an integration with every ecommerce marketing tool worth its weight.
In 5 years we plan for Sauce to be a name synonymous with ecommerce and ecommerce marketing, much like Hubspot is with inbound marketing. There's quite a way to go yet!
CB: What's one mistake you made as a company that you'd never take back, and why?
MQ: When we became the incredible customer segmentation product that we are now, we decided to stick to Shopify, build up a loyal fan base and hold off on moving to other shopping platforms.
From a growth perspective this is a huge mistake as we were limiting our potential client base, but what we were able to do is add features and personalization conditions that we had previously not thought of. The team and clients at Shopify has been outstanding with managing the relationship, providing feedback and helping us get ready for our next big push.
We've just integrated with Magento and hit the ground running. This wouldn't have been possible if we hadn't just stuck to Shopify in the beginning.
CB: If you could change one thing about Sauce, what would it be?
MQ: We'd be based in California. It's not that London doesn't have a startup scene, but most of our clients are based in California, and we would love some sunshine. Anything we can do to get closer to our customers can never be a bad thing.
CB: You told us a lot about the work you're doing at Sauce, and we all know startups are where it's at. How does being a startup in London vary from the Mountain View scene? Besides the sunshine, of course…
MQ: I'd say it's maybe harder for your business, but better for your quality of life. London lacks the buzz of opportunity and pace of change that I feel Mountain View has. Investors here are a lot more risk averse and worry more about losing money that missing out on the next big thing.
At the same time, you don't have to pitch every time you tell someone what you do. Working in a startup is a fairly new concept so you are surrounded by wise and seasoned professionals that have ideas and passions for things other than raising x amount of money or getting Y% of monthly growth.
CB: What is company culture like at Sauce, and how does it compare to Sauce's public personality?
MQ: They are both pretty similar actually. We like to keep it as positive as possible and both internally and externally we try to help each other in every way we can. That said, if something needs doing it will get done ASAP and the client always comes first.
We've all jumped on conference calls at midnight or 1am but it comes with the territory. We know we're building something incredible, the feedback clients give inspires us and everybody has the same goal – to make ecommerce marketing more personal.
CB: Sounds like it's all about the client at Sauce. Can you name a favorite? After all, case studies are all the rage these days.
MQ: Our favourite has to be Zooshoo. They are a reasonably sized shoe store based in the US, but their team has been with us through thick and thin and were one of the original Sauce customers. With the new platform we've managed to pull off some incredible results with their email marketing where open rates jumped 40% and click-through rates tripled!
CB: Name a non-Steve Jobs entrepreneur idol, and tell us why you love the work they did/do.
MQ: We love Elon Musk. He's a tech genius that takes huge personal risks to try and achieve mind blowing tasks. Who can't love that?
We all see tech moguls who make it big and that's great, but to turn around and invest all of your wealth into ideas which at the time had no traction. That's inspirational!
You can find out more about Sauce by visiting the company's website, https://sauce.ly/, or following Matthew on Twitter at @mqsley.
Share on Facebook
I'm a fan of honest words, clarity, and impact. A copywriter, editor, and translator, I spend my days guzzling coffee like a champ. Once in a while, I do some writing and revising, too. I'm co-owner and copywriting head at Rusmexus Writers, and the brains behind the email and web copy at a handful of eCommerce brands.  Intellectual challenges and chocolate are my fuel. If you know what a seismometer does, care about healthy diets and lifestyle, or are a fan of travel, we should talk.
Tagged eCommerce tools, Segmentation, startups