Jet: Should Amazon Worry About This New Disruptor?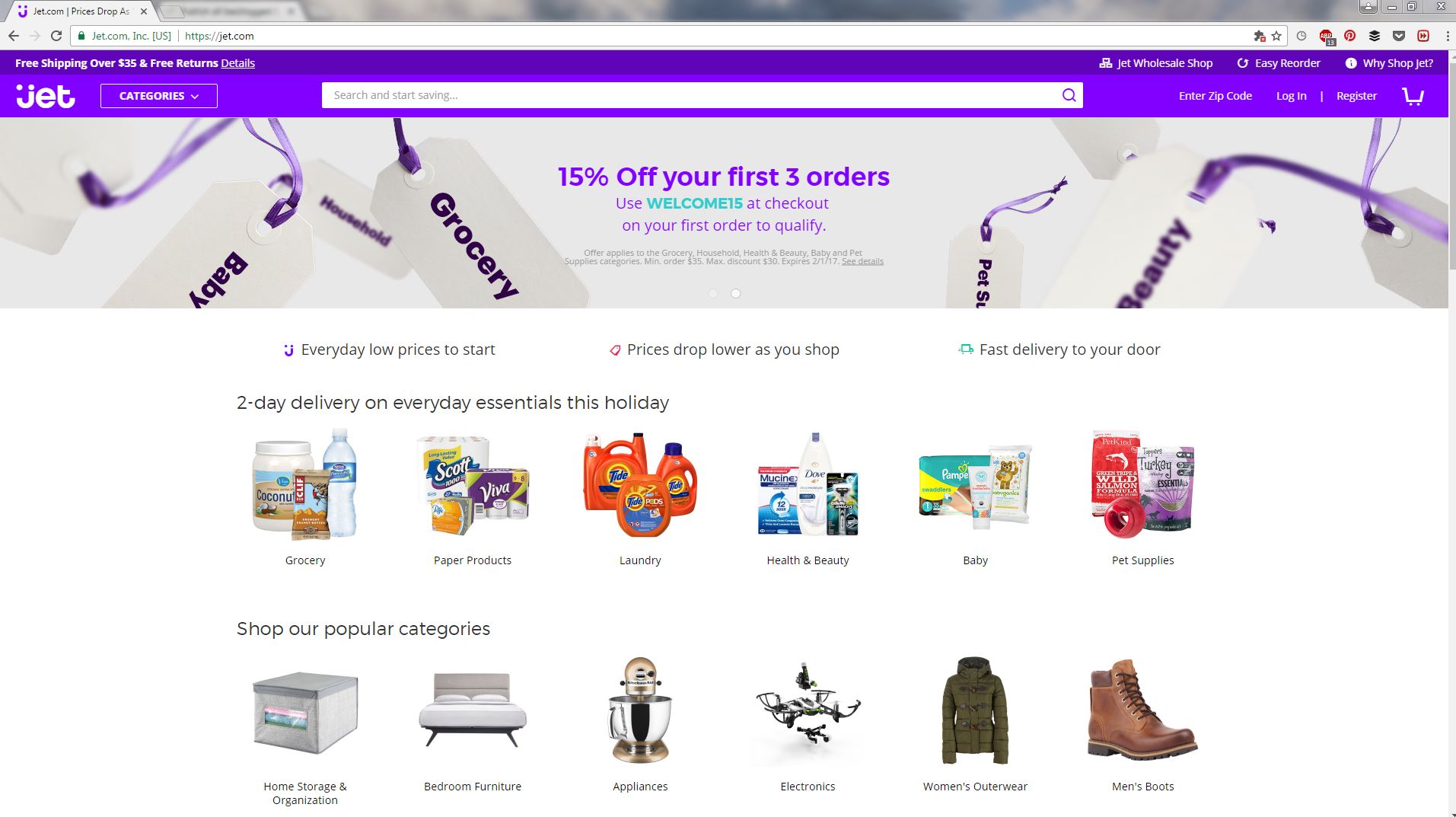 What if there was an online shopping platform that was a hybrid of a grocery store, a department store, a big-box store, and a game show?
That platform exists, and it's called Jet. But if the hybrid nature of this platform sounds too complicated to engage with, then that's amazing part of shopping on this platform:
The company goes out of its way to create a fun yet seamless shopping experience!
It's like the company founders stood back and observed what works on the best online shopping platforms, and then they incorporated solutions based upon the most common online shopper complaints that show up on all the important review sites.
What exactly is Jet.com all about?
Jet.com is a new player in the online shopping platform space. It was launched in 2014 by Marc Lore. An interesting note: Marc made over $550 million after selling Diapers.com to Amazon, and then he generated another 500 million after selling Diapers.com's parent company, Quidsi, to Amazon.
But instead of partnering with Amazon, Marc has decided to compete against Amazon with his Jet.com venture. And if he can't overthrow Amazon from its throne, then he has strategies in place to come into a close second place position.
Here's how Marc plans on doing it:
No membership fees
When Jet first launched, the site required a subscription membership in order to enjoy the savings, much like one would pay for a Sam's Club or a Costco membership. However, the founder of Jet ditched the subscription membership scheme, opening up the savings benefits for anyone who wants to shop on the site.
On the other hand, Amazon lowest (and shopping comparable) membership price is $99 for an annual subscription into the Prime program. Prime has proven to be wildly popular due to the program's promise to deliver all purchases within two days, even on the weekends.
Jet's founder paid attention to the success of this feature, and then he equipped Jet with…
Two day delivery for all purchases
Not only are shopping privileges for Jet open to the general public with no membership fees required, but all products arrive to the customers within two days at no extra fee. This allows customers to save money right from the start. But what's more, they'll soon learn that shopping on the platform is truly an interactive experience that designed to save them money on the back-end.
Incentivized pricing
Here's where shopping on Jet starts to feel like a game show: Shoppers realize incentivized pricing as they interact with the site. For example, when a shopper makes a selection to place into their online shopping cart, then they'll be prompted to make a few different selections.
They'll see that they could opt to use a debit card instead of a credit card, and if they do, then they'll realize a lower price on the product. If they opt out of returning the product, then they'll save even more money. And as they interact with the site, they'll see their prices dropping in real time, based on prompts and decisions that they've made after being prompted.
What's more, the shopper will be prompted to add selected, complementary products to their shopping cart, and then they're rewarded on even more savings. Of course, the more the shopper purchases, the more they'll realize the incentivized savings. But the shopper is never forced to make purchases or decisions that aren't in line with their needs.
The shopper always maintains agency over their choices, and they might find themselves having fun while selecting the products they need.
No need to pay a Pantry penalty
One of the best benefits of shopping on the Jet.com platform is that it allows shoppers to purchase common household products without the need to pay for any extra fees. For example, if a consumer wanted to shop for bathroom cleaning products on Amazon, then they'd have to pay an extra fee for products that fall under Amazon's Pantry program.
Also, due to the nature of Pantry's program, customers are often forced to fill a box with products they might not need or desire, just to fulfill the shipment requirements to receive the product they originally wanted to begin with!
While all of these are game-changing aspects that have made consumers sit up and take notice, there are features that Amazon offers that will make it a hard competitor to beat:
The generosity of the Prime program
As mentioned earlier, Jet.com ditched its subscription membership model in favor for allowing all consumers to shop on the site and enjoy two day delivery. But here's the caveat-if Jet.com shoppers want to enjoy free shipping, then they must spend at least $35, pre-tax.
While it's true that Prime members must pay a buy-in to enjoy two day shipping, the two-day shipping feature is free the the life of the subscriber's membership. And also, Prime delivers on the weekends and holidays, no questions asked.
What's more, any Prime subscriber will attest to being able to enjoy a wealth of benefits such as streaming music, video content, games, books, photo storage, and more. Also, unlike Amazon, Jet.com doesn't offer any type of review system, let alone the type of robust system that has made Amazon legendary in the industry.
So, should Amazon worry about Jet? As it stands, Jet has a long way to go before they knock Amazon off the number-one spot, but Jet is definitely a new shopping option for consumers that shouldn't be ignored!