Amazon Prime Now: When 2 Day Delivery Isn't Enough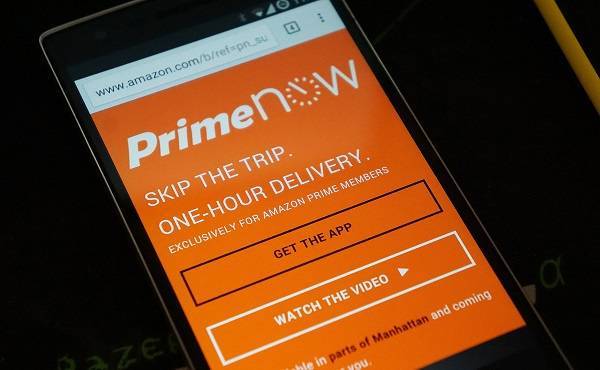 I previously wrote about the delivery wars taking place in the retail/e-commerce industry.
I also wrote that any brand that isn't named Amazon is furiously trying to smack down their competitors in the delivery wars.
As of the publishing of this article, there's no retailer that is coming close to reaching Amazon's scale and breadth, although several are fighting the good fight in very creative ways (as my previous article reported).
But in spite of their best efforts, Amazon has officially unleashed a new delivery strategy that has officially taken other brand's attempts at victory down for the count.
Amazon has officially rolled out (and has expanded upon) its Amazon Prime Now program. Here's a rundown on how it works, and why Amazon is still the undefeated champion of the delivery wars:
What's Amazon Prime Now All About?
Amazon Prime Now has been in the beta-testing stage for well over a year, but it was quietly unleashed to a largely unsuspecting public during Q3 of this year. In short, it's a delivery service for consumers who can't wait for two days (or more) to receive their products.
As the program name implies, this is a service for consumers who want their products, well, now!
Why Did Amazon Need to Roll Out a New Delivery Program?
Amazon was already doing a fine job of satisfying their world-wide fan base of consumers, but a champion doesn't maintain its number-one spot by resting on past victories.
With this in mind, Jeff Bezos thought of ways to extend its branding while satisfying the needs of consumers who have become accustomed (spoiled, really) to receiving delivery options that far exceed their expectations.
What better way to blow expectations out of the water than to create a system that allows consumers to order products from an online fulfillment center, then receive what they've order the same day (and in many cases, within a couple of hours, or less)?
Previous to the roll-out of this program, consumers could never imagine being able to order products and receive them in the same amount of time they receive a take-out order from their local restaurant!
How Can Consumers Take Advantage of This New Delivery Service?
The Amazon Prime Now delivery program is exclusively available through a consumer's Amazon Prime membership. While non-Prime members have an increasing list of delivery options available to them (like two-day delivery and Sunday delivery for an extra fee), Prime members are able to enjoy two-day delivery, for free.
Now, in addition to free two-day delivery, Prime members can opt to receive free two hour delivery on specified products. However, the Prime member must live in a region where the Amazon Prime Now delivery program is available.
Shoppers can verify program availability with their zip code on Amazon's website.
What Type of Products are Deliverable?
According to the Amazon site, there are over 1 million products available in over 40 categories. What's more, Amazon shoppers in select cities can pay to have grocery items and take-out from participating restaurants delivered within the hour (for a fee).
Amazon shoppers can expect to receive top-level category products available for delivery.
How Much Does It Cost, Really?
The program is priced according to what type of service the shopper would like to receive. Same day and two-hour delivery services are free for participating Prime members. One-hour delivery costs an extra $7.99. As of last recognition, Prime members must order at least $35 in qualifying product orders to qualify for one-hour delivery service.
How are Consumers Responding to This Service?
Consumers who live in participating regions (and cities) are blown away. They've never experienced the ability to order online products on electronic devices with the ability to have them delivered to their door within a couple of hours, or less.
Currently, many of the big-box retailers allow online shoppers to pick up their products from local brick and mortar retail locations on the same day as it was ordered. However, many other retailers aren't set up to offer this type of product accessibility to their shoppers.
And, the shopper is required to drive to their local brick and mortar location to pick up their products. This can create a hassle for shoppers who have time or transportation restrictions.
With the Amazon Prime Now delivery program, shoppers can simply open their front doors to receive the products they need.
How Is Amazon Able to Provide Such Revolutionary Delivery Service?
Amazon knows that it needs to stay ahead of its competition. Before officially rolling out a new program, it tests the program for years in advance.
Beyond this, Amazon seems to have created a culture of customer service excellency, keeping its finger on the pulse of what consumers desire, even before consumers express their desires.
And, in all practicality, Amazon has created fulfillment centers in every city where the program delivers.
What Does This Mean for Other eCommerce Players?
The fact is, there are some retail brands that simply are too far behind (or lack the resources) to try to keep up with this new type of delivery service. The best that a smaller player can do is focus on delivering excellency in other aspects of their company, such as customer service, product manufacturing, branding, or community building (marketing).
While they might not be able to win the delivery wars, they will be able to maintain strong consumer loyalty based upon pleasing shoppers in other ways.
Will Amazon's New Delivery Service Crush the Industry?
This new delivery program isn't going to crush the industry as a whole. While many consumers will appreciate such timely and convenient delivery options, there will always be those who want to drive to a brick and mortar location, especially for products like groceries, or restaurant food.
And, there are many consumers who aren't Prime members. In addition, the Prime Now program isn't available in all 50 states, and many cities are left out of the mix (although the program's scale is expanding by the week).