7 Ways to Increase Your Average Order Value
It's not groundbreaking to say there are many ways you can increase your store's revenue.
You can grow your traffic for instance. It's not a given but still, with more visitors you should get more sales as well.
You could also focus on improving the number of conversions on your site, to turn more visitors into buyers.
Or you could try to increase your average order value (AOV) to get your customers to spend more.
Most ecommerce owners focus on the first method. Many work on conversions too. Very few, however, try to increase the AOV, even though it's the simplest way of them all.
Why Focus on Average Order Value
At first glance the reason for doing so is obvious: to increase revenue. But the same argument could be made in relation to increasing traffic, for instance. Or working on greater conversions.
So to go deeper, here are few other benefits:
It's more reliable than traffic in increase revenue than traffic. With all the recent changes to Google's algorithm, the unpredictability of rankings, and the cost of PPC, increasing revenue through traffic might prove difficult. Not to mention that your traffic could just disappear if Google decides to change another aspect of their algorithm.
Increasing AOV brings results more quickly. Increasing traffic takes a lot of time and effort. So does optimizing your site for more conversions. While both of these are worthy pursuits, increasing AOV will typically bring results much faster.
Increasing AOV is also cheaper than bringing more traffic to the site, especially if you do it through paid channels.
There are many ways to increase average order value. Below I am highlighting 7 of the most popular ones.
How to Increase Average Order Value
#1. Set a free shipping threshold
Shipping is by far the biggest pain point of many customers. In fact, 44% of online shoppers abandon carts because of the cost of shipping is too high.
At the same time, 40% of customers say they are willing to buy more items if they qualify for free shipping (Deloitte). Therefore, by setting a minimum purchase amount that qualifies for free shipping that is slightly above your current AOV, you can increase the amount of products your customers will purchase at your store, and thus your revenue.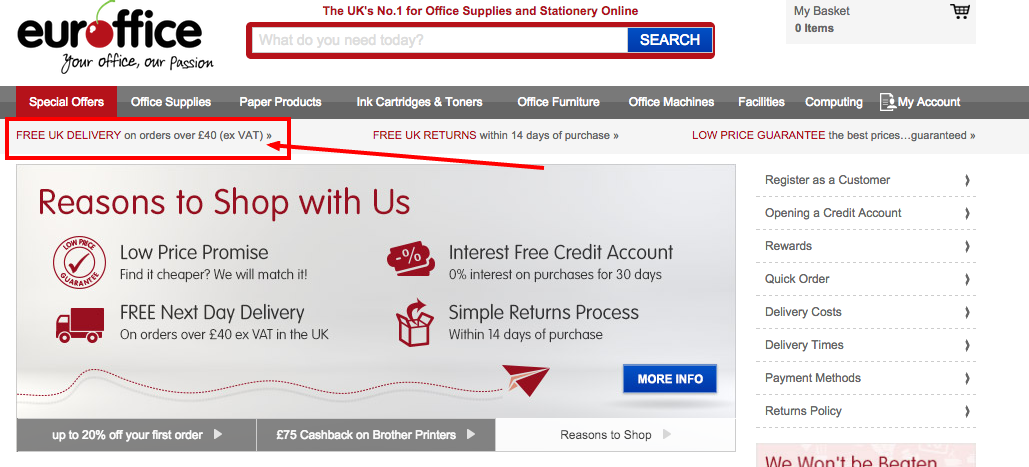 (Euroffice offers free delivery on orders over £40)
#2. Create a sense of urgency
Customers often procrastinate and delay making the buying decision. One reason for that is that they constantly shop for discounts and need a push to make a sale.
A sense of urgency motivates customers to take action right now. Without it, they will prolong making a decision until they either find a better deal or run out of options.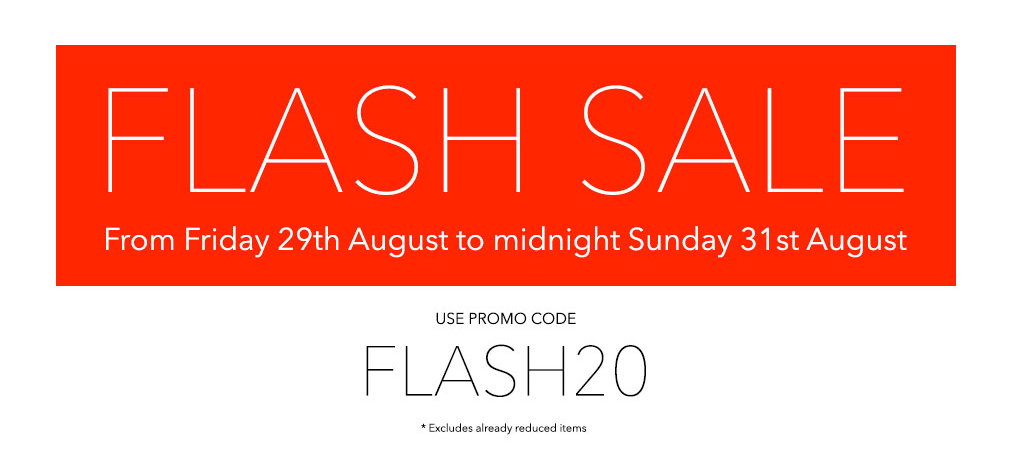 #3. Create product bundles
Grouping two or more products that complement each other and offering them as a bundle is another way to get your customers to spend more. Product bundles are often sold with a discount to make it worthwhile for customers to buy bundled products together.
#4. Offer volume discounts
Similarly, you can offer discounts for bulk purchases of the same product. Berkeley Systems offers discounts from 5% to 15% depending on how many items you buy.
When launching this strategy however, make sure that you work out the right discount amount. It has to be one that doesn't eat up too much of your margin. At the same time, it must be attractive for your target customers.
#5. Suggest complementary products
This is by far the most common technique used to increase the average order value. Suggest additional products your customers might be interested in before they complete the purchase. Ideally, you should include them not only on the product page but also on the checkout to target impulse decisions as well.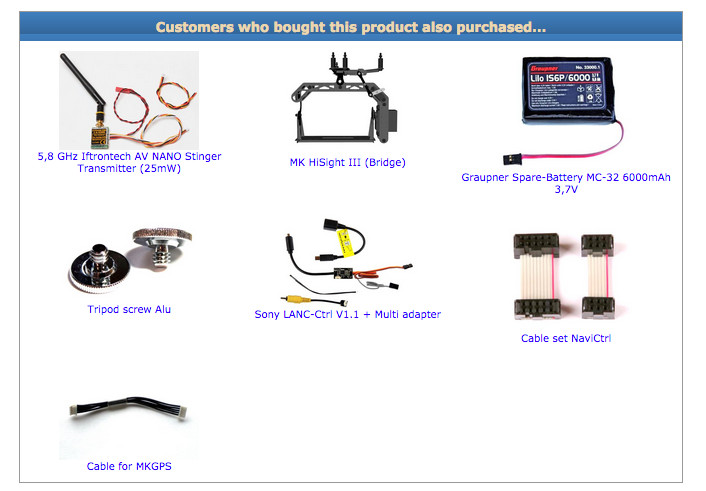 #6. Up-sell
Similarly, up-sell your customers, too. Up-selling happens when you convince your customer to spend more than they originally intended. You could do this by recommending a higher priced alternative to the product they wanted to purchase originally or offer add-ons (like extra warranty, for instance) to the original item.
But beware-it's extremely easy for this strategy to go horribly wrong if you turn into a pushy salesman. There is a way up-sell properly and I'd suggest you familiarize yourself with those ways.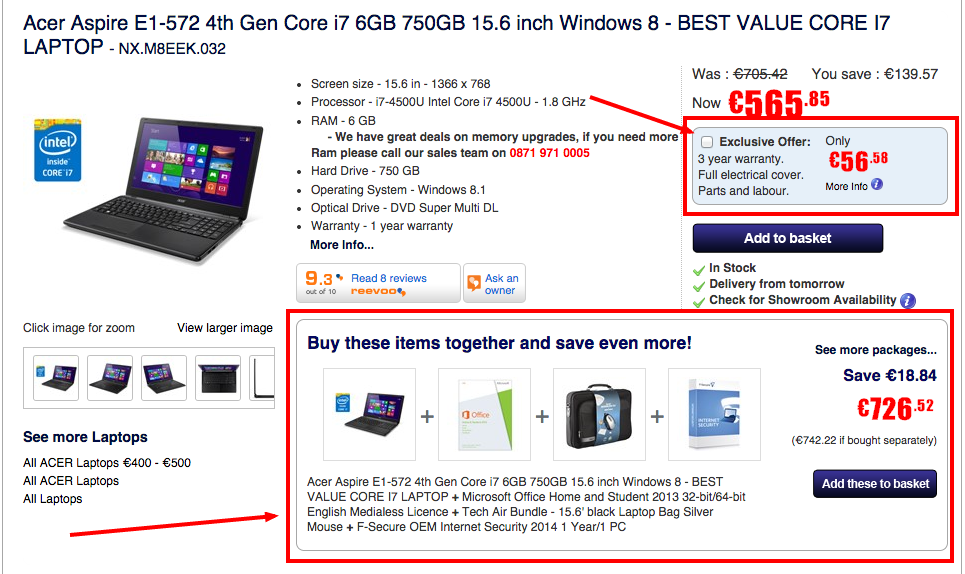 (Laptops Direct includes a number of up-sells on their product pages)
#7. Offer a subscription package
I am personally very fond of subscriptions. They are not only a great way to increase your AOV, but also a long term revenue stream. When someone signs up for a weekly, monthly, or whatever package, they ultimately commit to giving you money for few months at least. Offer subscriptions on the most commonly purchased products, if possible. Some examples include office supplies, food, snacks, grooming products, pet food etc.