3 Major Paid Search Lessons Retailers Learned in 2013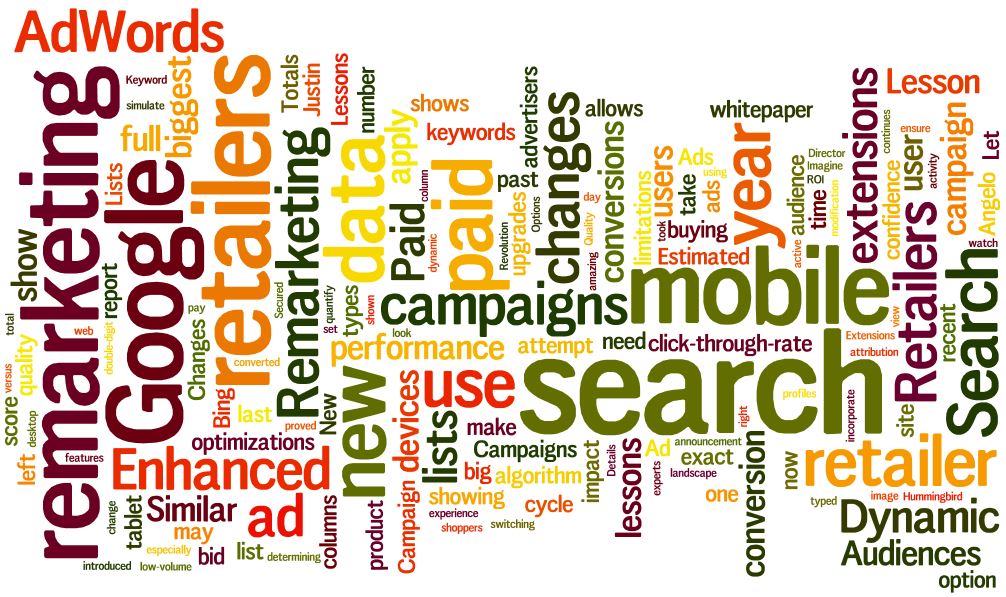 The past year has been full of changes in the paid search landscape. Some experts estimate over 1,000 changes in the last year alone! From Google's Enhanced Campaign platform to new features on Bing, many ecommerce retailers are struggling to keep up…especially if they manage their own search campaigns.
So, what were 3 of the major paid search lessons from 2013? Let's take a look:
Lesson 1: AdWords Remarketing Options Expand. In 2013, the options for remarketing lists have expanded to include 2 new types of campaigns and 1 new targeting option. Remarketing Lists for Search Ads, Dynamic Remarketing, and Similar Audiences were introduced to AdWords advertisers in the last year. Pulling from a retailer's remarketing lists, each of these expansions highlight the various ways a retailer can use their site visitors' profiles to stay in front of their audience.
Lesson 2: Mobile Matters – Bidding & Attribution Changes. As mobile shopping continues to grow at double-digit pace, retailers have had difficulty identifying how important mobile devices are in the buying cycle – and what to pay for those mobile shoppers. As Google rolled out Enhanced Campaigns, one of the biggest changes was the ability to adjust bids for mobile users, but it came with limitations.
Enhanced Campaign mobile limitations

proved to be a big disappointment for retailers who have significantly different performance on tablets versus desktops. Since the new mobile bid adjustments with Enhanced Campaigns only apply to mobile devices with full browsers (i.e. smartphones), retailers can no longer isolate tablet performance if it doesn't mimic desktop performance. They're all lumped together. Fortunately, Bing still allows for tablet exclusion and bid modification.

A new mobile attribution model attempt

. Google launched their initial attempt to quantify mobile's impact on the buying cycle with new data columns for Estimated Totals. Using search data from the Chrome browser, Google extrapolates the number of conversions that a retailer may not have tracked due to a user switching devices. These Estimated Totals columns identify the total number of conversions, conversion rates, and even cross-device conversions a retailer may have from their AdWords campaigns. Retailers can see this data by customizing the column view within the AdWords interface. Keep in mind Google will only show this data once conversion tracking is set up with a minimum of 50 conversions per day, and if Google estimates that have a high confidence threshold (95%+ confidence).
Lesson 3: AdWords Features Outsmart Algorithm Changes. The announcement of Hummingbird and Secured Search took retailers by surprise in August, and left them without the data they need to make optimizations to their website. But these algorithm changes only reinforce the need for retailers to use paid search data for organic optimizations.
The paid search lessons this year were expansive. Retailers looking for a full run-down on the year's biggest lessons in paid search should take some time to watch a replay of a recent web clinic "Countdown to a New Year: 13 Paid Search Lessons from 2013". Director of Paid Search, Justin D'Angelo answers pressing questions from real-life ecommerce retailers in this 40-minute interview session.
Let's hear from you…What was the biggest change in your paid search efforts this past year?