Ever Thought of Creating Your Own Brand Community?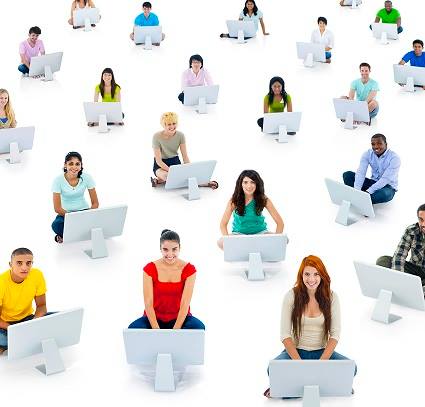 According to recent statistics:
Snapchat's user base grew 56% in 2014,
Instagram's user base grew 50% between March and December 2014, and
By December 2014, Instagram had become bigger than Twitter, with 284 million active users
It's obvious social media gains more fans every day. But, why?
The answer is simple.
When you understand what draws people to social media, it's easy to see how it works to create, "fiercely loyal," customers for any brand.
In addition, when you create your own brand community, you spend less money to market your business; and your marketing message will reach a more receptive audience.
How It Works
According to Melissa Leiter, people love social media because we naturally need and desire connection. We can also connect immediately through social media and take part in several micro-groups, from the comfort of our own couches.
For many of us, Leiter's summation does describe the drive we feel to flick on our Facebook, Twitter or Instagram feeds — just to see what's going on. In addition, social media often allows us to skip the drama, risk and awkwardness that in-person and over-the-phone meetings can bring.
However, social media fans don't appreciate fake profiles, fake likes, fake follows and such. Therefore, because of social media's popularity, both B2B and B2C consumers, now have new expectations from sellers, including:
Increased accountability, and
Transparency, (or at least perceived transparency), in their business activities
Because of the public's love of social media and these accountability and transparency expectations, creating a brand community is one way to show that you're accountable and one way to create transparency, (or the perception of it).
Powerful Micro-Groups
In Momentology, Patrick Hong discusses 10 of the most popular brand communities in the world. He noted that they all offered customers, (and the brand), an ideal way to exchange feedback, advocacy and support.
The communities also gave members:
A user-friendly online space to connect,
A place to share and learn about their specific interests,
A place to get product support from the brand or other customers,
Plenty of freedom and space to create user-generated content, and
A quick way to share business improvement ideas
In addition, many communities offered highly useful information to members. Others featured subject matter about topics many people were passionate about.
The communities also gave off an air of fearlessness, like they were operating without censorship or rules. This image made the brands look more authentic. When you combine love for a product with an authentic and socially satisfying experience; you create customer loyalty. Loyalty like this is something that every marketer and business owner is seeking.
Why Loyal Customers are So Rare
In 2014, MobileMarketer.Com shared a powerful quote from Forrester Research Analyst, Emily Collins.
"Your customers have fewer reasons to be loyal than ever before and are really less loyal than they've ever been before…They have a voice that's loud and far-reaching and they have heightened expectations for the way companies interact with and serve them."
Obviously, the same things won't inspire loyalty in everyone. However, one thing is constant. Many of your customers, (or those interested in becoming your customers), will have similar interests; and you can likely inspire loyalty in many of them using the same strategies.
In 2015, many companies are focusing on the customer in an almost obsessive way. JC Penney has brought their slowing business back to life by changing their modus operandi. The store now offers high-end private brands, in-store Sephora shops, exclusive store specials and a fluid, omnichannel customer experience.
JC Penny discovered their shoppers wanted an affordable, customer-focused, mobile-friendly shopping experience. However, they didn't want to feel like they were scrounging for deals. As a result, the company has enjoyed a 4.4% increase in sales so far; and customers continue to respond to the positive attention.
Rebekah Iliff, Chief Strategy Officer for AirPR encourages sellers to focus on the customer as the beloved, "hero of your brand," and put him or her, "in the spotlight." Sellers can do this by focusing advertising campaigns around your target demographic's:
Personal struggles,
Personality,
Joys, and
Deepest desires,
…in the ways these things relate to your brand.
Why Build a Brand Community?
One tool that can help smaller ecommerce retailers build their own brand community is SocialEngine.com. Building a community on SocialEngine.Com is a great way to inspire customer loyalty in competitive retail markets.
The cloud version runs $40-$50 and the PHP version runs $299-$399. Once you've paid, you can have your own brand community up and running in less than a few days. In addition, your community will function just as seamlessly as your customers' favorite social networks.
SocialEngine.Com offers stylish, responsive themes and powerful plug-ins. You can use the plug-ins to create classified ad sections, user blogs, photo albums, directories, Facebook integration features and more.
You can use your community as a:
A unique business extension that compliments your brand image,
A complete customer management system, and
A convenient platform to test new product ideas, hold events and get valuable feedback
However, in order for it to work properly, you must get customers excited to join your community. To do this, you must promise immediate and genuine social interaction, and value for their time.
Try launching your site with a special event. Maybe host a celebrity visitor or well-known inspirational speaker.
For example:
If you sell coffee, broadcast a concert while it's happening at a local coffee shop you've rented. Give free cappuccinos to the people attending the show online and in-person.
If you sell toys, hire professional character actor to entertain kids and parents in recognizable costumes like Cinderella, Elmo or Spiderman. Buy the rights to broadcast a kids' movie for free that parents would still have to buy in the store or pay-per-view.
If you sell women's clothes, have a professional stylist consult women online by appointment only. Record some of the conferences for other customers to view.
In other words, invest in an online party anyone would want to come to and they will come. After the initial launch date, more ways you can inspire customer loyalty include:
Always selling quality products, (though this seems obvious, not everyone does this),
Keeping your promises, (again, not everyone does this),
Creating loyalty programs, and
Offering a unique customer experience
For example, after the initial launch of the toy store brand community, the social site might feature:
Moderator posts and discussions on current, relevant events daily
Well-written parenting articles,
Well-written articles reviewing educational toys,
Exceptional daily or weekly deals, (especially at back to school time, Christmas and birthdays),
Free games and giveaways to go with gaming systems, collector card sets, car sets and building block sets, and
Gift cards for Christmas and birthdays, etc.
In addition to constantly encouraging social interactions between users, (because that's a primary reason they're there), give them something to do, keep up with, or something they "can't miss out on…"
…and they will check in regularly.
For most businesses, it's worthwhile to build a brand community. These communities work in a very unique way to inspire customer loyalty.
Your members are already doing something they enjoy. In addition, you're rewarding them with coupons and freebies. You're also making them feel wanted, needed and valued for their feedback. These feelings go a long way when customers are checking their smartphones at work, or snuggling at home in cuddly pajamas.
You're providing your members with a connection; and this is what we all want from social media in the first place.
I've been working as a web content writer for several years now. I'm also a trained sales copywriter and technical writer, (currently my favorite two writing styles). I also freelance in web design and mobile app design. I'm a creative type of person and enjoy participating in the performing arts, designing jewelry, cooking and sewing in my free time. I've been involved in ecommerce since two years after I first started using the internet. I have enjoyed selling my jewelry and creative services online since that time.