Setting Up a Customer Service "War Room"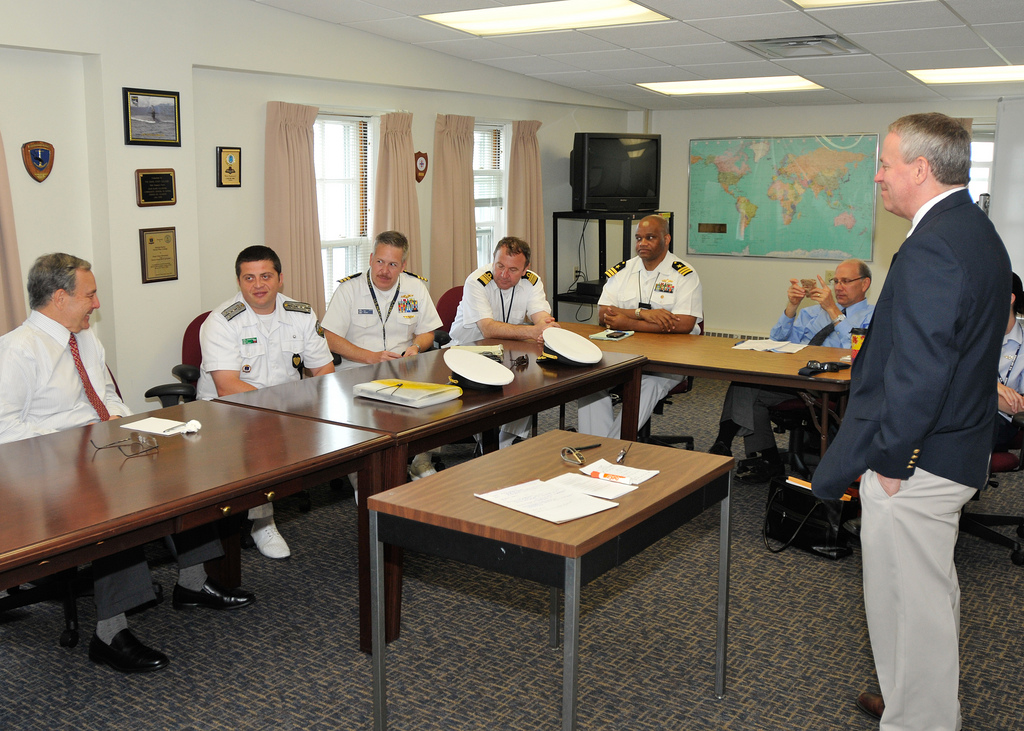 Customer service is one of the most important things you can do to improve your bottom line. Some companies are even setting up "war rooms" where they can tackle issues quickly.
Wells Fargo set one up to monitor social media sites and Apple set one up to find and fix issues with their latest iPhone software release.
We love hearing about companies who go the extra mile when it comes to customer service and war rooms are just one example of this extreme focus on the customer.
It's no longer just about solving customer issues but doing it quickly and effectively. It means catching things before you have 100 people emailing you about it. Social media gives companies that ability to do a lot of these things and all you really need is a laptop.
If you're a small business, you don't have to dedicate a room in your office to just handling customer requests. You don't have to keep employees in the office 24/7, but you do need a way to receive and handle customer requests quickly and from wherever you or your employees are.
Let's take a look at different tools which can let you help your customers at any time and through any device (including your iPhone!). I won't spend too much time talking about why you should this, instead take a few minutes to read the articles below to learn why this should be your top priority: Customer Service in Ecommerce – Challenges and Solutions and 7 Bad Customer Experiences to Avoid.
For most companies, their customer support tools are two things: their phone and their email. This is fine if you only have a few customers but once you start to grow, it can quickly become impossible to manage.
I also don't think you want to answer your phone at any time during the day to respond to a customer. You need to set expectations to what your business hours are and make those clear for your customers.
Your customers will engage you through different channels and we will look at the best tools for each channel. The main channels are: email, phone, your website, and, of course, social media.
Email
For email, we want to set up a tool that will make it easy to manage requests and that will allow us to scale our customer service to multiple team members. An email client like Gmail won't let us do this.
We will need to look toward complete solutions like Zendesk and Freshdesk. There are other solutions as well, so be sure to find the one that best fits your needs and budget.
These tools convert your support email and give you a dashboard where you can see all of the customer requests/questions that come in. Any email that you receive will become a ticket, which makes it easier to keep track of who needs a response. It will also let you assign these tickets to different people.
The ticket system automatically makes it less likely that you will forget to follow up with a customer, which can be one of the worst things you can do. These solutions also have mobile apps, which allow you to respond and check on your tickets from any mobile device.
Setting up these tools is usually really easy and your customers don't have to do anything special. They can just send an email to your support address (e.g. [email protected]) and the software will do all the organizing and conversion to tickets.
Phone
We also want to set up a phone system that is professional and easy to use. Just listing your cell phone will work in the beginning, but we need to grow out of that. Tools like Zendesk sometimes have a voice component where your employees can answer calls and make outbound calls to customers.
You can also check out a solution like Grasshopper. They provide a cloud based VBX solution which is what you usually hear when you call a big company and you have to choose options before reaching someone. You don't have to add complex menus and make your customers jump through unnecessary options but Grasshopper will give a you few cool features.
First, they will give you a toll-free 800 number, which is more professional than just a local number. They will also let you define extensions for each of your employees and will, of course, give you the ability to define menus as mentioned above. Finally, it will let you handle unlimited calls and let you manage your calls (i.e. keep them on hold or direct them to someone else in your team.)
Your Website
So now you have an email solution that will let you track customer requests as tickets and a phone solution that is professional and flexible. Next, we need to tackle your website-the first area your customers will come in contact with you.
You can implement a few things to make it easy for your customers to find what they are looking for. Let's start with live chat. These are small windows which customers can click on to start chatting with a customer representative right away. They can be incredibly effective, especially for customers who want an answer right away and don't want to wait a long time on the phone.
You can check out Olark, which gives you a really flexible chat solution. You add it to your website with a few lines of code and you can customize its appearance to match the look of your website. You can then set up instant messaging clients on your end to chat with your customers. There are lots of options there, including iChat for Mac and Beejive for iOS/Android. When a customer sends you a message from your website, your chat client will notify you just as if you were using something like Facebook Messenger or Whatsapp. The mobile solutions will also make it easy to respond to customers from anywhere, without them knowing you aren't at the office.
The second thing you should look into is FAQs or Knowledge Bases. This is a section of your website where you answer all of the common questions your customers may have so they don't have to email or phone you to find out. This can be as simple as a page on your CMS, or you could even find software which let you do this (Zendesk offers this option too).
Social Media
We covered email, phone and your website, so your customers now have options when seeking help and you have a way to handle multiple requests in an efficient matter. The last area you need to think about is your social media presence.
Social media monitoring doesn't have to be complex and it shouldn't consume all of your time. Look into a tool like Hootsuite, which will notify you when someone mentions you on Twitter, Facebook, etc and lets you respond quickly.
This particular tool (and others like it) has a web and mobile application, allowing you to receive and act on these notifications from wherever you are. Remember to be proactive and reach out to customers who may have an issue, even if they haven't directly reached out to you. This is what Apple and Wells Fargo are trying to do with their war room setups.
You don't have to set a tool for each category right away. Take one category at a time and master each tool before you get overwhelmed trying to learn multiple tools at once. At the end of the day, you are looking for tools that will make it easier to manage your customer requests and save you time. If a tool isn't doing that, change it or remove it completely.
Do you have any other tips or tools that make it easy to manage customer questions? Let me know if the comments.



About Ruben Ugarte (41 Posts)
Ruben Ugarte is a Web Analytics Consultant who has helped companies of all sizes grow through the use of analytics. If you have any questions around how you can use analytics or even how to use tools like Mixpanel or Segment, get in touch with him!
Tagged bad customer experience, customer service, social media, war room