Recovering Abandoned Shopping Carts Without Email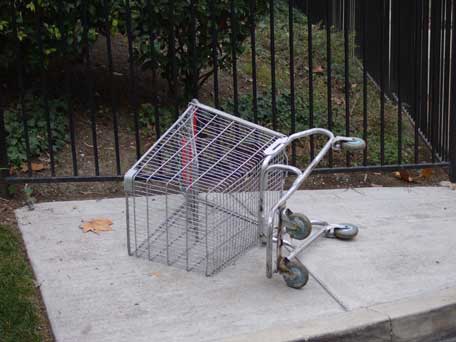 (This is the third and final part of my series on shopping cart abandonment. You can find the previous two posts here and here)
In the second part of the series I discussed different types of shopping cart abandonments and went into the detail into saving an abandoned cart through email remarketing. In this post I want to discuss an alternative scenario, saving an abandoned cart without having an email address of the buyer.
In spite of the fact that email capture should be the very first step of your checkout process, having a customer's email is not always the case. Your buyer might have been shopping as a guest or perhaps he or she didn't even get to the details page. They might have been browsing a product, added it to the cart but never actually got there. Or perhaps they did go to the cart page but for one reason or another, left without initiating the checkout process.
Needless to say, in most cases you won't have your Abandoner's email address.
In those scenarios, you have two options to save abandoned carts.
Remarketing Through Advertising
Advertising remarketing allows you to display certain ads to past visitors who have completed certain actions on your site. You can target not only Abandoners but also people who have only been browsing products on your site and display different ads depending on how far into the buying process they got.
To go deeper into technical aspects of this method, when the customer visits a specific page on your site you identified for remarketing, a cookie file is placed in their browser. From that point on, whenever the customer visits a site that participates in your remarketing network advertising, they will see your ad.
With ad remarketing you can specify how often and for how long you will be remarketing to a customer. You can also specify an entry page and the ad they will see (meaning that you can serve different ads depending on the point of the shopping process at which the customer had abandoned your cart).
The two most popular remarketing networks are Google Adwords and Adroll. Both have their own unique characteristics and I recommend you research them both.
Does advertising remarketing work?
The shortest answer is, yes. Remarketing through advertising is probably the most effective way to bring the customer back to the site to view your products, buy or even abandon again.
Pros and Cons
Pros: A fully automated process offering high return on investment. You can control at what point your advertising remarketing kicks in (it could be as early as on a product page or at the final step of the booking process). You control the duration and intensity of the campaign.
Cons: You have to pay for those ads to appear. Typically you pay either per click or impressions, depending on the network you use (the good news is though that advertising remarketing is much cheaper than traditional pay per click advertising).
Also, some users report dissatisfaction in brands using advertising remarketing (this is usually down to a lack of control of what sites your ads might appear. Quite often the remarketing ads seem out of place on the site [e.g. A hotel ad might appear on a technology blog]) and claim that such ads build distrust in the brand, rather than help them to make a buying decision.
Serve an Exit Lightbox
If you are not convinced by remarketing through advertising, then the other method to save abandoned carts without email you can use is by serving an exit light box to your checkout visitors. Such light box appear when the user either clicks the back button or tries to close the browser tab or window.
The light box serves a purpose of capturing an email address in order to include the customer in a standard email remarketing process.
Pros and Cons
Pros: free method to gather email addresses for further remarketing.
Cons: Irritating to many users.
Which Method to Choose
It is hard to determine in general which of those two methods is more effective. What may work for one site, might not bring any results to the other. Also, both methods are known to generate a certain level of irritation among users.
However, personally, I would prefer remarketing advertising over a lightbox.  As great as the idea behind serving a light box idea might be, I personally would be turned off by something appearing on the screen and preventing me from performing an action I desire and I know it is the same for many other users.
Remarketing through advertising on the other hand, in spite of a lack of control over certain things such as websites the ad will be displayed on, is still a far more discreet method to recover abandoned shopping carts.
Tagged cart abandonment