Improving Google Shopping Performance with Optional Feed Attributes
If you tend to avoid touching your product feed with a 10-foot pole, you're not alone.
Feed-based pay-per-click models like Google Shopping, Amazon PLAs, and Comparison Shopping Engines tend to be something of a foreign language to even seasoned AdWords managers.
Certain functions like bidding remain constant, but feed requirements and optimizations can sometimes get tricky.
The problem is, your product feed is core to your success on key comparison shopping engines and product ad listings, like Amazon, eBay Commerce Network, Google Shopping, and Shopzilla.
One of the key aspects to a high-ROI feed is to make your data set as complete as possible. Many retailers think that, if an attribute isn't required, it's not necessary. This isn't the case.
Optional Attributes Matter
One reason you need to consider optional attributes for your product feed, is because CSEs, and Google in particular, have a sort of "score" for the data quality of your feeds, which plays a part in determining the success of your campaigns. While Google has not stated exactly what goes into this "score," they have made it quite clear that if Retailer A has a complete data set in their feed and Retailer B is only running on required attributes, Retailer A will net the higher score in their algorithm.
But even more importantly, the more feed attributes you have, the more you will show for relevant search queries. With the myriad of filtering options that Google Shopping and CSEs offer shoppers, your product can easily get overlooked if you don't dot your i's and crossed your t's.
Some core attributes are only required for certain categories, such as apparel. But retailers of all varieties can benefit from including these attributes in their feed. I'll show you what I mean.
Age & Gender
Both the age and gender attributes give details about the target market for your product. While both are required for the Apparel & Accessories category, they can be useful for other product categories, as you can see below.

If, in this example, you were selling a little girl's bike, but didn't have specifications for both "female" and "kids" in your feed, shoppers would not see your product if someone clicked "Girls" here.
The search engine depends on your feed to provide the key information it uses for displaying and filtering products. It's up to you to give them that information.
Please remember – for gender, it's better to include something than to leave the column blank, even if your product spans different groups. For gender, make use of the "unisex" value. For age, if something isn't specifically for children, label it as adult. Even just including that default information will help your case with the search engines, and will improve your data quality.
Size
The size attribute is another one that is overlooked by many retailers when they're building their feeds.
Most people procrastinate on adding this feed attribute because they think the information has to be very complex, detailed, and universal. Don't worry—this is not the case. There's a quick rule of thumb for determining what you need to include this feed attribute, and that is this:
How do people filter your product category?
Again, filters are a major part of the comparison shopping experience, and help shoppers find the items they need. For many products, the size is key for shoppers to filter and find the products they really need.
Consider the examples below. Each product category has a different set of dimensions that is important to its buyers.
So don't worry about including exact dimensions for every aspect of every product. Just know what your shoppers need to know about your product, and include the size information that is important to them.
Color
This attribute may seem too simple to be included, but many retailers don't realize the importance of optimizing this feed attribute. But you do need to make sure you have the color attribute completed for as many products as possible.
The reason for this is that it's a primary filtering option, but is only required in the Apparel & Accessories category. Again, the more roads that lead to your product, the better. If you don't include a color in your feed, some customers may overlook your product when they simplify their shopping process with filters.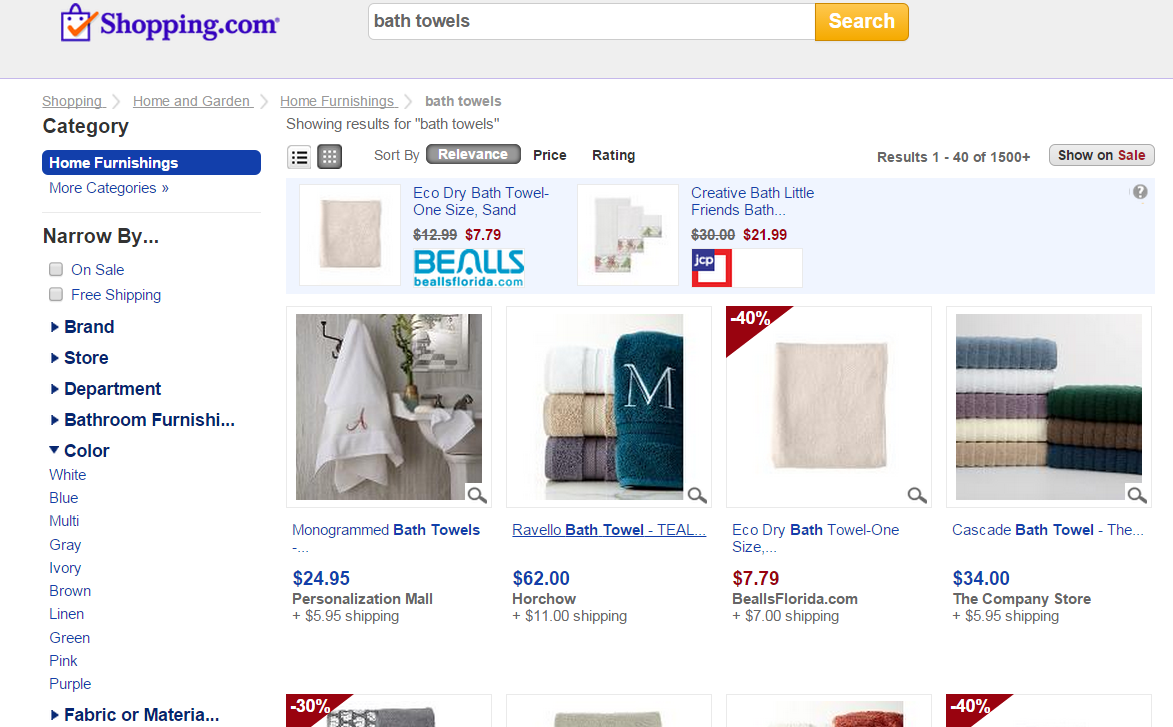 So when you add color attributes, be sure to make the colors as basic as possible. "Sea foam"is useless as an attribute in your feed, even if it's the color name on your website. People filter by the most basic colors available, so keep it simple in your feed.
Material
Much like Color and Size, Material is another key attribute that shoppers can use to filter for the product they want. For some products (like the one displayed below), material is a primary factor in the purchase decision, so you want to make sure your product gets in front of the buyers who are looking for the product you sell.
As with the color attribute, you'll want to keep the material attribute as simple as possible. Filters only look for the most basic, common breakdowns for these specifications, so you'll only waste your time coming up with complicated materials like "90% organic cotton blend," when shoppers only need "cotton."
If you're not sure how you should describe your product's material, try doing a Google Shopping or CSE search for your product and see what competing products and specifications exist.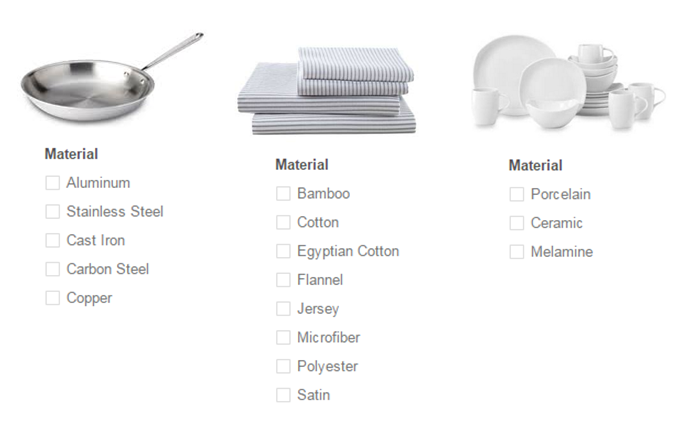 Do Something About It
To sum this post up in three words: data, data, data! Don't hold back when it comes to filling your product feed with as much data as possible. While it may seem like a chore up front, it will pay you back in spades, both in ease of management and in increased traffic and conversions.
These points were sourced from an exclusive interview with product feed expert, Mike Ewasyshyn, who works with our sponsor, ROI Revolution. He had so much invaluable information for retailers to share with me, so if you find yourself needing more direction on your product feed, I highly recommend you check out his presentation on 8 product feed "upgrades" (like these) that will help you drive traffic and increase revenue.
Tagged comparison shopping engine, CSE, Google Shopping, paid search marketing, product feed