The New "Google Shopping" update to AdWords Editor Software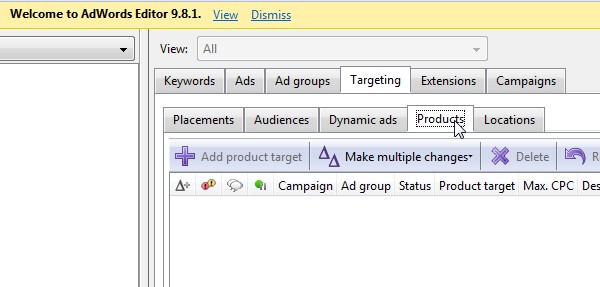 A day after the launch of Google Shopping, Google released an update to their free AdWords Editor software. This new version, among other things, lets you edit Product Listing Ads. The new Google Shopping was built upon this ad format.
This update is crucial for success with Google Shopping. Previously, the most common implementation of Product Listing ads was to target every product in your shopping feed in a single ad group. This is the most egregious mistake you can make and targets every product in your catalog with the same bid in AdWords. Yet before this update, it was incredibly tedious to do much else. Segmenting your feed by adding additional product targets and ad groups was a chore as each had to be manually created through the web interface of AdWords.
Now products in your feed can be targeted effortlessly with copy & paste from Excel. This turns a 50 hour task into a 10 minute task.
Will retailers use it? The smart ones will. 98% will likely be lazy and continue to ignore this crucial optimization of their Product Listing Ads.
This update to AdWords Editor also make the same possible with Dynamic Search Ads. While DSA's apply to text ads aren't tied to Google Shopping and thus don't have the same explosive potential, you'd be foolish to ignore them. Remember, advertisers are eligible to display both a text ad and a Google Shopping ad on the same search engine results page. Getting smart with traditional AdWords targeting (of which DSA's are a big help) and Product Listing Ads will help you own the SERP for all your best queries.
Tagged AdWords, Google Shopping