5 Ways to Prepare for the Black Friday Madness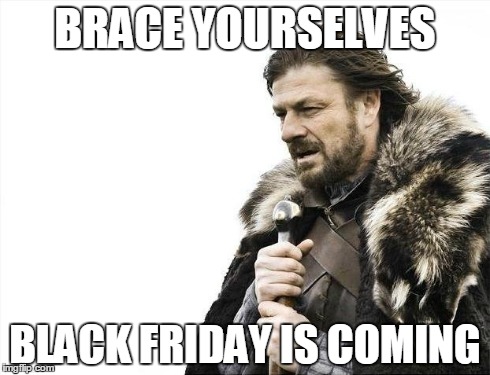 Black Friday is coming.
And with this Goliath shopping day and Cyber Monday only a few weeks away (November 28 and December 1st, respectively), I bet you're already looking forward to the increase in traffic and sales.
And chances are, you've got a lot to look forward to. On 2013's Black Friday, sales increased by nearly 20% over the year before. And 2013's Cyber Monday became the biggest online shopping day in history, with sales increasing by 20.6% (source).
But to make the most of the shopping frenzy you have to first ensure that your store is ready for those extra customers. Here are 5 ways to help you make the most of the upcoming shopping frenzy.
1. Create dedicated Black Friday and Cyber Monday landing pages.
Fact: Landing pages are a great tool to generate traffic and attract customers to your store. But at this time of the year, you can also use them for one other purpose – to prepare your audience for the Thanksgiving weekend shopping event and build momentum.
Create a dedicated landing page with hints of what deals you'll be running to give customers time to make a purchase decision. Also, make sure that the page includes:
Links to all departments and deals you will be offering.
Indication of upcoming deals.
List of discounted products (once the event starts, of course).
FAQs and other Black Friday and Cyber Monday related information that could help visitors make a decision to buy from you, instead of any other retailer.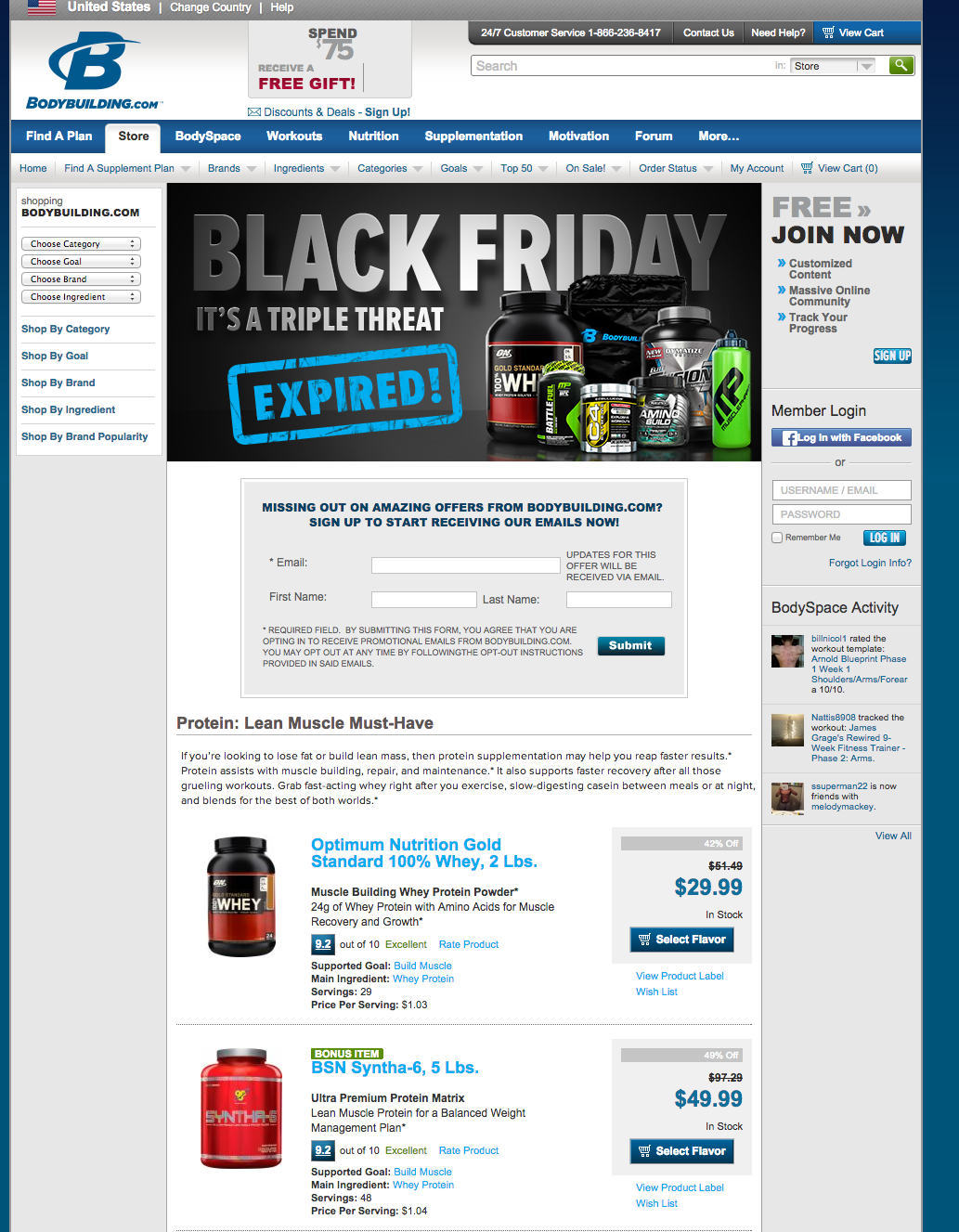 For example, last year's BodyBuilding.com Black Friday landing page featured direct links to best discounts and offers plus the ability to sign up for a dedicated mailing list.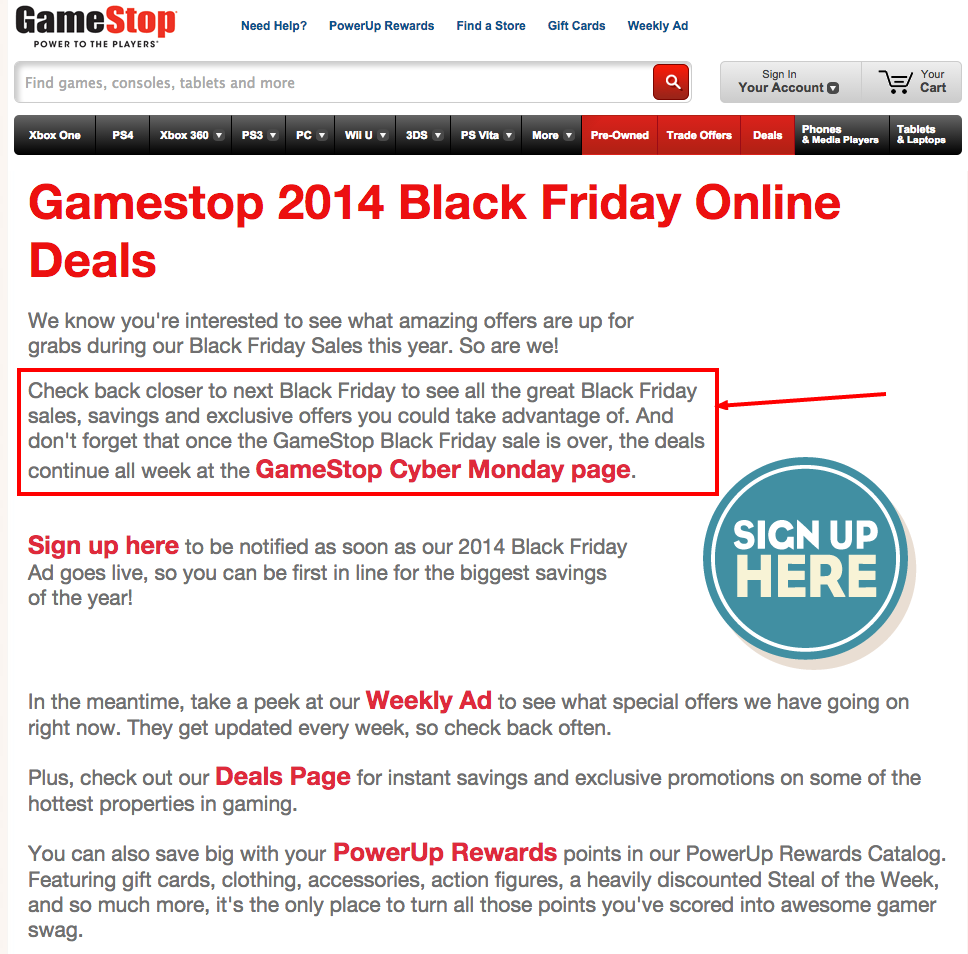 GameStop builds up the tension with their page, announcements and important links, and has an email opt-in to keep themselves at the top of shoppers' minds.
2. Use content to build up the shopping momentum.
You can't wait for the holiday season, and neither can customers. Many have already started planning what they'd like to buy and for whom.
To build up on that momentum, create dedicated Black Friday and Cyber Monday themed content.
Publish posts that help shoppers pick gifts for their loved ones or family. Offer advice to make the most of the big sales weekend. You could even give your audience a sneak peak at what sales you will be running, what items you will be promoting and what new products you might be introducing that day.
3. Build dedicated Black Friday FAQ section.
Thanksgiving weekend shoppers will be in a rush. They will try to visit as many stores to get the best deal possible. And before they settle on a store to buy from, they might want to find out how you work.
Help them get answers as quickly as possible by creating a dedicated Black Friday and Cyber Monday FAQ page and answer all common questions they may have. These might include, but aren't limited to:
Shipping charges (or if you offer free shipping)
What payment methods you accept.
Product availability. (Do you offer any stock guarantee?)
Shipping dates. (When will you be sending those items and when can customers expect them to arrive?)
Store security. Trust is a major issue when buying online, especially if it's your first purchase from a site. Display information about how well data is protected on your store, what SSL certificates and other measures you have in place.
Feature this page prominently on your site. Consider adding it to main navigation or a banner to the header of your site to make it easy for busy shoppers to find it.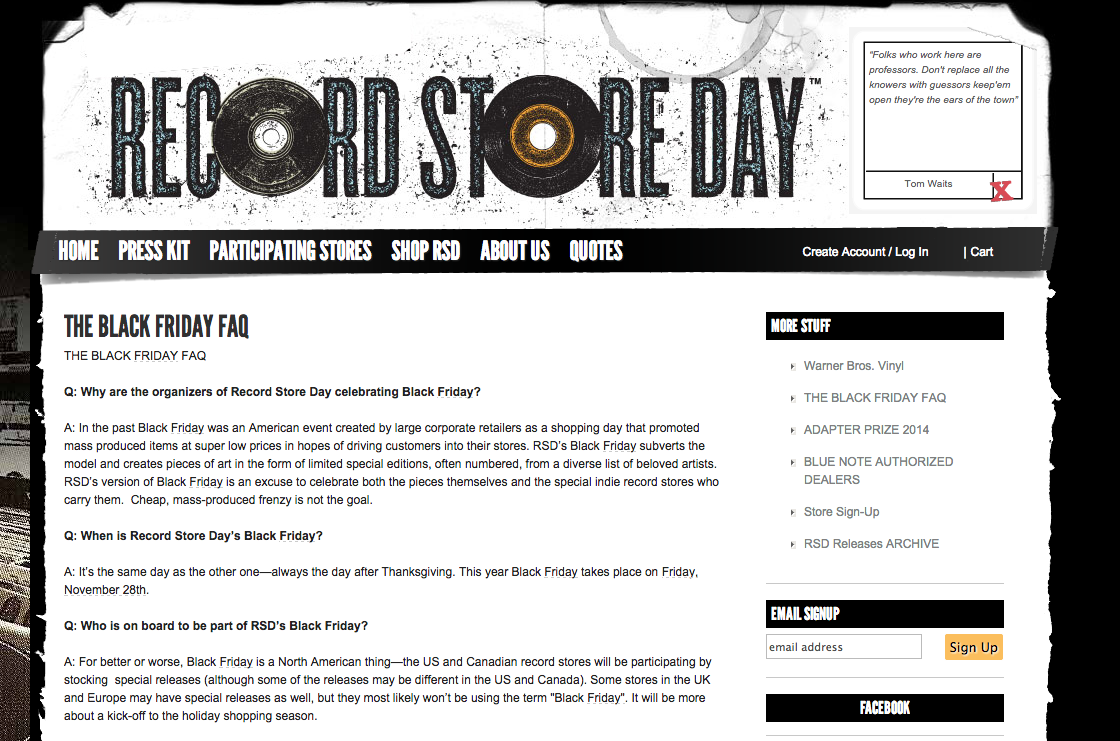 Record Store Day features a lengthy page explaining everything behind BF sales to their customers.
4. Ensure mobile shoppers can buy from you.
These days if you want to sell online, you can't ignore mobile shoppers. According to IBM, sales made through mobile devices grew by 40% between Black Friday 2012 and 2013 and reached 21.8% last year (source). And according to the same source, mobile traffic grew to 31.7% of the entire online traffic on Cyber Monday last year.
So make sure that mobile shoppers visiting your store can complete the purchase online using their preferred device.
In case your site isn't optimized for mobile, consider making it responsive or set up a mobile shop-front using CouchCommerce or Mobi-Cart.
5. Optimize PPC campaigns to bring more targeted traffic.
Even though the way people search for products during the holiday shopping season doesn't differ much from any other time of the year, there are ways to improve your campaigns to gain the best traffic during Black Friday and Cyber Monday:
Allocate a higher budget. The number of impressions and clicks nearly doubles during the Thanksgiving weekend. Plan your budget accordingly to avoid your ads disappearing mid-day simply because you didn't allocate enough money.
Improve your targeting. If you don't have a higher budget to allocate to Black Friday campaigns, improve your targeting. Instead of showing your ads for everyone, focus on your most profitable regions instead.
Create dedicated Black Friday ads. Highlight your special deals using keywords like "deal", "offer" or "sale" in ad copy, and create a sense of urgency by stating how long the deals last. This should increase your click through rate (CTR) and bring more targeted traffic to your site.
Schedule Black Friday campaigns so that they show during your audience's peak hours. This is particularly important if you sell in many regions and in different time zones.
Use remarketing. Target abandoned carts and shoppers who might still be shopping during the weekend.
Conclusion
Black Friday and Cyber Monday mean not only more sales, but also a big increase in competition. But instead of just hoping for more sales, prepare your store and build momentum to make the most of this upcoming retail event.