The 4-step Framework for eCommerce Content Marketing (that actually works)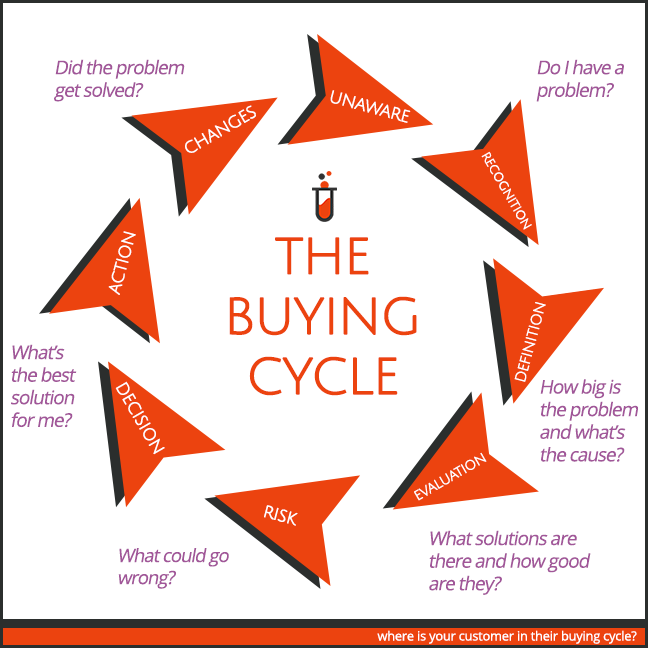 If you've been in eCommerce any length of time and you're not using content marketing to drive qualified traffic to your store, you're missing out on one of the best, low cost opportunities to grow your business.
Whether you're already on the content marketing speed train, or new to all this 'content stuff',  this article will give you a simple 4-step framework to help you plan, develop and execute a content marketing strategy that actually works.
4-step framework for eCommerce content marketing
STEP 1. Research and planning
An effective content marketing campaign starts with two actions: research and planning. If you have an up-to-date customer profile, and are a familiar face on the forums and other online places your target customer hangs out, you probably already have all the information you need.
Likewise, if you're short a customer profile, with no real clue of the questions, problems and pain points currently facing the buyers in your industry (be honest now), then you'll need to start at the beginning.
What you need to do, and why you need to do it.
Got a customer profile? Great! You're ready to start mining the favourite online spots of your target customer for content ideas. Don't have a customer avatar? When you're done reading this article take a second and create one. Quickly!
With your ideal customer in mind identify at least five online spots they hangout, interact and engage.
Pro tip: This may even be on the social media profiles and blogs of your competitors. It's time to play I-spy.
What are you looking for?
You're looking for clues about what interests them. What questions they have about your specific products, or your industry as a whole. Your goal is to identify what problems they have both related to your product, and in other areas of their life.
Why? You'll use this intelligence to plan content that answers those questions and solves those problems, bringing them deeper into your brands ecosystem, and increasing your: know, trust and like factor.
Things to think about in your R&D phase.
I'm sure you're closely acquainted with your business objectives (or at least you should be). But how knowledgeable are you about your customers buying triggers, and where they are in their buyer cycle?
It's helpful to think about your content creation from a buyer cycle perspective. This helps you plan and position your content to smoothly transition your customers from one stage in their cycle, to the next.
 STEP 2. Content and graphics
Now that you're familiar with the questions in your community and the buyer cycles of your customer, you can start planning your editorial calendar. Google calendar is an excellent free tool that you can use alone, or share with your team to plan your content marketing activities.
Creating an editorial calendar gives you an overview of the content you plan to publish in the coming weeks, allowing you to schedule time for research, writing, editing, publishing and promotion.
Pro tip: Don't focus on creating content solely for SEO benefits and Google. The most impactful content focuses on the only thing that matters-your customer.
What format should I use?
The medium for getting your message out is expanding every day. Blog posts, social media, video, audio, take your pick. The trick is to select a couple of mediums and channels, and be consistent. Remember, not every channel will be a good fit for your business, and likewise, trying to create content for every medium will deplete your time, resources and impact, so chose wisely.
These three channels work exceptionally well for eCommerce merchants.
Social media – Specifically Facebook, Pinterest and Instagram
Video marketing
Blogging
These channels are very visual – which works in your favour as a physical product business, so focus on creating high quality graphics and visuals that really represent your brand. When deciding what content to create, look for opportunities to take one piece of content and repurpose it in several different ways.
An example of repurposing your content could be an explainer video of how your product works. You would post this video to your website and Facebook, but you could also take stills from the video, edit them and add text, then post them to Instagram and Pinterest.
Planning your content in a multichannel way will help you get the best leverage and results for your time and money.
Check out Boom by Cindy Joseph to see an example of a brand that really understands their target market, and is able to execute a successful multichannel campaign on a budget.
Remember, every marketing channel functions somewhat differently. You need to tweak and repurpose your message to fit the medium, and the behaviours of your followers there.
STEP 3. Syndicate and promote
Syndication is simply making sure that all your marketing channels are updated whenever you publish new content. There are plugins that help you re-share older content, further extending the lifespan of your content assets. And great tools like Hootsuite and Tweetdeck offer comprehensive automation and tracking features. But one of my favourite automation tools is the incredibly simple, but very useful Bufferapp.
I recommend a healthy mix of automation – to allow you to plan ahead and save time, and regular real-time interaction with your audience. Customers are not silly, they can tell when your marketing is on autopilot, and they will quickly tune out and unfollow.
What about leveraging other peoples channels and audience?
Guest posting works incredibly well for eCommerce marketers, especially if you're strategic about whom you approach and the content you create. These relationships can prove even more profitable if you work closely with that channel's owner to provide extra value to their audience. We'll talk more about joint venture partnerships in the eCommerce industry in another article.
Keen to learn the skill of effective guest posting, and subtle art of successful blogger outreach? I'm a big fan of the badass guest blogging course (non affiliate link).
STEP 4. Consistency and quality
The reason many ecommerce merchants fail with their content marketing efforts is simple: they don't stick with it. They create a small handful of content, and when that doesn't result into thousands of dollars in sales they think it's not working and give up.
The key to profitable content marketing is strategy, quality and consistency. Every piece of content you create should be an asset for your business that brings in long-term repeat benefits. When you approach your content creation from this standpoint, you'll create higher quality, more useful content, with a longer (profitable) lifespan.
As you can probably imagine, we've only really just scratched the surface on the sort of strategies and tactics you can use to dominate your niche with content marketing. But even if you only follow this simple 4-step framework, you'll be ahead of many of your competitors.
Got a content marketing strategy that's working for your eCommerce store? We'd love to hear about it in the comments.
Share on Facebook
Stacey Herbert is a marketing and business coach for fashion entrepreneurs, and the founder of #TOMB The Online Marketing Boutique – the premier group coaching program and training portal for online boutique owners. Take a class, accept a challenge, or access expert marketing advice 24/7 – 365. To discover more, check this out.
Ready to experience brazen profits in your eCommerce business? Get in touch today.
Join her private community for online boutique owners on Facebook and follow her on Instagram.
Tagged content marketing