Is It Worth to Have a Blog on an Ecommerce Site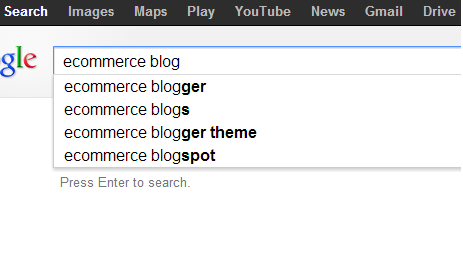 Visitors, leads, sales. Who doesn't want more?
Just imagine though how great it would be to suddenly realise that your website traffic has doubled? That suddenly twice as many people visit your site and are exposed to your brand.
But, building traffic, especially organic search visits, isn't easy. Most likely the keywords you try to target with your store are already highly competitive, overcrowded with your competition.
Top spots are probably taken over by the giants, and even if they weren't, after the latest Google Penguin update, it's almost a given.
And where there is no secret formula to building traffic, there is one for getting more targeted visitors to your store.
Blogging
Did you know that typically a company that blogs generates up to 55% more website visitors?
Did you also know that 57% of businesses have acquired a customer through their company blog? And that B2C companies, a category ecommerce stores fall into, that blog generate 88% more leads per month over those who don't?
Shocking?
Not really. Blogging is a powerful tool in your marketing arsenal and my goal for this post is to highlight its benefits to you as well as set you off on a right course with your ecommerce blog.
Benefits of Having a Blog on Your Ecommerce Site
There are a number of reasons why you need a blog for your website. Some are more obvious than the others so let's start at the beginning.
SEO
By far and away, SEO traffic shouldn't become your main growth engine, yet it is a good source of additional traffic to your store.
Blogging helps you to rank in search engines for various, usually long tail keywords that your potential customers use to find information about products or advice relating to their problems your products try to solve.
And, the more blog posts you publish, the more pages you create for your site that search engines can find and display in their results.
Authority
Blogging also helps you to become an authority in your field. By publishing highly useful information that your customers are looking for you can become known as a problem solver, someone to go to for information and advice, an authority.
Fresh Content
Blogging also helps you to generate fresh content for your site regularly. Your site looks updated and you give an impression of actively working on it.
Lead Generation
Lastly, blogging helps you to generate more leads for your site. Through blogging you can build an email list of potential leads that you can market your business to.
Blogging is one of the most powerful marketing tools to attract buyers at a higher stages of their buying cycle to your shop.
Keep in mind though that quite often your blog visitors will not be ready to buy, therefore don't assume that you will make sales through this medium.
Blog is used more to attract people who potentially might have the problem you solve and introduce your business to them, build an image of authority in the field and ideally get their details to use for further marketing (usually via email).
The Cons of Blogging
It's Time Consuming
First of all, blogging takes time. It takes a while to research and write a good quality post (for instance, it takes me a minimum of 2 hours to write a post I would consider as good).
It takes time to optimise it then to rank highly in search, then promote it, respond to comments if you have any and so on.
Blogging Offers Intangible Results
As mentioned before, blogging is not a sales tool, therefore it doesn't deliver any sales results. Sure, you can get some sales as a result of a blog post visit, it's not that uncommon in fact. However, sales isn't the primarily goal for blogging.
The goal is to increase brand awareness, spread the word about your company, grow the market recognition, build authority and more.
None of these things can be measured in numbers, or at least it is quite difficult to do so, which leads to many problems with reporting on the blogging progress.
How to Find Topics to Write About
Finding ideas for content is the biggest objection online retailers have in relation to blogging.
It can be hard to realise what you should write about. Below are some of the techniques I use to generate topics for my blogs.
This one is fairly obvious, ask your current customers what information relating to your industry or products they usually seek. You can use simple tools like SurveyMonkey to conduct a quick survey or simply email or ring your customers if you can to ask directly.
Social media is a real goldmine of blogging topics ideas.
Follow influencers in your industry and observe the conversations they have. Quite often these can give you some great ideas for topics.
Check out what content they share on social media and what gets popular. You can write on these topics too (providing they relate to what you sell in your store of course).
Google keeps a record of everything that users search for online. And, this data is a real goldmine of ideas too.
You can use tools like Google's Keyword Tool to search for topics. Or, and this is my personal favourite, use search queries to find out what information your potential customers might be looking for.
Search queries are phrases you put into the Google search box when you look for information. Quite often your search query is just a name of a product or a problem you have (i.e. "Italian Restaurant in Raleigh"), however, these can get a bit more complex to reveal more specific information.
When looking for ideas to blog about, try using the following queries:
[your keyword] howto
[your keyword] advice
[your keyword] tips
[your keyword] process
[your keyword] tutorial
[your keyword] about
[your keyword] recommended
[your keyword] recommendations
[your keyword] tricks
This will reveal the most popular posts relating to specific problems your potential customers might have.
Lastly, visit your industry related forums and check out what questions users ask there.
The added bonus to that is that you can also find main points for your post amongst the answers other forum participants have shared. This is exactly how I wrote this post about cycling at night.
Few More Tips for Your Ecommerce Blog
Don't Use it As a Sales Tool
I mentioned this few times already but thought it deserves it's own point.
Blogging is not a sales tool. In fact, quite often it has nothing to do with sales.
It is a tool you can use to firstly, drive targeted traffic to your site, present yourself as an authority in your field and lastly, build a brand awareness as a result of which you can expect some increase in sales.
Blogging on its own doesn't generate that many sales though.
Don't Blog About Products
A common mistake with business blogging is to post information about products and promotions on the blog, instead of offering value to customers.
When you blog, help your customers, solve their problems, make their lives better. In return, they will seek out your products, when they are ready to do so.
Don't Push Your Marketing Message
One of the most common mistakes companies make is pushing their marketing message too hard. They finish each post with a sales pitch, talk about themselves all the time and more.
However, if you really want blogging to work for you, always put your customer first. Offer them incredible value and they will seek out the appropriate information about you by themselves, when they are ready to buy.
Over to You
Do you have a blog on your ecommerce site? If so, what are your experiences with running it? Let us know in the comments.


About Pawel Grabowski (122 Posts)
Pawel Grabowski is a copywriter and content marketer and the founder of UserMagnet.io, the content marketing agency helping SaaS companies grow the user base and generate quality leads with targeted content strategies.
Find out more about Pawel at smashingcopy.com and connect with him on Linkedin.