Visitor Tracking: Find Out How Your Customers Use Your Store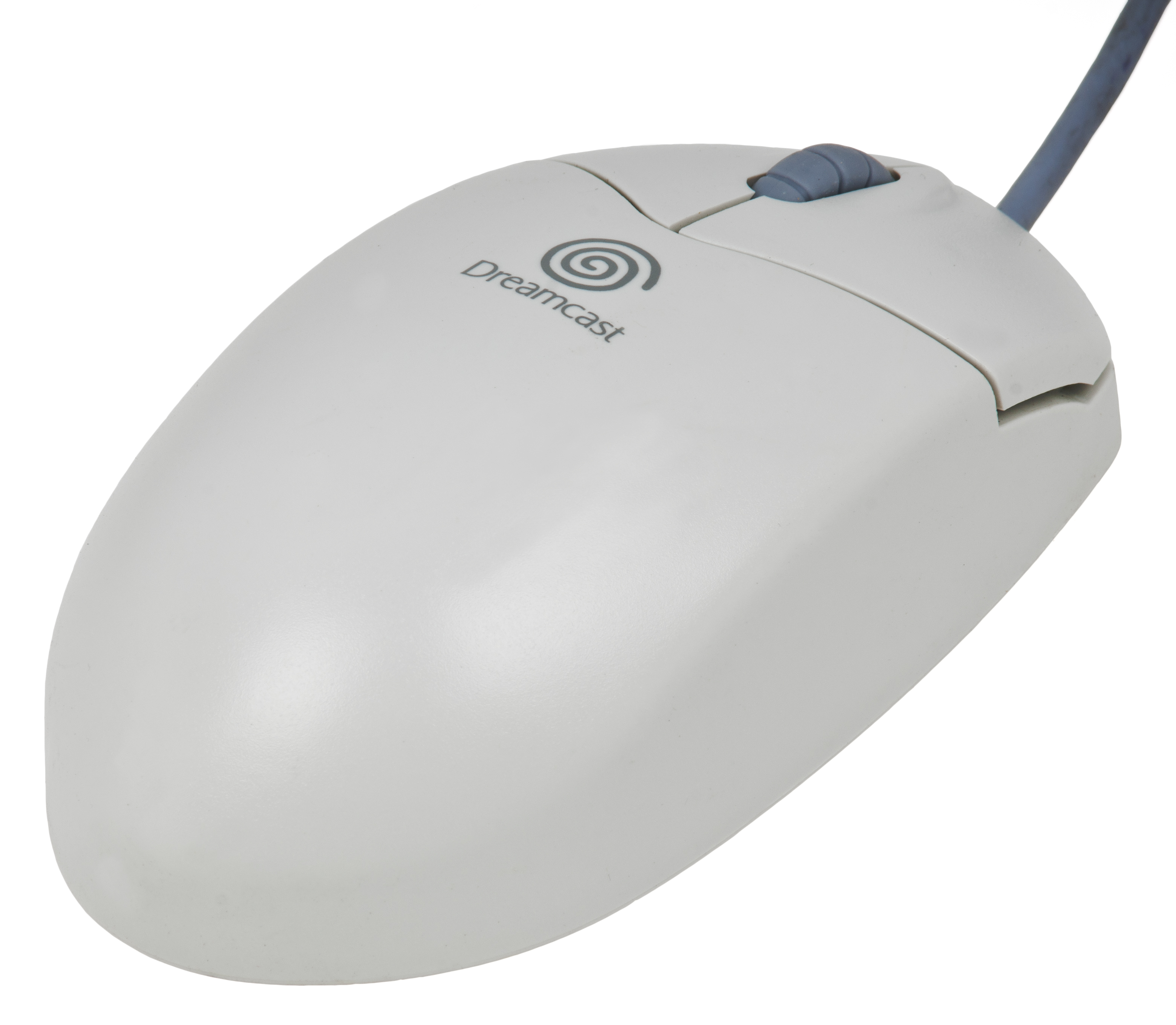 Customers are the lifeblood of any eCommerce site. They are the ones who can make or break your business, simply by buying from you or refusing to do so.
Therefore, understanding your customers, not only their demographics, but also how they interact with your online store, what problems they encounter while shopping, what functionality might be frustrating them and what obstacles you place on their journey to purchase is crucial for increasing your conversion rates.
But here is the problem, how can you know?
You can't ask them. You could invite your visitors to participate in a survey, but first of all, not everyone will respond and also, you will gain post experience insight. That's a valuable information but not as good as seeing the visitor as their browse the site.
You can't stand beside each and every one of your visitors and observe how they interact with the site either. And, any attempt to ask them in person, through a live chat function or a pop up feature might irritate them to a point of abandoning the store.
You solution to gaining more customer insights then lies in visitor tracking.
Below is a list of programs I used personally to analyze visitor journey and found invaluable in growing my store.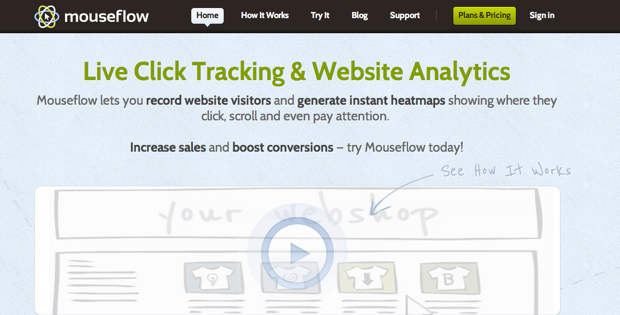 Type: Visitor Tracking and Recording / Heatmaps
Cost: Free (Recording only – limited) to $199/mo
Mouseflow is probably the most user friendly yet still quite advanced web visitor tracking system I came across. It's primary function allows you to record website visitors and track what areas of a page they view, where they click and much more.
Moreover, on higher price plans you can also generate heat maps allowing you to see where your users click, scroll and what parts of the page they pay attention to.
Pros: Simple to set up and use, clear and easy to navigate interface.
Cons: Doesn't record certain javascript actions and tabs on the website.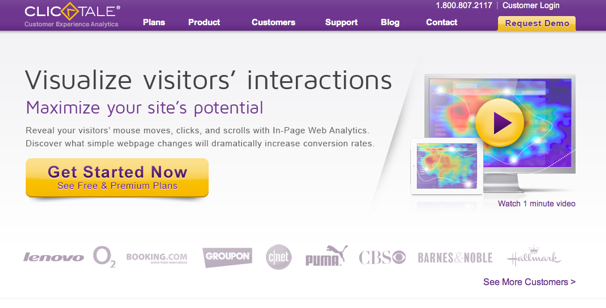 Type: Visitor Tracking and Recording / Heatmaps
Cost: Free with limited functionality. You can also build your own premium plans.
Clicktale is a similar web analytics platform to Mouseflow. It allows you to record your visitors and watch how they interact with the site. Clicktale also allows you to analyze forms, conversion funnels and more (premium plans only), making it much more advanced than Mouseflow.
Pros: Robust system with quite advanced functionality.
Cons: Complex and problematic installation, confusing interface, very pushy sales people (try signing up for a free plan, you'll see…)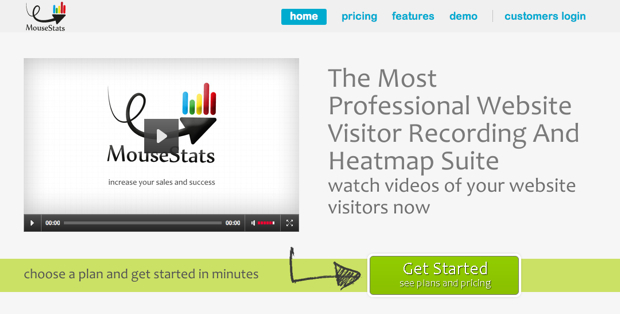 Type: Visitor Tracking and Recording / Heatmaps
Cost: Free (single page) to 90/mo for all features
Mousestats is another visitor recording and heat maps generation system you can use. It's probably the most basic out of the three I tested, however, it is also a great entry level one.
The free plan allows for tracking of a single page, ideal if you want to analyze a particular section of the site.
Pros: Easy to set up and use.
Cons: Very limited free plan, basic features set.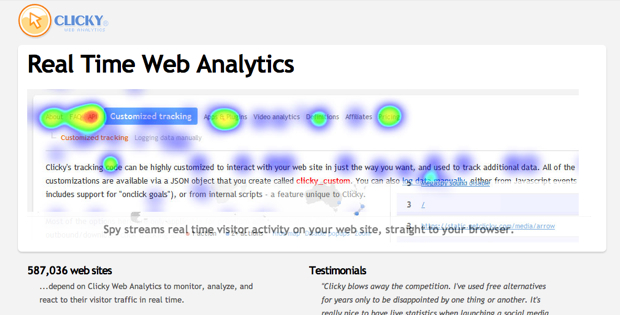 Type: Visitor Analytics
Cost: From Free to $37.99/mo
Clicky is a true gem of visitor analytics. This alternative to Google Analytics offers live visitor tracking and reporting and on premium plans allows you to match the data with heat maps and other important data.
With Clicky you can track traffic, views, pages, visitor flow, traffic sources and more.
Moreover, it also includes everything you would expect from a robust analytics package, keywords tracking, visitor data, goals, campaigns, live user tracking and many more.
What I personally found really useful is how Clicky analyzes bounce rate. Unlike Google Analytics which counts any visit that returns to the previous action (either through a back button or by closing the browser tab/window), Clicky's approach to bounce rate is somewhat different. To clicky a bounce rate is a visit to a single page shorter than 10 seconds. If however the visitor stays on a page for longer yet does not view any other pages on your site, Clicky still counts it as a normal visit.
Pros: Amazing features set, easy to set up and use, offers invaluable data
Cons: hard to organize information
Few Tips for Gaining Customer Insights
Before you go off to gain more insights about your website visitors, here are some things you should keep in mind:
Performing a test when your site receives only a handful of visits is going to be a waste of your time. You need traffic to be able to analyze visitor behavior. Moreover, you also need it to be able to see if whatever changes you made to the site actually brought any effect.
There is no universal minimum of visits you need before you can start testing, however, I would say that until your site reaches at least 150 – 200 exact visitors a day, I would suggest you focus on building traffic rather than analyzing it.
You need a plan and know what you are looking for
Recording visitors or analyzing heat maps in hope that they will reveal any anomalies isn't going to help you much. At best you are going to spend hours watching your customers interacting with the site but it will be impossible to find out any clues.
Instead, look for any anomalies in your analytics data and base your tests on them.
For instance, you may have noticed that the number of transactions has gone down, bounce rate went up or perhaps your visitors don't take the path to purchase you intended for them. Once you know that there is something wrong, you can start analyzing the site to find out what the problem is.
You need to base your assumptions on numbers
One of the most common mistakes with testing is following a gut feeling. The fact that you think that something doesn't work or should work differently doesn't mean that that's the case. Validate with numbers that there really is a problem. Otherwise you won't gain much from any visitor insights you might get.
You should only test for one particular problem at a time
As tempting as making many changes at once might be, you should focus on one particular problem in your tests. Do more than that and if you get the change you have planned, you won't be able to tell which of the changes caused it.
Test only one particular area of the site at once too
Similarly the above, you should also test a single particular area of your site.
For instance, if you notice that a bounce rate on your category pages went up, start by testing those pages. If there is any problem there, you will quite quickly see it in your tests.
Gaining insights about how customers interact with your site is invaluable for any Ecommerce shop. Improving areas customers have problems with can lead to an increase in conversions, sales and revenue. But there is one catch, this isn't something you can do just once, instead keep a close eye on your website performance and test as quickly as you see any anomalies in your analytics results.