Trust Based on Shipping & Customer Service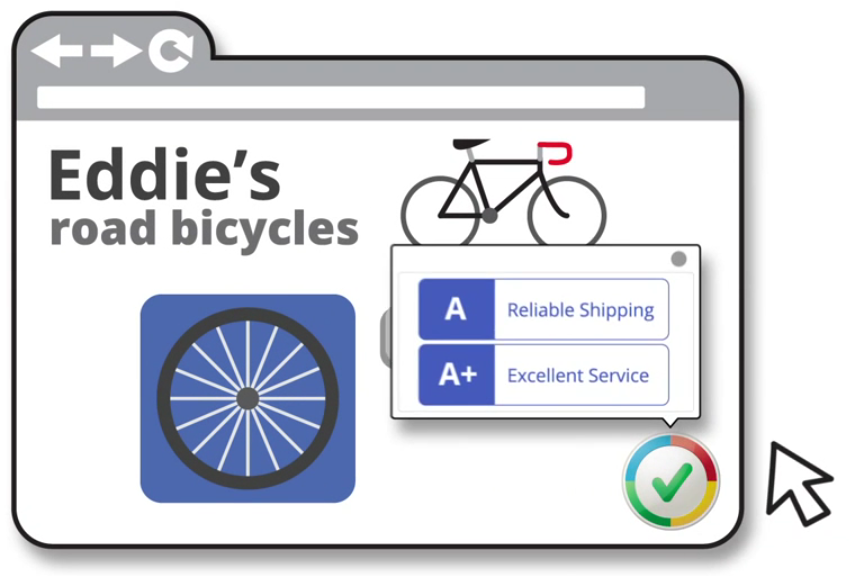 Google recently introduced their Trusted Stores program for online retail merchants. Early access users have noticed great results. Beau-coup.com notes a total performance increase of 8.6%. Google Trusted Stores is available for US merchants only. If you use Google Trusted Stores, please let us know what you think about it in the comment section.
On the Google Trusted Stores website, Tom Cole, CEO of beau-coup.com says:
"It's a win-win situation: consumers get the assurance of seeing our performance grades based on the actual experience of customers, while Beau-coup enjoys the higher sales that come with that buyer confidence."
With these promising results there will be a great potential for the use of Google's badge. Your e-commerce operational performance will be public, a manner of transparency which I support. The goal is to create trust, trust to buy something in your web store because you provide reliable shipping and excellent customer service.
So when is your customer service considered Excellent?
The only correct answer should be: when the customer experiences great customer service… you reply fast with a relevant and personal answer. This means that you have to have great employees who are able and equipped to make decisions on-the-fly as required.
Your performance on "fast" can be easily measured, but relevant and personal are more subjective. That's why it is important to measure customer satisfaction on every reply you give.
To keep your customer service rating on the badge as positive as possible, it's important to provide excellent customer service so that complaints aren't sent to Google. When you are transparent about your service level, your customer service performance history has a great impact upon other visitors to your site. Your customer service solution should have the functionality to expose your track record publicly so your conversion rate for new customers can increase. At Robin we are already prepared and created a customer happiness index which is visible on the contact form.
Robin's customer happiness index:

Google Trusted Stores badge & customer service
So what is Google offering in the badge? The badge contains two information properties: one about shipping and one about customer service. The online retailer has to provide Google with the needed shipping information. For customer service Google is even going further. If the customer has a complaint he can send his complaint to Google. Google will work on a solution together with the online retailer.
Google Trusted Stores Report Card: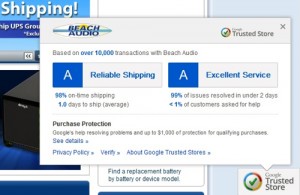 Combining STELLAService and Google Trusted Stores badge
STELLAService is another 3rd party review badge that will find out if you are not only talking a great performance but also really deliver based on mystery shopping.
They navigate sites, conduct usability tests, order and return products and engage in over a dozen interactions with each company's customer service representatives via phone, email and live chat. And they do it all undercover, so the findings are unbiased and true to the experience.
So if your two badges are aligned with each other, an even better result can be achieved.

Don't be afraid, see the chances
Online retailers could think that this kind of transparency might be a threat because it makes exposes negative customer experiences along with the positive. When you have a couple of complaints it might be visible. But do customers care? In reality, every customer understands that something can always go wrong. A few negative reviews make the positive reviews more trustworthy. It's not about the problem, it's about how you solve it. Fast, relevant and personal.

Tagged Google Shopping, Google Trusted Stores