Transitioning From Drop Shipping To Carrying My Own Stock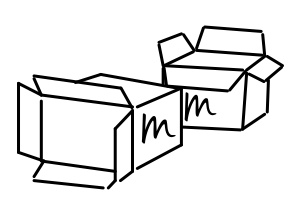 I am sure that just like pretty much anyone interested in building a business, you love reading personal stories from other business people to learn as much as you can from them. Well, if that's the case, then you're in luck. This post is probably the most personal of all I've written on this site.
If you've been following my writing on ecommerceinsiders, you know that I live and breathe drop shipping. I run a drop shipping business and I have to say, it does really well. Moreover, I have written a lot about it over the last 10 months on this site (time flies, huh?).
However, a couple of months ago I began a transition to a more traditional eCommerce model. I decided to carry my own stock and fulfill orders myself.
Having said that, I am naturally not closing the drop shipping business. It's my new store that will be carrying all stock. Today I want to tell you about some key differences between the two models and what I have learnt about carrying stock so far.
But first, something that most people ask me of.
Why I Moved to Carrying Stock
One of the biggest challenges I experience in my drop shipping business is providing exceptional customer service. Since I do not have products in front of me, and have never seen many of them, I have a major difficulty in advising customers about the best solutions. Yet I have always wanted to make exceptional expert advice one of my key selling points.
It is quite common to receive an order only to realize that your supplier is out of stock. While usually it is not a massive problem, it can cause some difficulties and might turn some buyers off to your store (happened to me more than once).
With my own stock, I can always be sure about what I have and keep availability information on the site up to date.
One of the biggest problems with a drop shipping business model is that a massive part of your business, namely order processing and shipping, is in the hands of someone else, usually supplier or a drop shipping company. This means that you have absolutely no control over when your product will be shipped to the customer. This can cause problems, especially if your order gets lost and processing is delayed by even few days.
With my own stock, I can be sure that, providing I have a product in stock, orders will get processed as soon as they are received, ensuring that items ordered are on the way to customers straight away. Moreover, I can negotiate the best shipping rates and choose the supplier that offers the best conditions.
Marketing and promoting a drop shipping business isn't easy either. Since you have no stock, it's hard to promote the business in any other way than through SEO and advertising. But what about offline sales, promotions and many other things you could do?
Carrying own stock allows you to even send products for reviews, if you can afford it of course. Not to mention, running any other form of marketing activity.
Lastly, just like with shipping, managing returns can pose a serious problem. Many producers impose difficult return terms and conditions on drop shippers, which often lead to serious customer / vendor disagreements.
With my own stock, I can make those returns easy for the customer and then deal with the supplier personally to ensure that the customer is satisfied and not involved in any disagreements with producers that might arise.
A Few Things to Remember When Carrying Stock
Keep Only As Much Quantity As You Need
I have to admit, it is tempting to stock up. However, it can be quite dangerous to your cash flow so buy only as much stock as you need. Keep an eye on the market and pay close attention to your stats to figure out how much stock you need to keep.
Negotiate the Best Deals with Suppliers
As a drop shipper you have a very limited option to negotiate deals with your suppliers. However, when you buy stock, your options immediately go up.
You can negotiate extra discounts, free shipping, a percentage off orders over certain value, payment terms and more.
Moreover, you can shop for other suppliers carrying the same stock to get the best deal.
Similarly, once you start fulfilling order, you get into a position where you can negotiate shipping rates. Check out all shipping carriers to see who can give you the lowest price.
Don't Try to Stock Every Item
Not all of the products you want to sell are worth stocking. Start small and stock only the best sellers, you can always keep drop shipping the others until your business grows.
Conclusion
Even though my decision to move to carrying my own stock might suggest otherwise, I haven't changed my opinion about a drop shipping business model. I still believe that it offers a great opportunity to get started in ecommerce or build an online business on a side.
My decision is more based on the fact that i want to try something new. With my new store, mymunchiesbox.com not only will I stock my own supply but also operate on a subscription basis. That, however, is something for another post.
Your Turn
What do you think about carrying stock? Have you ever made a transition from drop shipping to stocking items? If so, what are your experiences?
Tagged dropshipping