No Sale is Final – 6 Tips for Handling Returns in Ecommerce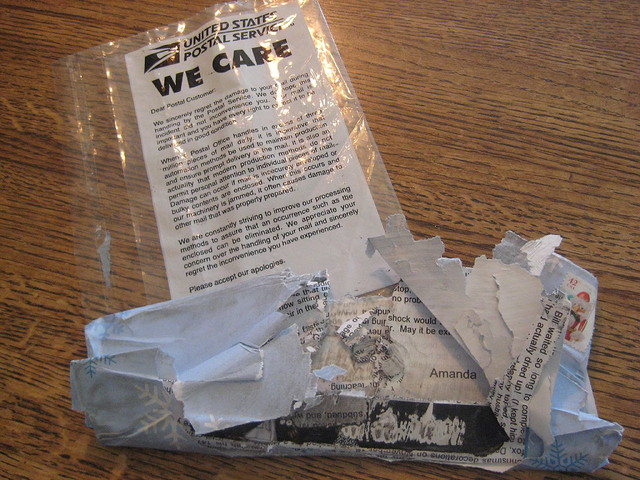 In ecommerce no sales are final.
A customer who wanted the product so badly might still return the item. A foreign customer that couldn't believe you ship to their country might decide they don't want it in the end.
Even your most common customer can do so too.
There is data to prove that. In 2013 more than 60% of online buyers have returned a product they bought (data by Endicia). Some of those returns included faulty products. Or perhaps the packaging got damaged and put the client off the item. The product might not meet the customers' expectations, or maybe they received it as an unwanted gift.
It may have also been a wrong order. It's not an uncommon for customers to order the wrong item and realize it only after they have torn the package open.
Regardless of the reason, these customers are now looking to return the item. And you better make it easy for them to do so. Not doing so might seriously affect your business. According to Endicia, 64% of customers will give referrals to friends after an easy return process. And 95% of customers will buy again from a merchant who allowed them to easily return the previous purchase.
But how do you ensure that the return process goes smoothly for both you and the customer?
Here are few tips.
1. Create a clear returns policy.
Make it clear how your store handles returns. After all, the last thing your customer wants to hear when calling for a return is that this or that are not your company's policy.
Consider these things when writing a returns policy:
Make it easy to understand.
Your returns policy is not a legal document; there is no need to write it in a way no one would understand. Your customers want to know how your store handles returns, not the legal ins and outs of the process.
Make it easy to find.
I bet that none of your customers want to be going around in circles, trying to find your returns policy. You should have it clearly linked from every page of the site. It doesn't matter where on your site the customer is; they should be able to access it pretty quickly.
The most common place to place it is the website's footer. Many shops include customer service sections in it that include all information a customer might need to know how the store works.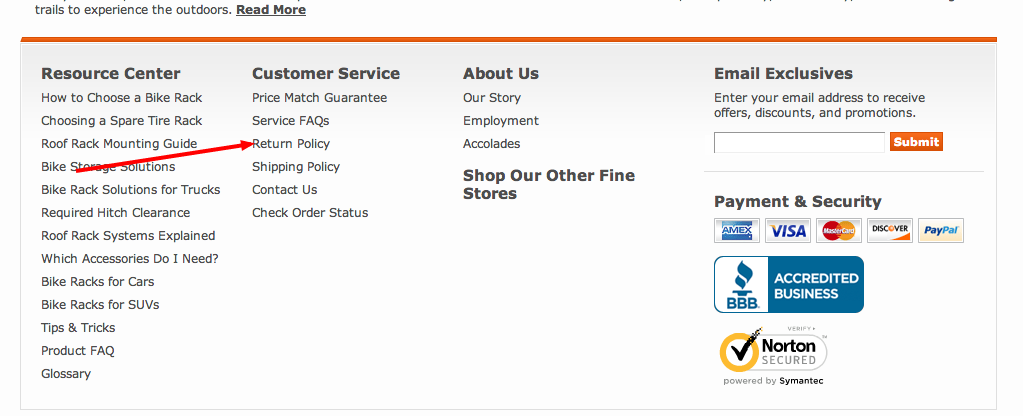 Explain all steps in the process.
Not every item can be just put in a jiffy envelope and sent back. Depending on what you sell, the return process can be more or less complex. Explain every step in the process using a plain, simple English and offer a way to contact you if a customer needs support.
Also, if the process is different for various reasons for returning (fault, wrong item etc.), explain those in detail too.
2. Avoid Hidden Costs
Naturally, not every store can offer free returns. But nothing will irritate your customers more than hidden costs they didn't know when purchasing. Therefore be open and upfront about any return costs the customer might have to pay.
3. Define time limitations.
It is common for online stores to offer a time window during which a customer can return an item. It can be anything from 30 days to a year. When deciding on your timeline take into consideration the way your producers work and base your timelines to work with theirs.

4. Include return label with every order
Sometimes the simplest things are the most impressive. Including a return label with every order may seem like a basic thing to do. In fact, 62% of your buyers will want to see it with their order.
Including a label is not difficult. Your ecommerce software may have this option built in already.
Alternatively, if you can't include a return slip, at least try to provide your customers with a self-service way to return an item.
5. Know the cost of a return
Even though so many buyers expect a free return, you might not be able to offer it to them. The cost of it might be too high.
At the same time, however, you might discover that it is actually cheaper to buy and ship a replacement than collect an old item.
Know the cost of managing a customer return before you create your returns policy to avoid causing financial risks for your business.
6. Use the return to gain marketing insight
A return is an opportunity to hear a customers true story. Consider sending a follow up email to every customer who returns an. Ask them about their purchase, the product and their impressions of the return process. This can help you identify new ways to improve the returns experience (as well as your customer service) providing insight into your customer needs.
3 ways to minimize returns
Even though the majority of your customers prefer to have the option to return, it doesn't mean that they will. And even among those who would send an item back, there are still people who you can prevent from doing so. Below are some ways you can minimize the number of returns:
Include accurate product descriptions
One of the common reasons for returns is that the product wasn't what the buyer expected. Overcome this problem by including a thorough and exhaustive product description that not only entice visitors to buy but also provide all the information they need. If you can, give your visitors a sample of the product in use through videos and customer stories.
Feature product thumbnails on the checkout
Ordering a wrong item is another common reason for returns. You can minimise it by including product thumbnails in the checkout. This way customer will be able to see the product one more time before they confirm the purchase.
Ask customers to confirm their order
Lastly, ask your customers to confirm their order before it is final. This way you will ensure that customers won't make accidental purchases, especially if you hold their credit card data on file.
Conclusion
No ecommerce sale is final. Even though you have processed the payment and shipped the item, the customer might still want to return it. In fact, the majority of customers want that option and moreover, they avail of it. The way you facilitate this process will shape their future purchases from you.