No One Wants to Read Your Emails (and Here's Two Reasons Why)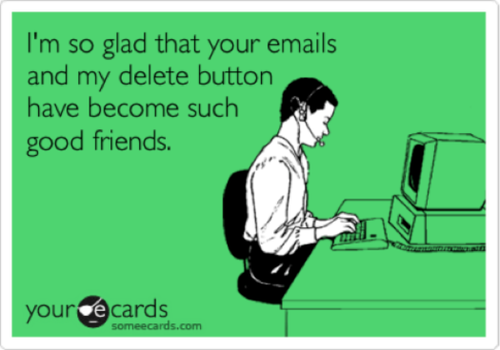 I hate to break it to you, but your customers aren't reading your emails.
I know, I know, you slaved over that email, including exciting details about your upcoming sale, and the free shipping that will be included with orders over $100. But you still didn't see the bump in traffic and sales that you expected.
Being ignored can feel like a personal affront. "Was it something I said?" "Was the sale not good enough?" "Are they just not interested in my product?"
It's likely none of the above. The hard truth is, your emails are probably just boring. But the good news is, this isn't a terminal condition. In fact, there are two big reasons you're probably being ignored by your list, and there is something you can do about it. Let's take a look at what's going on.
Your Subject Lines are Terrible
When it comes to email open rates, the subject line is king. If you don't have a gripping headline that will pull your reader into opening the email, you have a one way ticket on the delete button express. You have a split second to grab your reader's attention and stand out from all the other emails filing their inbox.
You should spend more time crafting your subject line than your email. After all, what good is the perfectly crafted email if no one reads it? To craft a clickable subject line, there are a few things to keep in mind:
Length matters. If your viewer can't see the entire subject line in their inbox, they aren't likely to click it. The ideal length for a subject line is under 50 characters. Of course, there are exceptions to this rule, but until you see success following the rule, don't break it.
Make the headline irresistible. Craft a subject line that compels your reader to click the email. Looking at my inbox now, I see headlines like "Advice from a millionaire", "Wear your feelings", and "How can sauerkraut help your bones?". You'd better believe I want to read those emails!
On the other hand, the subject lines "Rollback" and "New arrivals, 40% off tops" will be marched off to the virtual trash can. Why? Because the intriguing headlines grabbed my attention, but the salesy headlines lost me immediately. Once again, you can break this rule, if, for example, you're offering an outstanding sale which will immediately grab attention, but, the vast majority of your headlines should be far more compelling.
Address a pain point. I work for an education company, and one of our CEO's recently sent out an email to the parents of potential students with a headline that read "Does worrying about your child's future keep you up at night?" People read that email. I don't even have children, and I read the entire email. Think about what will interest and intrigue your target audience, and address their need in the subject line. Just be sure your email content actually addresses the promised issue.
You aren't using the preview effectively. Most email services, including the ever-popular Gmail, provide a preview of the email in the inbox. Aside from the subject line, this is the secondary deciding factor when it comes to someone opening your email. Be sure to utilize this screen real-estate very carefully.
Place "teaser" information, or text that will continue to pique your audience's interest in the first line of the email, to further entice them to open your carefully crafted work. Beyond all, don't waste precious screen real estate with "Trouble viewing this email?" or "company name". There are plenty of places to include that information, just keep them out of your prime real estate.
Your Emails are Boring
Let's face it. No one likes to be sold to, and most people see advertisements as "boring". With the exception of the Super Bowl, most people spend their lives avoiding commercials.
Think about it.
What is the first thing you do when an ad comes on the radio? If you're like me, you instantly hit the preset button in hopes of escaping the bombardment of your ears with sales pitches.
Why, then, do people love Super Bowl ads, but hate commercials the rest of the year? Because, during the Super Bowl, the advertisements contain value. For these ads, the value is generally in the humor, but, none the less, there's something that excites people about these commercials.
While you may not be able to provide the comedic relief of a Super Bowl ad, you must provide something of value in your content. Tell a story, solve a problem, or offer an irresistible deal. Whatever you do, don't proclaim the awesomeness of your service or product and do nothing to benefit your reader.
Ultimately, your goal in your email marketing should be to provide value to your audience. As you continue to provide quality content to your audience (and let them know through your subject lines that you're providing quality content), the greater the response rate you'll see.
What secrets have you found to email writing success? Share below!