An Overview of 5 Leading Hosted Ecommerce Solutions
It's now easier to build an ecommerce store than ever before.
Technology is now accessible to anyone. Even a non-technical person can set up a store in a matter of hours.
It doesn't cost much to do so either, at least not in comparison to what online retailers used to pay for their shopping carts a couple of years ago.
But with all that comes the paradox of choice – making it almost impossible to decide what solution to choose – a hosted, self-hosted or an open source cart. Each offers its own benefits and features. In this post I want to highlight the first type – hosted ecommerce solutions.
What is a Hosted Ecommerce?
Simply put, a hosted ecommerce solution is a 3rd party operated platform allowing a business to launch and manage an online store without having to worry about the technical aspect of the operation.
There is a number of benefits of using a hosted solution:
1. Easy setup
Hosted ecommerce platforms are created with a non technical store owner in mind. This means that you don't have to be a tech expert to build your first store. Moreover, many platforms offer guidance and in-depth tutorials to help you throughout the process, making them an ideal solution for your first store.
2. Low Upfront Cost
By using a hosted solution you avoid the costs of renting a web server, hiring a designer and developer to build your store, buying an SSL certificate to secure your transactions and countless other costs you'd normally incur while building a self-hosted store.
3. Technical support
When hosting your store on your own server, all technical support is your own responsibility. And, in an operation such as ecommerce, this means a 24/7 maintenance. With a hosted solution though, all technical support is provided by the company offering the platform.
4. Security
Security is one of the highest concerns in ecommerce. When you are accepting payments online, you really want to ensure that all data is secure. With a hosted solution, those concerns are handled by the hosted ecommerce company working day and night to ensure the security of their product.
5. Upgrades
Hosted platforms constantly work to improve the service, adding new features and improving the existing ones. And, this happens silently in the background, requiring no input from you.
6. Value
Most platforms, as you will shortly see from the comparison below, cost very little per month to use. This could be a crucial factor when you prefer to spend your money for instance on paid search instead.
There are however some downsides to hosted solution too:
1. Limited Customisation Options
Hosted ecommerce platforms are designed to support many different shops and thus include mainly the most popular features, many of which you also can't customise beyond basic controls offered through the platform.
You can't also add features on your own. You can only work with whatever features and functionality the platform provides.
2. Growing Long Term Costs
Even though a hosting platform requires very little startup investment, if you continue using it, your monthly bill will eventually add up to more than what you would pay upfront for a self hosted solution. Moreover, the monthly cost of using a hosted platform can increase with the growth of your store and the number of products you sell. And, when your number of transactions per month increases you can face high transaction fees etc.
3. Lack of Control Over Software Development
With a hosted solution, you don't own the software you use. You simply pay for accessing it and have no control over what the company does with it. If they decide to modify their software in any way, they are free to do so and your store will also be changed. Under most circumstances, it is not a problem. You may however have to redesign your store to allocate for the changes or make any other modifications to your store or even the way you present your products to align them with those changes.
Needless of the cons, hosted ecommerce platforms offer great benefits and opportunities for stores of any size. And, if you consider setting up a hosted ecommerce store, here is an overview of the leading platforms on the market.
5 Leading Hosted Ecommerce Solutions
1. MagentoGo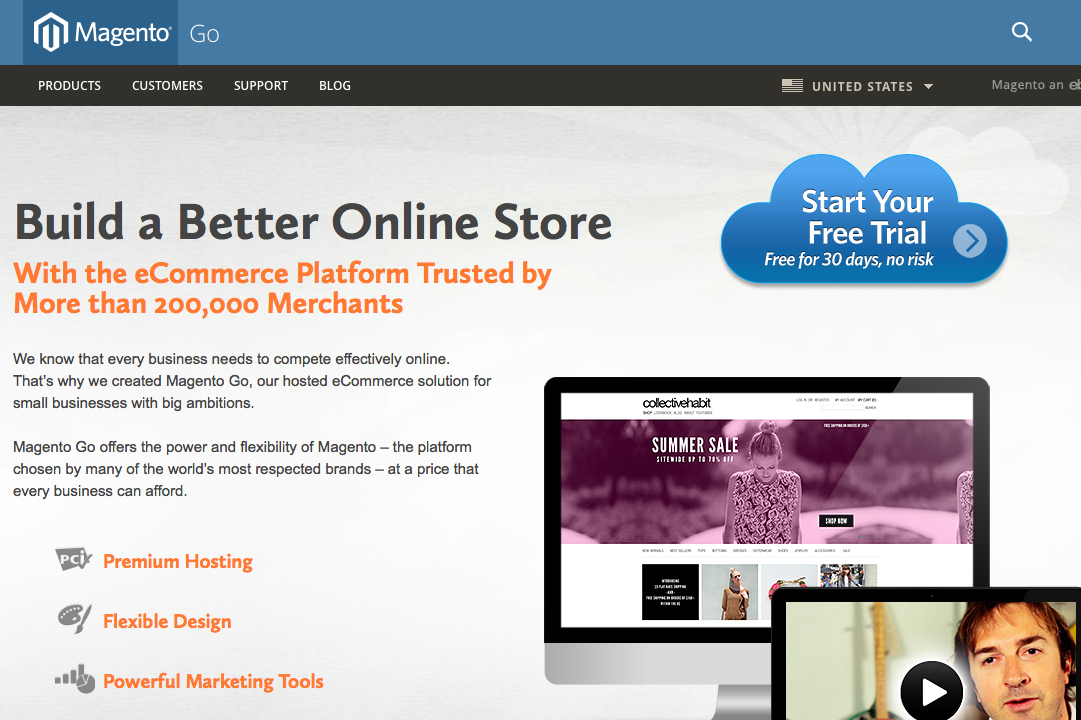 MagentoGo is an offshoot of the Magento, the most advanced self-hosted ecommerce system on the market. Even though MagentoGo's features are limited compared to its self hosted counterpart, it still offers an impressive toolset on the market. From fully customisable design to a multitude of product options – bundles, grouped products, configurable products to integrated SEO options, coupons, loyalty cards and more.
Price: MagentoGo does not restrict functionality per price plan, offering all tools regarding of the plan you choose. Instead, prices are limited by the amount of products you can sell. Plans from $15/mo for 100SKUs going up to $125/mo for 10k SKUs
Ideal for: Small business owners with a good grasp of IT. Can support even most advanced store setups.
2. Shopify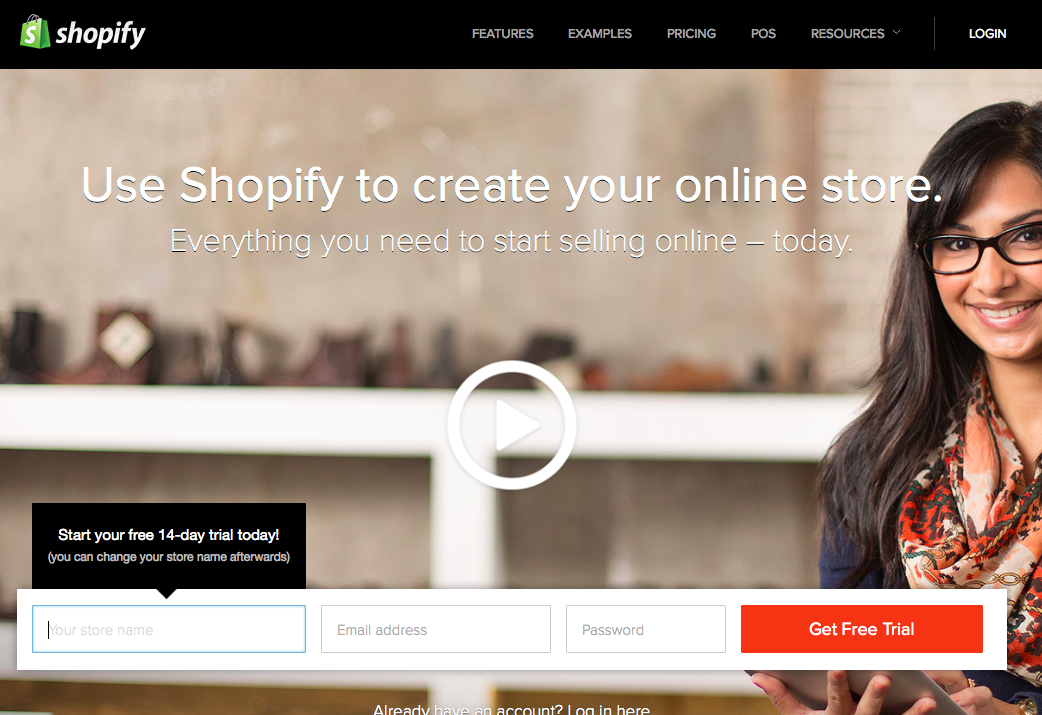 Shopify is by far the system to go for if you want to launch a store pretty quickly (and don't require complex functionality). One of the main advantages of the system is it's ease of use. If you lack technical skills, Shopify is for you.
With that simplicity however comes a cost. Shopify doesn't boast an equally impressive feature set as other systems on the list. It does cover all the basics though, from customisable themes (free and paid) simple product management, marketing, SEO to coupons and gift cards. One of the key Shopify features is Shopify Payments, it's own proprietary payment gateway.
Price: Shopify price plans are limited by functionality, with lowest plan lacking some advanced options like gift cards or abandoned shopping cart recovery. Additionally, Shopify charges 2% transaction fee on the lowest plan ($29/mo), 1% on the middle one ($79/mo) and zero on the highest one ($179/mo).
Ideal for: Startups and first time store owners. Ideal for selling own products. No advanced technical knowledge required.
3. BigCommerce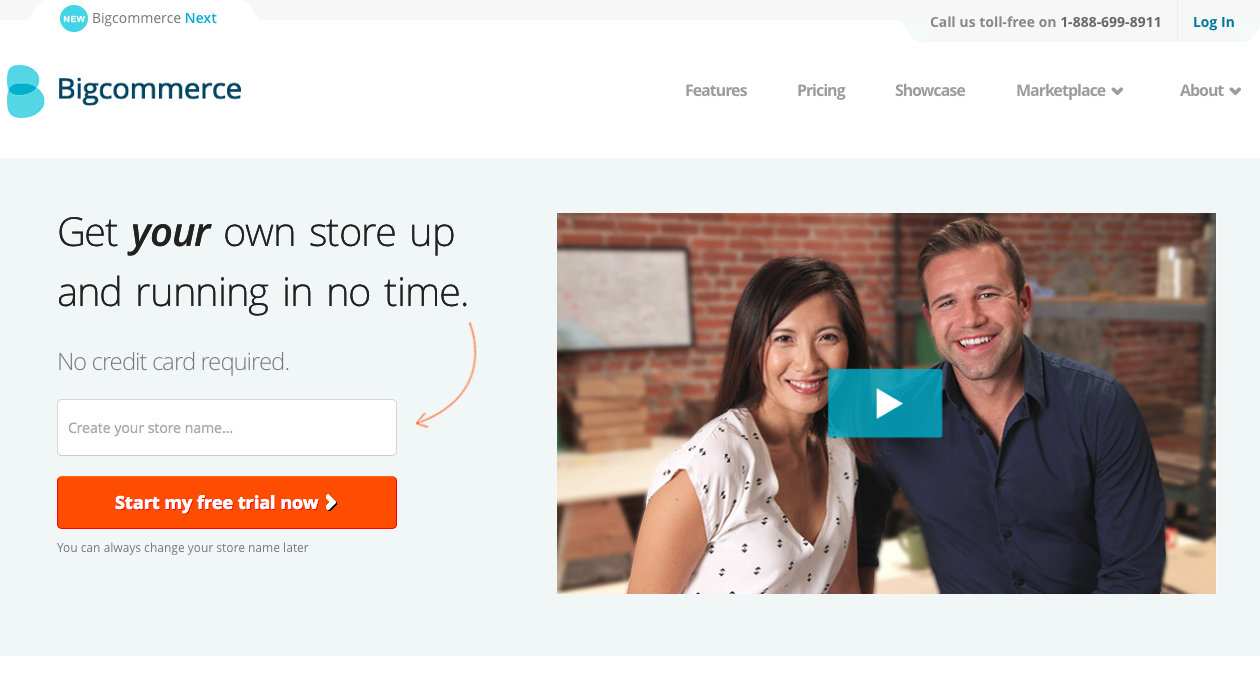 BigCommerce is a system of choice for all kinds of businesses, from small stores to large retailers. It offers a comprehensive set of tools working "out of the box". From typical functionality you'd expect to find in a hosted ecommerce platform to email newsletters integration, unlimited products and variations to integration with over 150 apps and plugins.
The platform also offers a social shop option which allows you to set up a Facebook store as part of your package and integrate social channels in your sales process. B
Price: BigCommerce price plans are limited by functionality. The lowest plan ($34.95/mo) however offers an impressive feature list already. The other two plans ($79.95 and $199.95) only extend it with features you'd need in more advanced stores. BigCommerce charges a 2% transaction fee on the lowest plan. That charge is dropped on the subsequent two plans though.
Ideal for: shops of any size really. With over 150 apps integrations, the platform is ideal not only for selling your own products but also drop shipping and building a major store in the industry.
4. Volusion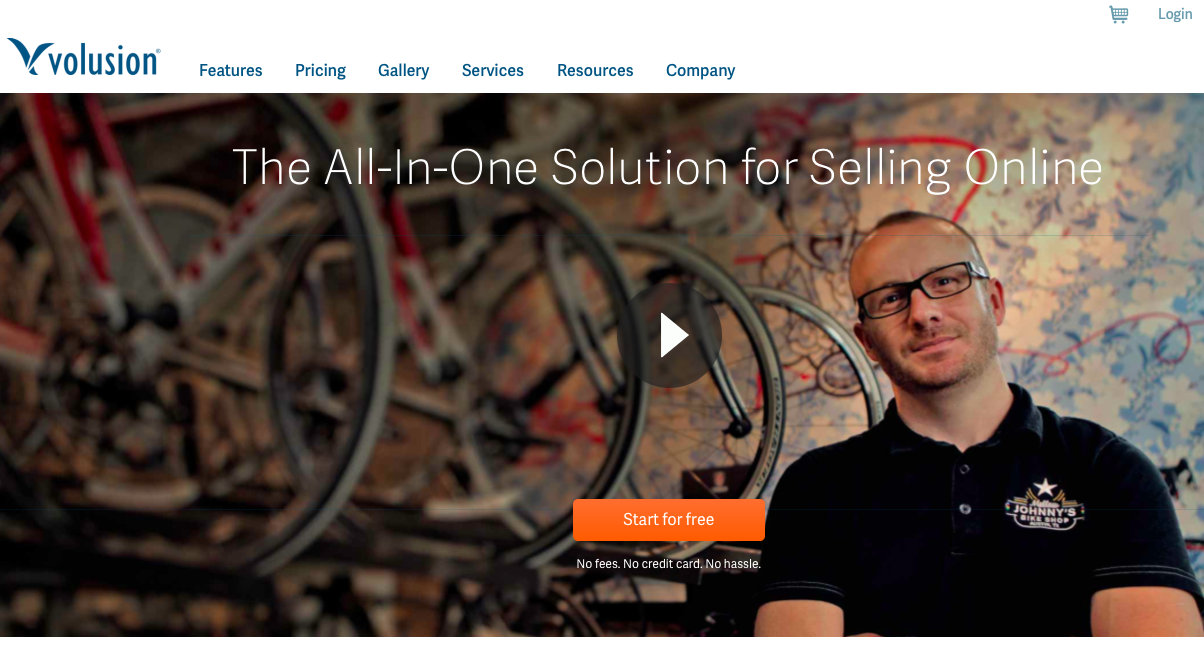 Volusion offers all the tools any online retailer would expect from such tool, from in depth product management, design tools to create a look and feel for your store to email marketing and SEO. Its feature set isn't as impressive as some other platforms on the list.
Price: Volusion charges no transaction fees and it's price plans are limited by functionality as well as the amount of products you can sell. The lowest plan costs $15/mo and allows you to sell 100 products with some basic tools (incl. the Facebook store though). The highest plan costs $135/mo and offers unlimited products and all functionality available.
Ideal for: shops of any size.
5. Lemon Stand
Lemon Stand is ideal if you are looking for a highly customisable platform. It offers advanced options to modify your store, from design to functionality. But, it requires a fair bit of technical knowledge to build a store and thus Lemon Stand is geared more towards developers and designers, rather than store owners.
Price: Lemon Stand's price plans are limited by functionality, storage space and the amount of products you can sell. The lowest plan is currently set at a promotional price of $29/mo and the highest at $139 (discounted from $299)/mo.