6 Characteristics of a Good Product Description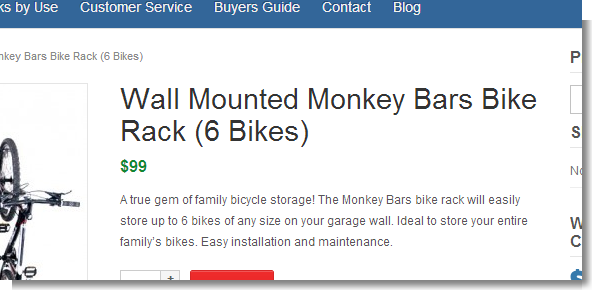 Most product descriptions you read online suck.
It's so common these days to arrive at a site with a credit card at hand ready to buy only to leave immediately somewhere else, being put off by the copy on the page. In fact, it is even more common to see the same product description on almost every website. It's usually the one supplied by a producer.
It comes as no surprise then that a store that gets the sale is often the one that offers the buyer a description they were looking for, a one that's:
Informative
Establishes trust in the store and,
Convinces the buyer that the product is right for her
What Is Wrong With Most Product Descriptions
A quality product description can make the difference between getting that order and losing the customer's interest. It can entice someone to buy or leave the site immediately, simply because it didn't tell them what they wanted to hear.
In fact, most product descriptions only describe the item and don't go anywhere beyond that. Now, naturally the customer needs to know all the ins and outs of a product but that's not what made them to search for it in the first place.
It was the problem or pain they had. The product is only a solution.
Highlighting only features tells the user this is the product they've been looking for. Which in most cases they know already. Telling them that it can solve their problem convinces them that it is a right solution for them.
And that's exactly what a good product description should achieve.
6 Characteristics of a Good Product Description
Before you sit down to rewrite your product descriptions, here are some of the things you should keep in mind while doing so:
A Good Product Description Needs To Speak To The Ideal Buyer
First and foremost, your copy needs to speak to your ideal buyer. It needs to include all the information she would be looking for but also, you need to highlight in a copy that you know who she is, write it in a language she uses and include the words that would make her buy.
It Needs To Highlight The Benefits Of Using A Product
One of the most common mistakes many ecommerce owners make is only describing the features of a product in a description. These are of course important, however, your product description should tell your visitor what makes the product so special and what are the benefits of using it.
It should also tell them how to use the product and how it can solve their problems relating to it.
It Needs To Use No BS Language
More and more buyers are now prone to typical sales copy used by web spammers to entice them to buy cheap and low quality products. Such product descriptions are filled with words like impeccable or excellent quality and other similar phrases. In most cases, all they do is turn your visitors off from buying a product.
Avoid such phrases like fire and write no BS copy that tells the buyer things as they are.
It Needs To Include Power Words That Sell
Language is a very powerful tool. Certain words not only carry a message but can inspire people to take action. In sales and marketing, such words are often referred to as power words and are quite commonly used by copywriters to inspire their readers to buy.
Some examples of such words include:
Absolutely
Accomplish
Achieve
Benefit
Convenient
Critical
Easily
Guaranteed
Improve
Instantly
Now
Powerful
Proven
Quick
Simple
Strong
Unique
Exciting
Essential
Stories are powerful. They are memorable. They are easy to read and if written well, engaging. Quite the opposite from the boring sales copy you read so much of online.
With stories you have a chance to grab your buyers' attention and tell them, in a very passive, unobtrusive way the features of a product and how it can benefit the buyer's life.
Moreover, you can actually show how the product can be used to solve the buyer's problems.
It Needs To Be Easily Scannable
Lastly, no one wants to read long copy, fact. Yet, in order to include all the information you need in your product description, it needs to be long. Therefore, format it in a way that it can be easily scanned by the buyer.
Use bullet points, lists, highlights, text in bold and many other formatting tools to highlight the most important elements of the copy. This way your buyer will have an option to quickly decide whether this is a product for them and move on in the buying process.
Product copy can be the reason why your store is getting those orders or not. Naturally, it is not the only reason, however, it is what can inspire your visitors to take action on your store. Or at least make the experience memorable so they come back again.
Your Turn
Do you have any tips for writing good product copy for your online store? If so, share them with us in the comments.
Tagged shoppingfeeds