5 Email Marketing Sequences That Win Back Lost Customers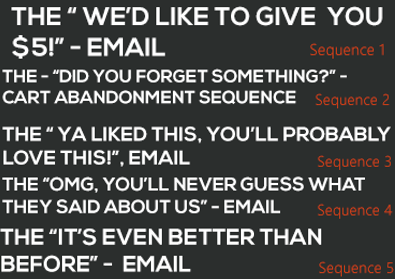 If you're reading this article chances are you woke up this morning and you're already feeling tired. Overwhelmed. Fresh out of ideas on how you'll continue delivering the one non-negotiable for eCommerce success (or so you think?) – more traffic!
You're not alone.
The exciting thing is, it doesn't have to be that way.
You can get off the traffic treadmill – should you wish – and join the ranks of wealthy merchants who have tapped into the flowing stream of profit sitting right under their noses: their existing customer.
In this article you'll learn five eCommerce email marketing tactics and sequences you can deploy to:
Re-engage and win back existing customers
Get essential customer feedback on your products and brand messaging
Generate new, repeat, and even larger sales
In order to execute these tactics, here's what you'll need:
A segmented email list, or the ability to separate your list by best sellers and purchase history. Klaviyo is a pretty powerful tool with high recommendations.
A Subscription to a cart abandonment platform. Rejoiner seems to be a popular choice.
Let's begin, shall we?
Sequence #1  The " We'd like to give you $5!" – email
This tactic isn't primarily geared towards driving sales, although you'll find that is one great secondary advantage.
Here's what you need to do:
Sequence #2  The "did you forget something?" – cart abandonment email
The most frustrating thing for any eCommerce merchant is the amount of abandoned carts each day. Try and imagine this in a retail setting…
….you're in your local supermarket, and all over the store are unmanned shopping carts, some full with items, some with only one – the thing they all have in common is they never made it to the check out.
Now while this strategy isn't exactly targeting existing customers, it will help you get would be customers – who have already shown interest in your product and purchasing from your site, over that final hurdle.
Here's what you need to do:
Sequence #3 The "You liked this, you'll probably love this" – email
This technique requires that you're a little savvy about segmenting your email list – which is something all eCommerce merchants should get skilled at from as quickly as possible.
Here's what you need to do:
Sequence #4  The "OMG, you'll never guess what they said about us" – email
This strategy is essentially the humble brag, but designed to do three things:
Cause customers to remember you in a good light
Promote your top three best sellers, and offer them and other items in your store with a small time limited discount
Gather more written testimonials you can use on your site
Here's what you need to do:
Sequence #5  The "It's even better than before" –  email
This strategy works best for brands that manufacture their own products.
Here's what you need to do: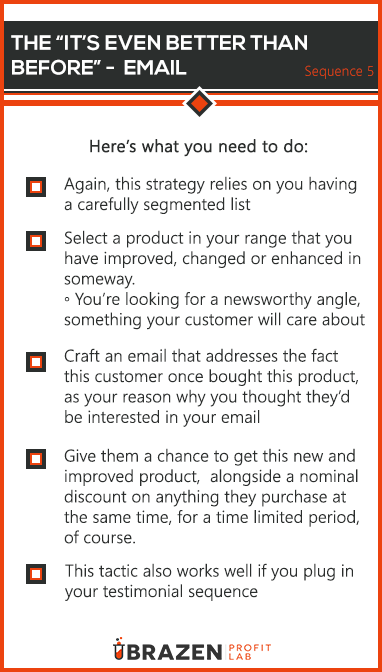 Warning: Many of these tactics and sequences rely heavily on discounts, so make sure you've factored these into your margins. It's my experience that these specific tactics yield the most profitable results from merchants that sell products with a short lifespan and a need to replenish,- supplements, cosmetics, gourmet pet food, etc. However, don't let that stop you tweaking these re-engagement sequences and templates so they become the perfect fit for your brand.
By the way, I wrote some email templates to get you started.
So, over to you…
What email marketing tactics have you found successful in winning back lost customers to your business?